The scoop on all things stylish--from couture to ready-to-wear to handmade.

· Blog Home
· Profile




Articles This Month
· Building a summer wardrobe 3.1
· Building a summer wardrobe 3
· Building a summer wardrobe 2
· Will the real Sophisticomb patent holder please stand up?
· Building a summer wardrobe 1
· Building a summer wardrobe
· Sorry, just had to publish...
· Lovely fashion etailer site
· fantasy web find of the day: Prada cream jacket with red-and-black crocheted trim $899
· fantasy web find of the day: Anthropologie Weekend Getaway Bag $398
· fantasy web find of the day: Missoni Samoa Bikini $277.89

Archives
TheBroadroom.Net's Fashion Blog (archive)
· April 2005
· May 2005
· June 2005
· July 2005
· August 2005
· September 2005
· October 2005
· November 2005
· December 2005
· January 2006
· February 2006
· March 2006
· April 2006
· May 2006
· June 2006
· July 2006
· August 2006
· September 2006
· October 2006
· November 2006
· December 2006
· January 2007
· February 2007
· March 2007
· April 2007
· May 2007
· June 2007

Comments




Posted by Colleen Shirazi, Tuesday, June 27, 2006 10:23 PM (Eastern)
I was interrupted there...oh well, this is a blog, after all.

In the summer you can improvise a deodorant...instead of just using your regular deodorant. Here you need an eau de toilette spray or cologne spray, something light and refreshing...citrus, light floral, something like that. When you get out of the shower and dry off, spritz a little of this under your arms. I'm not kidding!!!!! Just don't get any of the spray in your face.

Once that's dried, then apply your regular deodorant over it (yep, it'll stick). Voila! This cologne-and-deodorant combo will not fail almost no matter how hot it gets. And it's a great way to use up a nice eau de toilette that you've fallen out of love with coughAzzuracough.

So far I've been happy with my newer acquisitions...the layering tanks, the khaki cotton pants, some shirts/tanks specifically to wear over the tanks, yadda yadda... What I mean by "happy" is that so far, I haven't had to stand in front of the closet wondering what to wear. I grab a tee shirt or tank, the pants, some jewelry...and it is the jewelry that makes the outfit, because it's handmade...or old...or bought in some obscure shop...you can mix these pieces together.
Posted by Colleen Shirazi, Sunday, June 25, 2006 11:05 PM (Eastern)
Okay...there's a distinct point when the elements in your summer wardrobe start to work together. Or at least, there should be. I think the common error is in thinking that a wardrobe is something that you buy as a prefabricated unit. i.e. you somehow need to acquire everything at once.
Posted by Colleen Shirazi, Thursday, June 22, 2006 1:33 PM (Eastern)
Okay...another tip (and it will sound gratingly obvious once you know it). When you're buying your tanks, get some light-colored ones and some dark-colored ones.

Why? Once you start mixing and matching, sometimes it's the sheer lightness/darkness of the piece that makes it work. Yesterday I shlepped a white lace cami over a dark blue tank and it looked pretty eh to me by the end of the day. Tried the same cami over a dusty pink tank today (same model/brand as the blue one) and it looks great.

Summer is the time for earrings...because your hair will be up all the time, or, if you're Winona Ryder cute, you can get one of those super short hairstyles.

You can make jewelry too all summer.




This piece features faceted blue lace agate stones, some crystals my grandmother gave me easily twenty years ago (you can find similar crystals at your local bead shop of course) and gold-filled wire.
Posted by Colleen Shirazi, Tuesday, June 20, 2006 6:40 PM (Eastern)
From lisa beall Sun Jun 4 17:20:33 2006
X-Apparently-To: thelipstickpage@yahoo.com via 206.190.38.163; Sun, 04 Jun 2006 17:20:43 -0700
X-Originating-IP: [209.73.178.157]
Return-Path:
Authentication-Results: mta154.mail.re2.yahoo.com from=yahoo.com; domainkeys=pass (ok)
Received: from 209.73.178.157 (HELO web60414.mail.yahoo.com) (209.73.178.157) by mta154.mail.re2.yahoo.com with SMTP;
Sun, 04 Jun 2006 17:20:37 -0700
Received: (qmail 53975 invoked by uid 60001); 5 Jun 2006 00:20:33 -0000
DomainKey-Signature: a=rsa-sha1; q=dns; c=nofws; s=s1024; d=yahoo.com;
h=Message-ID:Received:Date:From:Subject:To:MIME-Version:Content-Type:Content-Transfer-Encoding;
b=eJhyHQBWxYAjn8KuWfm9rGVPijaAKGbCUFVDioa3n0fu/
BBRqPtpeXhLZuZ2FNiZYKgJv30i6auRbUFv8ZHH7srE+TcawCl0iENitPpe/
6IIpBlRgy7dOuQnrIijVsQLuTX1BPDx3beYnhlCS/7GGTX1HzNgLcmshduXgGSce8k= ;
Message-ID: <20060605002033.53973.qmail@web60414.mail.yahoo.com>
Received: from [64.136.27.229] by web60414.mail.yahoo.com via HTTP; Sun, 04 Jun 2006 17:20:33 PDT
Date: Sun, 4 Jun 2006 17:20:33 -0700 (PDT)
From: "lisa beall" Add to Address Book Add Mobile Alert
Yahoo! DomainKeys has confirmed that this message was sent by yahoo.com. Learn more
Subject: warning
To: thelipstickpage@yahoo.com
MIME-Version: 1.0
Content-Type: multipart/alternative; boundary="0-773374978-1149466833=:52298"
Content-Transfer-Encoding: 8bit
Content-Length: 526

I am the patent holder of the Sophisticomb and I am speaking with my attorney about the 1,2,3 steps your group has taken the extra effort to make sure anyone who Googles the sophisticomb--your negative, slandering comments are up for everyone to see. I can understand people searching your sight and making comments, and it's also easy to prove the comments back to chris123 were probably from your own people (lipstick's people) . This only hurts the sales of the comb, I will be speaking with Scunci's attorneys as well, I suggest you remove your attemtps at slandering the name of Sophisticomb by going to this extra effort to code into Google.

Lisa Beall
???-????



From Moderators Group Tue Jun 6 11:00:38 2006
Received: from [67.180.234.235] by web50709.mail.yahoo.com via HTTP; Tue, 06 Jun 2006 11:00:38 PDT
Date: Tue, 6 Jun 2006 11:00:38 -0700 (PDT)
From: "Moderators Group" Add to Address Book Add Mobile Alert
Subject: Re: warning
To: "lisa beall"
In-Reply-To: <20060605002033.53973.qmail@web60414.mail.yahoo.com>
MIME-Version: 1.0
Content-Type: multipart/alternative; boundary="0-1736080766-1149616838=:51157"
Content-Transfer-Encoding: 8bit
Content-Length: 1751

Dear Ms. Beall,

The Moderators Group has contacted Scunci regarding this matter. The Group was informed that, had anyone on The Lipstick Page Forums Online Beauty Reviews gone so far as to review any item and describe it as "a piece of junk," that would fall under that person's voice of opinion, which is protected by the First Amendment.

However, The Lipstick Page Forums would like to formally offer you the opportunity to write your own review of the Sophisticomb. This review would appear on the same page as the existing review of the product.

As long as your review adheres to The Lipstick Page Forums Terms of Service, that would be fine with us.

http://broadroom.net/ubbthreads/faq.php

Our Terms of Service prohibit spam and troll material or personal attacks. We would require that you identify yourself clearly in the body of your review as the patent holder of the Sophisticomb and that you not use the site features to spam your product; a single review would be sufficient.

We would require that you refrain from making negative comments about anyone else who has reviewed the product.

We would require that you not use the product name as a username.

These are common Terms of Service that any quality product reviews site would use. The reason our reviews sort quickly in Google is that they are high quality reviews, since we don't allow spam or "revenge reviews." If you sit down and write a high quality, detailed review of your product, with tips and instructions, perhaps some advice on which hair types or lengths this product would best suit, there's no reason that people won't read your review and take your advice into consideration.

Please let us know if you want us to host a review of your product.

Sincerely,
Moderators Group,
The Lipstick Page Forums

EOF

Here is the sole review of the Sophisticomb on The Lipstick Page Forums Online Beauty Reviews:

Scunci Sophisticomb

Here is the sole mention of the Sophisticomb on The Lipstick Page Forums:

Re: May hits and misses, June wishlists?

Here is the sole mention of the Sophisticomb in The Lipstick Page Forums Image Library:

Scunci Sophisticomb

Fascinatingly enough, we have yet to hear back from the patent holder of the Sophisticomb.
Posted by Colleen Shirazi, 11:25 AM (Eastern)
Okay, so you need to get your basics down first. You have to figure out what your basics are, first...what kind of shirts you actually like to wear (the "reach for" factor: the colors, the styles, the materials)...and your sources for these.

Once that's done...and I advise either buying lots of less expensive versions of your basics, or as many as you can afford of the more expensive versions...then you can do the novelty stuff. If you even do novelty.

I've been getting away from novelty, well for one thing I can't afford it. I'd rather sink my hard-earned dough into buying materials for my jewelry-making. Once you have a piece done, if you've done it well, it's there for the rest of your life if that's what you want. On the odd chance of course you can also dismantle it (again, if the structure is good, you'll do minimal cutting) and reuse the components.

Okay...then you can update the entire shmear every few years. I've never adhered to the notion that you need to be an indentured servant to your clothes (or your computer, for that matter)--do not replace every year, every two years, or whatever the trend is supposed to be. Get something decent and take care of it and nurse it along and stretch it out. Only when it's coming on to being obsolete...in the sense that nothing now works with it...okay, it's time to update.
Posted by Colleen Shirazi, Sunday, June 18, 2006 5:54 PM (Eastern)
I'm actually having to do this now. My good, cheap source of clothing dried up a couple of years ago. I nursed along the clothes I had from that period, but now, one by one, they have begun the inevitable process of wearing out. Hence the idea of building, or rather of rebuilding, a summer wardrobe.

This season, I started out pondering the eternal question: what to do about bra straps? (Is that another 30 bucks...lol...see previous post). Which bras work with camisoles or tank tops?

Observing on the street, I saw a lot of skinny-strap bras in various colors...the idea is to coordinate the strap color with the camisole itself. I saw some women doing the Madonna black bra strap thing. And I have seen the clear bra strap thing also. Of course, if you're built neat enough, you can do strapless. There is a sort of stick-on bra going around now too but again, I don't think it would work as well for larger sizes.

I got some skinny-strap convertibles...it's not the straplessness that is attractive to me, but rather that little matte plastic strip lining the inside to keep the sucker in place. For this you need to make sure the band size is tight enough. It shouldn't be "tourniquet tight" i.e. it should not be uncomfortable, but it shouldn't ride up in back either.

I got a tip on another board to try out new bras using the loosest hook setting...the bra should fit properly on this setting. That way, when the bra stretches out with wear, you can go to one of the tighter settings.

Anyhow...the bottom line is that ultimately, I've concluded it's the "layering tanks" that work best...and these layering tanks are now all over the place.

You need only get a cache of layering tanks...these specifically cover bra straps (top, under arms and back), are made of soft, thin cotton jersey, come in a plethora of colors...cost from $9 up, depending on where you buy them...and you don't need one of every color. Just your favorite colors, your "reach for" colors. Or you could do neutrals and layer colored tanks or cami's over them.

Once you've got the layering tanks in place...you can put virtually anything over them and not have to fret that your bra strap is showing.

The second layer can be--besides another tank or a camisole--a vest, a sheer sleeveless shirt, anything sheer for that matter, all those cute little tops you were wondering how to wear... The trick is to buy everything in colors that mix and match. Or at least, two sets of colors that mix and match.

Jewelry here is key. A lower cut tank makes a terrific frame for a handmade necklace coughs or your favorite necklace or pendant on a chain.
Posted by Colleen Shirazi, 4:58 PM (Eastern)
Colleen Shirazi,

On this page: http://www.thebroadroom.net/fashion/what_do_you_wear/bras.html


I will pay you $30 to make the word "wonderbra" a link
to:
http://www.*.com/*.html

Please let me know if you are interested.

Thank you,
* *
???-???-????


Just so you know the integrity of the Lipstick Page Forums/thebroadroom.net is not in danger. rotfl
Posted by Colleen Shirazi, Sunday, June 11, 2006 11:56 AM (Eastern)
PinUpGirlClothing.com

What caught my eye first was the Classic Hardware jewelry, because this is good stuff...I have some pieces of this and it's very well-made.

Of course there is a lot of other stuff on the site, including this very cool Japanese Fan tee shirt. drools

I dunno, something a little different. :)
Posted by Dain, Saturday, June 03, 2006 12:38 PM (Eastern)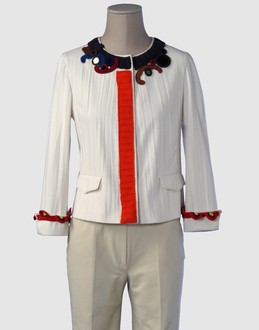 Miuccia Prada is always the intellectual when it comes to her designs, and she designs clothes that she herself wants to wear (and other women, too, it seems). This jacket is no different. It seems almost childish, crayon colors scribbled all over a paper white jacket, and yet when you put it on, it's as meticulously tailored as any classic Chanel. Wear it over a simple white tank and a white skirt, and a pair of simple black wedge slingbacks. Available at yoox.com.
Posted by Dain, Friday, June 02, 2006 11:50 AM (Eastern)

The picture doesn't do it justice, but isn't this carry-on bag from Anthropologie so gorgeous? It's a huge bag (so on trend) of pure supple white leather, with distressed chestnut leather accents. The white is so gorgeous, but the chestnut gives the bag enough substance to use all year round. It'll only improve with age. So simple, but so luxurious—for a huge leather bag, I think $398 is a good investment. Or maybe I'm just particularly enamoured of it because I myself am going on a trip soon.

Labels: anthropologie, bags, fashion, personal, style
Posted by Dain, Thursday, June 01, 2006 11:52 AM (Eastern)

I love Missoni's violent striped prints, but they tend to be too rich for my blood. But this is just a little taste of Missoni, restricted to teeny weeny bikini. I love the splashy, graphic roses print, and the ties at the halter and the bikini. Perfect. What else could you possibly need? White embellished sandals, and NARS Body Glow. Find it at net-a-porter.com.
Recent blog posts: