The scoop on all things stylish--from couture to ready-to-wear to handmade.

· Blog Home
· Profile




Articles This Month
· The Closet Orphan
· Outlet malls!
· On wearing your own jewelry
· O! I have found the perfect simple pump...
· fantasy web find of the day: YSL Rive Gauche Pleated Blouse $683 and Slim Skirt $598 and Patent Leather Belt $188
· Online shoe shopping!

Archives
TheBroadroom.Net's Fashion Blog (archive)
· April 2005
· May 2005
· June 2005
· July 2005
· August 2005
· September 2005
· October 2005
· November 2005
· December 2005
· January 2006
· February 2006
· March 2006
· April 2006
· May 2006
· June 2006
· July 2006
· August 2006
· September 2006
· October 2006
· November 2006
· December 2006
· January 2007
· February 2007
· March 2007
· April 2007
· May 2007
· June 2007

Comments




Posted by Colleen Shirazi, Monday, July 31, 2006 1:35 AM (Eastern)
Okay...I stumbled across this term on another board. Apparently this is the garment that languishes in the back of your closet, because, ah, it doesn't go with anything else you own.

That is one of the keys to developing a wardrobe that works...things have to work together. Any time I'm shopping...and I have been doing that lately, partly from necessity, partly because I actually like the idea of developing a wardrobe based not on my former (cheap, excellent, no-brainer) source of clothing, but rather on my own wits...I always think the following:

What am I going to do with it? Where am I going to wear it?

What does it go with that I already own? It should fit into at least two separate outfits, preferably four or five or more.

The obvious--how do you clean it? I don't dryclean unless absolutely necessary; likewise ironing.

Where was it made? I generally don't buy clothing made in China. I've had way too many experiences with the stuff falling apart after a few washes (if that many).


fashion, style
Posted by Colleen Shirazi, Thursday, July 27, 2006 1:53 AM (Eastern)
Now I can finally say I've been to one of those expansive outlet malls. And I do mean expansive; you start at one end and keep walking and walking and walking...okay I suppose if you had the opportunity to visit these places more often, you would simply go directly to the stores at which you wanted to shop.

There is a small outlet mall near where I live, but that amounts to a Nordstrom Rack, Eddie Bauer, Old Navy, Ann Taylor Loft, ummm...a pretty big Marshalls. That's about it.

This baby, had Banana Republic, Coldwater Creek, Ann Taylor, Calvin Klein, BCBGirls, they had Gap, Gap Kids, Dress Barn, a whole slew of those generic stores for 20-year-olds...and Limited Too, and I don't know...Ralph Lauren Polo, Guess?, just on and on and on and on....

That said, I looked much more than I bought. Then again I tend to do that. The first time I go anywhere, I'll look at everything but I won't buy anything. (Here obviously I had to buy something since it may be some time before I could return.) I got two skirts at the Banana Republic outlet and some packages of socks for my kids at The Gap Kids.

I realize that seems like a dismally tiny haul, well as I say, the first time I visit anywhere, I'm not really in buy mode. Also, I was a little disappointed. I found some of the prices high (my miniature outlet close to home has better prices overall), and some of the quality surprisingly low. I was surprised to observe the exact same items...not similar; exactly the same...from store to store.

Still, all in all, it's a wonderful experience. The sheer quantity of stuff...and there were picks everywhere. At BCBGirls for example, they had the most divine top for around $60. It was this gorgeous, slightly lacy, sort of a tank top...but I hate to call it a tank top, it reminded me more of the bodice on a dress, from when they called them bodices. Just perfect tailoring and materials.

They had a rack of stuff called Noun at the front of the shop, with these fabulous $20 tee shirts...again, I hate to call them mere tee shirts. They had these intensely colored drawings on them, each featuring a stylized girl or girl's face. Just the thing for someone in teens or early twenties.

They had nice dresses too, less than $100.

Banana Republic was disappointing. I'd read elsewhere that their quality had gone down, and it has, from what I saw. Still there were picks. The two skirts I got are nice, lightweight, almost sheer woven cotton, lined...they had solids and patterns. I got the two patterned ones (what, I need a solid skirt?).

They had some Indian broomstick skirts and I almost got a bright orange one...it's not sick orange, but rather that beautiful orange you see in Indian clothes. It made my butt look flat though so I passed.

Calvin Klein had some nice henleys for $20 each, I'm quite sure that was the price. Really beautiful henleys.

Coldwater Creek was a trip! I'd seen their online catalog, but the store...it's clothes with a slight Asian flavor. Generally overpriced imo. Still...they had a cool sort of brocade vest thing. It wasn't quite what I had in mind (I'm still searching for vests), but fairly close.

Eddie Bauer...here I feel a twinge of regret. They had some summer tops I should have investigated further.

And on and on. Sheesh, what a mecca!

Image courtesy Prime Outlets

fashion, style
Posted by Colleen Shirazi, Friday, July 21, 2006 1:47 AM (Eastern)
It is kind of weird. I've been wearing some of my pieces (some pics are in the Image Library's fashion gallery, but keep in mind some of the pieces pictured have already been redone). It is very different from wearing jewelry that you bought readymade. It is a bit closer to wearing jewelry that you inherited...that's so old it's unlikely that too many similar pieces are floating around. But handmade jewelry is, by definition, unique. Once you get some skill going--even if you don't feel your skill is there yet--you can create entirely "you" jewelry...that's based on an outfit, or a whim, or something you admired, or something you've been looking for, for years.

Almost a year ago I was bemoaning the fact that I couldn't seem to find nice green earrings (More jewelry thoughts...). i.e. I could not easily find a nice pair of earrings with green stones that I could just buy and be happy with. Now, I have a beautiful string of jade beads at home, with two sets of jade briolettes just waiting to be made into earrings. The price for the entire jade suite is less than I would have paid for a single pair of jade earrings, had I been able to find them back then. And of course I'll have enough jade beads left to do something else with.

Today I wore my quartz crystal earrings--pictured here (the diamond shapes):




...and they were quite amazingly perfect. They don't look like much in the picture, but the clear crystal just grabs the light and floats inside the diamond-shaped silver frame. The engineering took me a while (I bent the frames slightly to make them look more handmade, actually)...and I added jump rings to make the crystal strand move better (the model for the design is here: Runway Earrings Jewelry Making Project; as you can see there wasn't a center strand in the original). Along with this I wore the rose quartz and garnet necklace in the same pic. Again, the idea of making clear crystal earrings was to have a pair of earrings that would literally go with anything.


fashion, style, jewelry, handmade, design
Posted by Dain, Tuesday, July 18, 2006 12:25 AM (Eastern)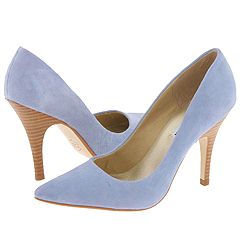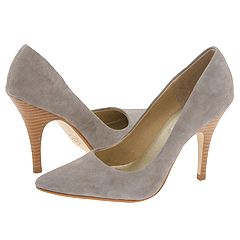 It is by Steve Madden, of all lines, and it is called Carmila. In this season of saucy espadrilles and boho leather work, and the coming season of avante garde chunky wedges, there is something genuinely refreshing about a simple, austere pump, the high-heeled pointy-toed stiletto. It's gracefully scooped, for a little sex appeal, the toe is a little squat (good for this girl with tiny feet), and the heel is just the right height. This is the LBD of the shoe world, just as subtle, as versatile, as eternally chic, as difficult to find, and as deeply personal. I love the black suede, velvety and Hepburnish, just pure grace: on this shoe the tides of fashion-victimism will not avail. But the fire of the red, so vibrant it is almost a neutral? Or the sly charm of the turquoise, a color I am always attracted to (whispers: it would be so crisp in the winter)? Or the grey, THE color of Fall 2006, so directionally perfect? Agh, I want them all (they do say, when you find a perfect "basic", purchase in bulk). At zappos.com.


fashion, style, shoes, pumps, steve madden

Labels: fashion, personal, shoes, steve madden, style
Posted by Dain, Thursday, July 13, 2006 2:42 PM (Eastern)
YSL is probably my favorite designer, ever. (The cosmetics and the perfumes are not too shabby, either.) Similar to Audrey Hepburn's longstanding relationship with the house of Givenchy, Catherine Deneuve ("La France") embodies the spirit YSL, starting from when the master dressed her in Belle du Jour. I simply can't think of a line that represents the height of Parisian chic—not the young fresh pretty thing but a mature, intelligent woman—better than YSL (Chanel be damned). I suppose in some fantasy world, my wardrobe, like Ms. Deneuve's, consists of mostly YSL. This outfit is just perfection, is it not? The sweet lavender blouse, in crisp cotton, beautifully tailored (the papery collar, the way the buttons do not entirely close the blouse, the blouson sleeves with gathered cuffs), with the crinkly black pencil skirt, slim with undulating buttons (how does one describe that wave effect?), and the fierce, bold patent leather belt that cinches the waist. What a perfect outfit. As much as I believe in mixing it up, and interpreting rather than copying the runway, how can you tamper with this outfit? It is perfection as it is. All you need is a pair of plum or hunter green high-heeled loafers (via Prada Fall 2005) and a small simple purse, like the one Margo Channing carries in All About Eve, except in clean white leather, and you are hot to trot. (I can see this working with any great shoe, from zebra stripe to hot pink patent leather to a warm caramel crocodile. I suppose that is just the mark of a great outfit: it is interesting in itself, but it still lets you showcase an interesting accessory.) Find it at neimanmarcus.com (at discount, even).


fashion, style, yves saint laurent

Labels: fashion, personal, style, yves saint laurent
Posted by Dain, Wednesday, July 12, 2006 8:39 AM (Eastern)
Sometimes there's just nothing that's as much enjoyable as window shopping on the internet. Shoes, of course, must be tried, but it's still fun to look around, nevertheless. I've tried to choose pairs that are reasonably priced, from the great shoe site, solestruck.com.

Seychelle's Rock the Boat $65. Wedges are here to stay, though frankly I haven't seen too many wearing them as yet. They're not serious heels, like stilettos, so I think this cheery orange shade is just right for summer, but it also comes in a "Natural" shade that is also very pretty (also in "Olive" and "Black").



Charles by Charles David's Pringle, is drop-dead sex kitten, from the criss-crossing black leather in the front, the superhigh heel (though I would have preferred a straight heel), the miniplatform, and the detailing at the ankle. There are tons of wood-platform with complicated-leather sandals out there right now (of which this one by Gucci is the avatar), but I crave something sleeker and sexier, not boho. It'd be fun mixed up with something very innocent and girly—pastels, white and cream, and florals—just to mix things up.



Here is another shoe from Charles by Charles David, Antidote, which I love. It's conservatively styled, black suede (also comes in burgundy) on an elegant peep-toe pump, with a flashy-but-not-cheap-looking buckle, true... except, except... is that a crab? I like the eccentricity, because it's just a touch on such a wearable shoe.



A list isn't quite complete without a pair of flats, and I like Pascaly from BCBGirls, which traverse the thin line between "interesting" and "ugly". This is because there is such a mix of styles in one shoe: the Parisian chic of the ballet flat, the cutesy bow, the flash of the gold latticework, and then the avante-garde cutouts. The saving grace is the neutral, almost bland, linen, which keeps all the elements in restraint.



BCBGirls Eric is how I stumbled upon this site in the first place. I was looking for a specific make, this sky-high patent leather buckled peep-toe pump (yes, it is a Roger Vivier knockoff, but who cares at this price?). I was actually looking for the cobalt blue iteration, but this "marlboro red" is gorgeous too, though perhaps more bold than I can personally manage. The hit of fire, with cool suits in cream or pale blue, water tones in general, to add warmth to plum and lavender, cool gold lace, and so on. But I'm hankering after the cobalt blue, in any case.



There is just something so sweet and simple about Make Bail by Kenneth Cole Unlisted. The simple-as-anything rope slide, in a cheerful, sunny blue... All you need is a floral sundress, coral polish on your toes, and a smile.

fashion, style, shoes, pumps, wedges, seychelles shoes, charles by charles david, BCBGirls, kenneth cole
Labels: BCBGirls, charles by charles david, fashion, kenneth cole, personal, seychelle, shoes, style
Recent blog posts: