The scoop on all things stylish--from couture to ready-to-wear to handmade.

· Blog Home
· Profile




Articles This Month
· The real 1980's
· This is neat...
· Joining the work force...
· Spring break!

Archives
TheBroadroom.Net's Fashion Blog (archive)
· April 2005
· May 2005
· June 2005
· July 2005
· August 2005
· September 2005
· October 2005
· November 2005
· December 2005
· January 2006
· February 2006
· March 2006
· April 2006
· May 2006
· June 2006
· July 2006
· August 2006
· September 2006
· October 2006
· November 2006
· December 2006
· January 2007
· February 2007
· March 2007
· April 2007
· May 2007
· June 2007

Comments




Posted by Colleen Shirazi, Thursday, March 29, 2007 9:03 PM (Eastern)
I realize I've been on a Youtube kick lately...it's temporary. It's just that I've only now comprehended that I can see stuff I've not seen in many years.

To quote Margaret Mead: "Thanks to television, for the first time the young are seeing history made before it is censored by their elders."

Youtube is (at least for now) the next logical step in that evolution; it's a library of the television that people have censored in their own memories...or have allowed other people to censor for them.

Real 1980's:



The 1980's we remember, or think that we do:



Okay, I was there. The Smiths' video made them look a lot cooler than they actually were. I'm not knocking it; it's a great video. Still, after all this time...more than twenty years...I can't play The Smiths and feel they represent the period. The Stranglers' odd little song, replete with the kind of fashion people really wore in the 80's...it's more like it.
Posted by Colleen Shirazi, Wednesday, March 28, 2007 1:17 AM (Eastern)
MixtGoods

What's neat is that it's all American artists and crafters. Off the top of my head, the only other sites I can think of that sell American made goods are the Sundance site and of course Etsy.
Posted by Dain, Friday, March 23, 2007 3:18 PM (Eastern)
I'll admit, I don't really want to work. But then, who does? I suppose that's why it's called work. But I'll be graduating soon (May), and earning my bread will become a necessity. I just want a job, not the job, flashy degree notwithstanding. Practical matters elude me, in all honesty. I loathe the idea of being on the clock, of paying taxes and bills, but I know that playtime's over. So, I want to work with cosmetics in some capacity, because I love doing this stuff. I'll probably begin with sales. I'm pretty much planning to move to France (I feel a stranger in my own land, but at home there); it'll be an easy transition because my boyfriend (at least I think he is; it's sorta ambiguous) lives there and I can stay with him. I could work the floor at Galeries Lafayette or Sephora (there are at least two I know of in Nice, they clog France the way Starbucks do America) or Marionnaud, and write in my spare time.

In any case, one way to make this fun is to think of my ultimate work wardrobe. I will probably have to wear all black, which is new to me (I wear a lot of color), but I figure I'll have to buy very little, because black makes for such a uniform. I'll have to make sure everything is very, very chic (to attract customers), but without too much flash (otherwise I'll look like a customer myself). Personal style, but with much restraint. An interesting exercise, anyway.

FIRST, bottoms, which I believe is the best place to being when constructing a wardrobe. I'll need a black skirt, and if that's not enough, a pair of black trousers.

Banana Republic Taffeta Curved Pocket Skirt $59.99

I like the curved pocket detail, makes it just a little special without resorting to patterns or textures or grand embellishments. It's simple and flowy, a universally flattering a-line (a pencil skirt must be worn with heels), and it looks very comfortable.

For a pair of trousers, I don't think you could do better (at least in mass market) than Express Editors in Luxury Stretch; the black is $69.50. The fit is great, the material sophisticated enough for any occasion, really a perfect pair of black pants (I usually wear J. Crew chinos because they're durable, but they're more casual). I prefer skirts, though. I think they're much more comfortable.

SECOND, a pair of comfortable and stylish flats. I do have a pair of perfect black pumps, but I imagine I'd be on my feet all day, so flats are far better.

Pelle Moda Zest $141.95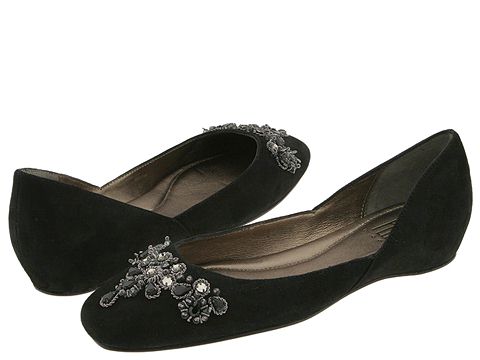 You've no idea just how many ballet flats I looked at before I chose this one. I wanted something demure, so a black ballet flat seemed perfect. I started with "the queen of ballet flats", Repetto (they still make some styles by hand), but had difficulty finding anything beyond the basic styles. I wanted something special, not basic. I really like this pair from Pelle Moda: black suede, the dipped cut (very Valentino), the cute round toe, and of course, the pretty baroque embellishment (very much like these Manolos). I think the embellishment is ok, because it's in black, and toe is closed rather than open.

I also liked Sam Edelman Cassia $128.95

Perhaps this is a better choice for work because it's not so flashy. The shape is more your classic ballet flat, but the detail at the toe is actually a bouquet of tiny suede rosebuds and grosgrain ribbon. Very cute, and special. I actually love this brand. They make high quality shoes that are classic styles but with very unique details, and they're not terribly expensive (no more so than, say, Steven Madden or BCBG). This is an academic question, though, because they're out of my size.

I also liked these three, which have mid-level heels: Marc Jacobs, Gabriella Rocha Vivian, and Bruno Magli Jamila. But I prefer the ballet flats. It'd be between the Pelle Moda or the Sam Edelman.

THIRD, tops. If I could find a really fine black jacket, like this one by Alexander McQueen, that would be the end of it. I could wear this every single day, simply because it's so beautifully made. But at $1615, it's hardly a reasonable purchase for me. Another option would be a Chanel-esque tweed jacket, which, though perhaps cliché is a softer look, with plenty of texture, like this one from La Redoute (at a much more comfortable $29.99). I like this one because it lacks pockets—more like a shirt than a jacket. But I really dislike the idea of wearing a jacket.

I mean, if I'm just gonna wear something simple and black, would not a pretty sweater do? J. Crew Solid Featherweight Merino Button Boatneck Sweater $79

I have this in the "Belize" print, so I know it fits well. I love the button detail at the shoulder—just a little better than basic. Other options: Anthropologie Novella Pullover, Laureate Lane Madison Cardigan, Kimchi & Blue Lacey Babydoll Top. But I really like the simple look—one might call it "soignée"—of the J. Crew sweater. I should probably get two of these, at least.

The final possibility is a blouse or buttondown, in black. I'm tired of searching, so you can imagine a black silk blouse or a crisp black or black&white striped buttondown for yourself.

FOURTH, accessories. Hm, I think I'd just wear my own. My mother's pearls and my gold art deco bracelet; they go well together. Pearls are of course classic, and the bracelet, though flashy, would be the only touch of intensity in my entire outfit.

If I want a touch of color, I suppose a silk scarf (I have one in pink floral) would do. My bag would be my trusty big brown bag, my jacket that fabulous bright green cape jacket with giant buttons I saw at Zara but didn't buy and now I'm kicking myself over it.

FIFTH, makeup! See Beauty Blog for that.

Labels: alexander mcqueen, anthropologie, banana republic, bruno magli, fashion, j.crew, jewelry, kimchi blue, la redoute, madison, manolo blahnik, marc jacobs, pelle moda, personal, sam edelman, shoes, style
Posted by Dain, Sunday, March 11, 2007 6:32 PM (Eastern)
Vacationing in the south of France for a week...

Here's what I packed:

UNDERWEAR
1. black bra and lots of black panties: they're just as neutral as white or beige but never look dirty, plus, way sexier
2. pink silk chemise with ivory lace: not only is it beautiful, it's actually very comfortable
3. white camisole: to layer underneath #6 and #7

TOPS
4. crisp buttondown, with grey and lavender stripes: simple, clean, casual but not messy
5. lightweight silk green and ivory psychedelic patterned sweater: I love this sweater, it is exactly my style, and it looks so damn good
6. sheer red-and-black floral patterned silk capelet blouse (sort of like a fancy, limited poncho, I guess, except in delicate silk): it's kinda Victorian-blouse-ish at the neck and chest, the material is very bohomenian and attention-grabbing, and tailoring is certainly very unique
7. white bohemian style blouse with embroidery: it's perfectly provençal, no?

BOTTOMS
8. wool felt camel pencil skirt: a pencil skirt gives an outfit an instant dose of sophistication, and wears well with every top—of course it works with #4 and #5, it's narrow enough to wear with blousy tops #6 and #7
9. swingy navy linen a-line skirt: I prefer skirts to pants, and this is the most utilitarian of my skirts; it's a flattering shape and material, it's a neutral color that works with everything, and it's very comfortable

DRESSES
10. simple sundress with a splashy multicolor floral print: so easy to wear
11. white apron dress: for some reason, I look really good in this dress—I look really good in skirts and in white, and this dress is sort of the ultimate marriage of the two

WARMTH
11. red cardigan: nights might get chilly, so this is my "warmth" layer, to wear over the two dresses #10 and #11 (I wonder if I should also bring another cardigan, in seafoam?)

ACCESSORIES
12. my mother's pearl necklace: because it's classic (though I think I'll take it off for the dresses), and it has that Grace-Kelly vibe that's perfect for the Riviera
13. art deco gold bracelet: it's very, very flashy... gold, pearls, and faux crystals, a repeating medallion pattern
14. an (faux) aquamarine and gold ring: there are lots of gemstones crowded around it, so that it looks like a garden patch with a pool... it's hard to describe, essentially it's the most fabulous thing I own
15. pink floral silk scarf: it doesn't seem right, to go to France without a scarf
16. gathered silver flats: for when I don't want to appear in heels, I'll wear these with the navy skirt #9 and the jeans #23
17. olive green espadrilles: these give me tons of height without discomfort (really!), and of course, they are so perfectly summery... I can wear these with the dresses #10 and #11, and of course with the navy skirt #9
18. simple black suede pointy-toe stiletto pumps: to pair with the camel pencil skirt, because pencil skirts require a heel (you run the risk of looking stumpy if you wear flats) and the espadrilles are too casual, though I guess it could work)

SWIM and SUN
19: periwinkle blue string bikini: it's too cold to swim, but I can get a tan at the beach, I think
20. long flowery skirt and black tank top: beach coverups

WHAT I'M WEARING ON THE PLANE:
21. my Pucci-esque henley
22. blue superfine lightweight cashmere "boyfriend" sweater: comfy and warm but fits well
23. jeans, Blue Cult, still the same pair
24. flip flops, love, bright blue Havaianas
25. my big brown bag that holds everything
26. my brown-blue-white tweed princess jacket (a princess jacket is cut like a dress)

That's it! I pack light. I don't really need all those clothes, but they're not much, once packed. I like this wardrobe because I can channel casual or dressed up as need be, without ever running the risk of looking messy.
Recent blog posts: