The scoop on all things stylish--from couture to ready-to-wear to handmade.

· Blog Home
· Profile




On This Page
· Joining the work force...
· MICHAEL Michael Kors Milan
· Trends! Honestly...
· Staying ahead of the pack...
· Happy Friday the Thirteenth!
· O! I have found the perfect simple pump...
· Online shoe shopping!
· fantasy web find of the day: Dolce & Gabbana Floral Canvas Slingback $475
· I want!: Urban Outfitter Peep Toe Stacked Platform $110
· fantasy web find of the day: YSL Rive Gauche lipstick-print sandals $288
· Great lower-end brand of shoes...
· Spotted, Dolce & Gabbana pumps...
· Cuttin' teeth...
· Dain's picks (Spring 2005)
· Birkenstocks, Shmirkenstocks - UK all the way!

Comments
· 2:02 AM by Colleen Shirazi
· 2:10 AM by Colleen Shirazi
· 1:40 AM by Colleen Shirazi
· 7:19 PM by Colleen Shirazi
· 12:54 AM by Dain
· 3:44 PM by Colleen Shirazi
· 10:15 AM by Harrods Girl
· 12:46 PM by Colleen Shirazi

Archives
TheBroadroom.Net's Fashion Blog (archive)
· April 2005
· May 2005
· June 2005
· July 2005
· August 2005
· September 2005
· October 2005
· November 2005
· December 2005
· January 2006
· February 2006
· March 2006
· April 2006
· May 2006
· June 2006
· July 2006
· August 2006
· September 2006
· October 2006
· November 2006
· December 2006
· January 2007
· February 2007
· March 2007
· April 2007
· May 2007
· June 2007




Posted by Dain, Friday, March 23, 2007 3:18 PM (Eastern)
I'll admit, I don't really want to work. But then, who does? I suppose that's why it's called work. But I'll be graduating soon (May), and earning my bread will become a necessity. I just want a job, not the job, flashy degree notwithstanding. Practical matters elude me, in all honesty. I loathe the idea of being on the clock, of paying taxes and bills, but I know that playtime's over. So, I want to work with cosmetics in some capacity, because I love doing this stuff. I'll probably begin with sales. I'm pretty much planning to move to France (I feel a stranger in my own land, but at home there); it'll be an easy transition because my boyfriend (at least I think he is; it's sorta ambiguous) lives there and I can stay with him. I could work the floor at Galeries Lafayette or Sephora (there are at least two I know of in Nice, they clog France the way Starbucks do America) or Marionnaud, and write in my spare time.

In any case, one way to make this fun is to think of my ultimate work wardrobe. I will probably have to wear all black, which is new to me (I wear a lot of color), but I figure I'll have to buy very little, because black makes for such a uniform. I'll have to make sure everything is very, very chic (to attract customers), but without too much flash (otherwise I'll look like a customer myself). Personal style, but with much restraint. An interesting exercise, anyway.

FIRST, bottoms, which I believe is the best place to being when constructing a wardrobe. I'll need a black skirt, and if that's not enough, a pair of black trousers.

Banana Republic Taffeta Curved Pocket Skirt $59.99

I like the curved pocket detail, makes it just a little special without resorting to patterns or textures or grand embellishments. It's simple and flowy, a universally flattering a-line (a pencil skirt must be worn with heels), and it looks very comfortable.

For a pair of trousers, I don't think you could do better (at least in mass market) than Express Editors in Luxury Stretch; the black is $69.50. The fit is great, the material sophisticated enough for any occasion, really a perfect pair of black pants (I usually wear J. Crew chinos because they're durable, but they're more casual). I prefer skirts, though. I think they're much more comfortable.

SECOND, a pair of comfortable and stylish flats. I do have a pair of perfect black pumps, but I imagine I'd be on my feet all day, so flats are far better.

Pelle Moda Zest $141.95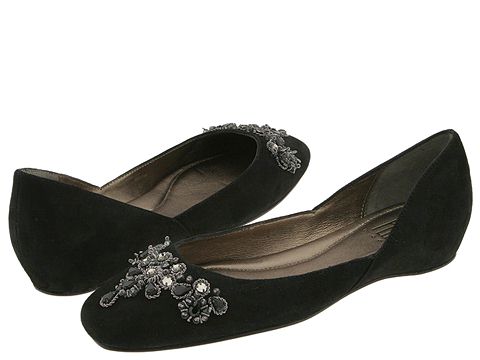 You've no idea just how many ballet flats I looked at before I chose this one. I wanted something demure, so a black ballet flat seemed perfect. I started with "the queen of ballet flats", Repetto (they still make some styles by hand), but had difficulty finding anything beyond the basic styles. I wanted something special, not basic. I really like this pair from Pelle Moda: black suede, the dipped cut (very Valentino), the cute round toe, and of course, the pretty baroque embellishment (very much like these Manolos). I think the embellishment is ok, because it's in black, and toe is closed rather than open.

I also liked Sam Edelman Cassia $128.95

Perhaps this is a better choice for work because it's not so flashy. The shape is more your classic ballet flat, but the detail at the toe is actually a bouquet of tiny suede rosebuds and grosgrain ribbon. Very cute, and special. I actually love this brand. They make high quality shoes that are classic styles but with very unique details, and they're not terribly expensive (no more so than, say, Steven Madden or BCBG). This is an academic question, though, because they're out of my size.

I also liked these three, which have mid-level heels: Marc Jacobs, Gabriella Rocha Vivian, and Bruno Magli Jamila. But I prefer the ballet flats. It'd be between the Pelle Moda or the Sam Edelman.

THIRD, tops. If I could find a really fine black jacket, like this one by Alexander McQueen, that would be the end of it. I could wear this every single day, simply because it's so beautifully made. But at $1615, it's hardly a reasonable purchase for me. Another option would be a Chanel-esque tweed jacket, which, though perhaps cliché is a softer look, with plenty of texture, like this one from La Redoute (at a much more comfortable $29.99). I like this one because it lacks pockets—more like a shirt than a jacket. But I really dislike the idea of wearing a jacket.

I mean, if I'm just gonna wear something simple and black, would not a pretty sweater do? J. Crew Solid Featherweight Merino Button Boatneck Sweater $79

I have this in the "Belize" print, so I know it fits well. I love the button detail at the shoulder—just a little better than basic. Other options: Anthropologie Novella Pullover, Laureate Lane Madison Cardigan, Kimchi & Blue Lacey Babydoll Top. But I really like the simple look—one might call it "soignée"—of the J. Crew sweater. I should probably get two of these, at least.

The final possibility is a blouse or buttondown, in black. I'm tired of searching, so you can imagine a black silk blouse or a crisp black or black&white striped buttondown for yourself.

FOURTH, accessories. Hm, I think I'd just wear my own. My mother's pearls and my gold art deco bracelet; they go well together. Pearls are of course classic, and the bracelet, though flashy, would be the only touch of intensity in my entire outfit.

If I want a touch of color, I suppose a silk scarf (I have one in pink floral) would do. My bag would be my trusty big brown bag, my jacket that fabulous bright green cape jacket with giant buttons I saw at Zara but didn't buy and now I'm kicking myself over it.

FIFTH, makeup! See Beauty Blog for that.

Labels: alexander mcqueen, anthropologie, banana republic, bruno magli, fashion, j.crew, jewelry, kimchi blue, la redoute, madison, manolo blahnik, marc jacobs, pelle moda, personal, sam edelman, shoes, style
Posted by Dain, Tuesday, January 09, 2007 6:35 PM (Eastern)

I'm thinking about this for the summer. It is the perfect sultry shoe to wear with breezy dresses, no?

Labels: fashion, michael kors, personal, shoes, style
Posted by Dain, Wednesday, November 15, 2006 12:13 AM (Eastern)
I hate layering. You know, leggings, complicated dress, tunics, tailored jackets, whatever, all on top of each other. I don't care if you do it in neutrals. It looks stupid. I hate to see it whenever I flip through glossies (Lucky in particular reeks with too much layering. What is happening to this magazine? It's going downhill. Whatever happened to the Consumer's Digest of fashion? Now it's, vanity fair.). It's too multidimensionally significant. Too "interesting", rather than attractive. Clothes should look good, first and foremost.

The trends I prefer:
1. Dresses that are interesting, not readily identifiable, and fit to perfection... that, I think, is a trend to yield clothes that will last you a lifetime. Because really, when will you ever hate a beautiful dress? Yes, they're more expensive than tops, but the amount of real wear you get out of them is far greater. Might as well snap some up while it's the fashion to design beautiful, well made, and interesting clothes.
2. Pristine, well-cut basics. This, I think, is an emerging trend. One that hasn't really shown its face yet. It's time. Yeah, $300 jeans are ridiculous, but these trends filter down from the top. GAP makes precision cut jeans, Express makes editor pants... and now tees and shirts are getting the treatment. What next? Sweaters are coming. A mania for precise, handcrafted artisanal sweaters.

Things I'm not sure about:
1. Organic jewelry? But then, my taste is to the baroque. I don't know that I want gold and jewels to look as if they grew on me. And yet, to look at, they are, very pretty.
2. Really, I don't like the shoe trends. Architectural? Please. There are two shoes I'm contemplating this season, it's just that boring to me:

The Steve Madden 'Carmila': So classic that it's eternally tasteful. They're not Manolos, but they are surprisingly close to well made for factory chaff.


Doc Martens: I revere Christian Louboutin, but the ubiquity repels me. Before, Louboutin was something like a fledgling Roger Vivier without feathers (no pun intended). Now? It's like Louis Vuitton: common but expensive, beautifully made but still! common. (Is this elitist of me? Or fair to demand of an artist? Cobblers, presumably, artists.) I don't know, perhaps it is too much to say at once. All I know is a part of me is a little sick of seeing that red heel. The antidote? These.


I do, sometimes, just love Louboutin, though:

All the sex appeal of killer heels, but with the refinement of a tuxedo. It's a kind of joke, but one that you don't quite get until you really think about it, because the shoe looks so good on your foot (imagine it peeking forth from a simple skirt and cardigan combo).


What am I craving? Rich, rich, colors: just a little "off" from true colors. Both Fall 2006 and Spring 2007 are playing off very neutral palettes, so I want, actually, the most intense color I can find. I suppose the makeup trends are bright enough? E.g. Instead of cobalt blue, you have this quasi-violet-toned ultramarine, in lush suede:

This is Brian Atwood, Spring 2007.


One Big Trend: An Analysis
Neutral, neutral colored accessories, in rich skins (or plastic, as the case may be), a parade of shoes, and bags. Wear with sharp, tailored clothing:

Can you imagine this Calvin Klein python bag slung on your arm? *dies*


My god, I could not stop salivating when I saw these. Beige: boring. Crocodile: always grosses me out slightly. But together, so... rich. Perfection. Sculptures by Alexander McQueen.


Normally, I would not advocate Chanel, because I find it so tasteless, but the Naked Bag is such a self-referential, self-aware take on tacky-expensive that I actually find it very clever. It makes fun of itself.


A huge tote is something that always appeals to me, maybe because I always carry around so many books. Marni makes this one in patent leather (still going strong), black leather accents, and resin handles.


Smokey snakeskin, in classic, universally flattering and versatile styles. Just right with the LBD (Little Black Dress) and berry lipstick. Salvatore Ferragamo and Tods.


VBH's white leather with brown accents, such a chic combination. It's pristine, but not cloudlike and formless. But reinvented in a very modern slouchy, egg shape.


But...

Imagine the one slung on your arm as you step out into the night. Imagine the other as you jet off to someplace glamorous and sunny (sounds so good right now, in this dreary Connecticut November). Some things, come what will, will always be true to a signature look. In spite of trends. Which I respect. What is it that the Manolo says? "Pucci always makes the smiles."

Labels: alexander mcqueen, bags, brian atwood, calvin klein, chanel, christian louboutin, dr. martens, fashion, handbags, marni, personal, pucci, purses, salvatore ferragamo, shoes, steve madden, style, tods, VBH
Posted by Dain, Monday, November 06, 2006 7:07 PM (Eastern)
In high school, I used to call my style "boho chic", long before it became common parlance. I wore everything embellished/laced/embroidered/beaded in any combination of colors. I kept it fairly simple otherwise, though, I always wore these flashy tops with a pair of olive khakis. I lived and breathed the Anthropologie catalog. Nobody wore clothes like me. Nobody wanted to. Then, the boho thing became huge. HUGE. Suddenly, everyone looked like me.

So I went to... Banana Republic and J. Crew and Club Monaco. Found tailored things: beautiful buttondowns, crisp lightweight sweaters, pumps, skirts both a-line and pencil. I started, you know, dressing like a grownup. And now, the tailored, polished look is in. Consider: Balenciaga, Roland Mouret, YSL Rive Gauche.

So what am I going to do? Another direction?

I've been thinking. As women, how much of our time is spent worrying about what to wear, when to wear it, what to wear it with, and how often to wear it? How often do I flip through the pages of Lucky and think, "Yes, I really ought to try a cream blazer with a floral blouse."? I wonder how much more liberating it is to be a boy, uncaring whether he wears the same clothes day in, day out. Surely that frees up a lot of brain space, and a lot of wallet space.

This is my new project. Casual, functional, comfortable clothing. The stuff that other people wear. But I still want to be pretty. That's the condition.

Where to start? A pair of trousers. I usually only wear two pairs at a time, and one of them will be a pair of jeans, which I already have. Mine are dark blue low-rise flares (Blue Cult), which are probably the most versatile iteration. But I'm not one for jeans, in all honesty. I prefer a pair of pants, and I think mine are J. Crew (they make good chinos, they look good but at $58 you're not afraid to let them wear):




I bought a henley from Urban Outfitters the other day. It's a henley, so it's comfortable, casual, functional... warm. It's great for layering. But this one is in such a psychedelic Pucci-esque print(white/blue/pink/green/yellow) of hearts and stars that it's full of personality. I've always maintained that if the fit is right, it looks expensive, no matter how low key it is otherwise.




And what to wear over it? Maybe this hoodie? It matches everything (being white), it's pretty (white lights up my skin) and soft and warm. It's more luxe than a sweatshirt.




Let's see... that's a tee, a sweater, and pants. A pair of shoes... these are as functional as you can imagine, classic Doc Martens in brown. I could get those skull Chucks, though.


fashion, style, shoes, clothes
Labels: dr. martens, fashion, j.crew, personal, pucci, shoes, style, urban outfitters
Posted by Dain, Friday, October 13, 2006 11:00 AM (Eastern)
For your perusal:


Converse All Stars Chuck Taylor, the classic hi-top, in a delicious skull print. I've wanted these for ages!


fashion, style, shoes, converse, converse all stars, chuck taylor

Labels: chuck taylor, converse, fashion, personal, shoes, style
Posted by Dain, Tuesday, July 18, 2006 12:25 AM (Eastern)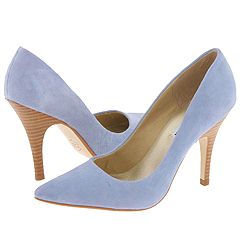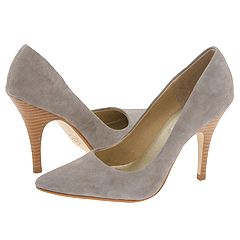 It is by Steve Madden, of all lines, and it is called Carmila. In this season of saucy espadrilles and boho leather work, and the coming season of avante garde chunky wedges, there is something genuinely refreshing about a simple, austere pump, the high-heeled pointy-toed stiletto. It's gracefully scooped, for a little sex appeal, the toe is a little squat (good for this girl with tiny feet), and the heel is just the right height. This is the LBD of the shoe world, just as subtle, as versatile, as eternally chic, as difficult to find, and as deeply personal. I love the black suede, velvety and Hepburnish, just pure grace: on this shoe the tides of fashion-victimism will not avail. But the fire of the red, so vibrant it is almost a neutral? Or the sly charm of the turquoise, a color I am always attracted to (whispers: it would be so crisp in the winter)? Or the grey, THE color of Fall 2006, so directionally perfect? Agh, I want them all (they do say, when you find a perfect "basic", purchase in bulk). At zappos.com.


fashion, style, shoes, pumps, steve madden

Labels: fashion, personal, shoes, steve madden, style
Posted by Dain, Wednesday, July 12, 2006 8:39 AM (Eastern)
Sometimes there's just nothing that's as much enjoyable as window shopping on the internet. Shoes, of course, must be tried, but it's still fun to look around, nevertheless. I've tried to choose pairs that are reasonably priced, from the great shoe site, solestruck.com.

Seychelle's Rock the Boat $65. Wedges are here to stay, though frankly I haven't seen too many wearing them as yet. They're not serious heels, like stilettos, so I think this cheery orange shade is just right for summer, but it also comes in a "Natural" shade that is also very pretty (also in "Olive" and "Black").



Charles by Charles David's Pringle, is drop-dead sex kitten, from the criss-crossing black leather in the front, the superhigh heel (though I would have preferred a straight heel), the miniplatform, and the detailing at the ankle. There are tons of wood-platform with complicated-leather sandals out there right now (of which this one by Gucci is the avatar), but I crave something sleeker and sexier, not boho. It'd be fun mixed up with something very innocent and girly—pastels, white and cream, and florals—just to mix things up.



Here is another shoe from Charles by Charles David, Antidote, which I love. It's conservatively styled, black suede (also comes in burgundy) on an elegant peep-toe pump, with a flashy-but-not-cheap-looking buckle, true... except, except... is that a crab? I like the eccentricity, because it's just a touch on such a wearable shoe.



A list isn't quite complete without a pair of flats, and I like Pascaly from BCBGirls, which traverse the thin line between "interesting" and "ugly". This is because there is such a mix of styles in one shoe: the Parisian chic of the ballet flat, the cutesy bow, the flash of the gold latticework, and then the avante-garde cutouts. The saving grace is the neutral, almost bland, linen, which keeps all the elements in restraint.



BCBGirls Eric is how I stumbled upon this site in the first place. I was looking for a specific make, this sky-high patent leather buckled peep-toe pump (yes, it is a Roger Vivier knockoff, but who cares at this price?). I was actually looking for the cobalt blue iteration, but this "marlboro red" is gorgeous too, though perhaps more bold than I can personally manage. The hit of fire, with cool suits in cream or pale blue, water tones in general, to add warmth to plum and lavender, cool gold lace, and so on. But I'm hankering after the cobalt blue, in any case.



There is just something so sweet and simple about Make Bail by Kenneth Cole Unlisted. The simple-as-anything rope slide, in a cheerful, sunny blue... All you need is a floral sundress, coral polish on your toes, and a smile.

fashion, style, shoes, pumps, wedges, seychelles shoes, charles by charles david, BCBGirls, kenneth cole
Labels: BCBGirls, charles by charles david, fashion, kenneth cole, personal, seychelle, shoes, style
Posted by Dain, Wednesday, May 31, 2006 1:04 AM (Eastern)

These are shoes with a sense of humor, the cobbler's vision of a garden party in a classic pump. Wear them with a pale blue summer dress, and a woven cognac leather bag, a long ponytail, and you'd be the most intriguingly dressed belle of the ball. Available at neimanmarcus.com.

Labels: dolce and gabbana, fashion, personal, shoes, style
Posted by Dain, Sunday, May 28, 2006 1:39 PM (Eastern)

It's a $700-shoe knockoff (Louboutin, of course, even down to the red sole). Nothing could be simpler, more sublime, more sexy, more sophisticated. The mini-platform gives it a subtle quirky flair, and the high-high-high heel and the peep-toe is dead sexy. It's at urbanoutfitters.com, along with a Bruges knockoff.

Labels: fashion, personal, shoes, style, urban outfitters
Posted by Dain, Friday, May 26, 2006 10:33 AM (Eastern)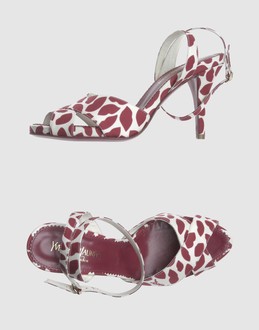 These shoes were made for dancin'. From the lipstick print, the curvaceous heel, the criss-cross and strappy straps, these sandals from YSL Rive Gauche are pure fun. Wear them with acid prints, or pristine white, or, of course, pink or red. Do something unexpected with them, and in them, because they're on sale, $288 from $310 at yoox.com

Labels: fashion, personal, shoes, style, yves saint laurent
Posted by Dain, Wednesday, November 23, 2005 12:28 PM (Eastern)
It's called Valerie Stevens, and they've got a great range of festive styles (as well as some classic styles). They're well made (better than, say, Steve Madden or BCBG Girls which are of comparable price), and they look really good on the feet. My feet, at least. The arch matches perfectly (the only other brand that does this for me is Dolce & Gabbana), so no matter how high the heel, you can dance all night without a problem. They do seem to tend towards the decorative (very Prom) and slightly quirky, but I'm fond of shoes that make a statement, so no worries here. If I could compare them to any high-end brand, the style is much like Lacroix (their fondness for embellishment) with the clean lines of Jean-Michel Cazabat, and the arch of Dolce & Gabbana. Two styles I want to get: Tile in red, highly decorated material, but the clean lines of a mule, adds punch to plain trousers, and Crystal in black velvet, a superhot gladiator style-sandal with (you guessed it) crystal embellishments, black velvet strappy style.

In fact, I'll just get the Crystal and be happy.

Labels: fashion, personal, shoes, style, valerie stevens
Posted by Dain, Saturday, August 27, 2005 9:14 AM (Eastern)

In a cognac crocodile or alligator (as if I know the difference). This is really more Cathy's taste than mine, but it is by anyone's understanding singularly exquisite. And, though Dolce & Gabbana always screams "Euro trash!" to me, there is something about their heels—they match my instep exactly, so that even the most skyscraper heel molds to my feet like butter.

The given original price says $995, to a reduction of $555 (this is at a local store). Not a great price, but I found the same shoes on Raefaello, and they're actually supposed to be $1500, in which case it is a deep, deep discount. And they are classic and gorgeous, no? They scream fabulousness, or at least, conspicuous consumption (like I said, Euro trash). A bit too aggressive for me, really, but it breaks my heart to think someone I do not know will get away with a deal like this.

A humbler, but equally versatile pump is also available in black leather, at the far more allowable price of around $200 (from $500). These are highly respectable, if a little boring (and a half size too large).

I want a single pair of designer shoes. One, to wear with my fall capsule wardrobe (forthcoming), which must therefore comply with cool greens/blues, paired with a cream lace skirt and grey/blue plaid trousers. The coat is a khaki trench, the schoolbag, a cognac leather (more russet-toned than amber-y, but you can see why I'm leaning towards the alligator, yeah?). Two, to commemorate my first paycheck. Three, I've been very good about my other purchases—two sweaters, a skirt, a pair of trousers (which I haven't purchased yet, actually), a single palette, and two Eye Kohls (it totals to approximately $300; very good for total wardrobe/makeup expenditures for a season... I usually spend that much on makeup alone)—so a single splurge seems perfectly doable. Four, it should be a purchase, by dint of beauty and quality both, that lasts me a lifetime, and therefore worth the hundreds. I like shoes with character, anyway—so exquisite that they justify themselves, not to be "matched" necessarily, with any ole outfit; they are outfits unto themselves.

Here are the options:

Dolce & Gabbana cognac alligator stilleto pump ~$555 (from $995-$1500): Classic shape, luxe material, sexy style, neutral color, exquisite make... what can I say? There is nothing to be said against this pump, save the price. It would match my fall wardrobe, as well as anything else besides. But reptile skins creep me out a little, I must admit (it took me a while to get used to leather, even), and alligator is an aggressive skin. Does a $500-$1000 markdown merit a $500 shoe? I don't know. It is faultless, but... $500? But then, the comparable Manolo brown croc is $3000. It seems criminal not to buy.



Dolce & Gabbana black stiletto pump ~$200 (from $660-$500): Similar to the alligator, in that it is classic, sexy, neutral, and exquisite. It's more wearable, given that it's a simple black pump, but I don't really do black, and I don't really do simple. It's exquisite on the foot, but it bores me. Still, a fantastic deal. When will I find such a basic, wearable shoe at such a great deal again? but then I think, I am still paying a couple hundred dollars, and all details should be perfect. The cut of the shoe is a little plain, and I'd like something racier. Overall, it's just a little too conservative. (There's a green one as well, as well as a taupe snakeskin, and a beige snakeskin.) But say, if I find a nice, red bag for school, these would be better than any of the others.



Christian Lacroix violet velvet / rainbow pump $149 (from $423): In the right size this time (one hopes), and while I would objectively prefer black, I have no real objections to the violet, particularly since it would match the "outfit" even better. These are perhaps a bit more mod-ish and aggressive for the "outfit" as far as style goes (hmm... against the cream lace skirt? I would remove that gumball thing), but as I've said, these have enough character on their own to disregard the clothes entirely. Honestly, what could you match these to? I've handled a pair, of course, and the quality is beyond belief. The velvet is the plush, dense silk velvet, and the gumball is tightly screwed on (not merely glued), and even the sole is top-quality leather. They're hugely aggressively, but the way the alligator pumps are. They're quirky almost to the point of the ugliness, but the dark velvet and the round toe, I think, restrain them. It is simply a more interesting shoe. As Cathy said, looking at them, it is a Carrie Bradshaw shoe.



Manolo Blahnik beige floral-embroidered "Carolyne" $513: I had to include these. Of them all, they're the most beautiful of all. The picture doesn't do it justice. When you try them on, oh, jesus. Gorgeous. And so beautiful they meet anyone's standards, without being the least bit odd or aggressive, so that they meet anyone's sartorial needs, too. It's pure poetry, this shoe. And I bought it. I was convinced to take them back, on the argument that, although they were beautiful, they were not $500 worth of beautiful. But alas, I hardly knew ye, o Carolyne. I miss them already.



J. Crew dark red Patent Leather "Sloane" $158: I'm not inclined towards these, as they are not a designer shoe, but, I love the contrast of the shiny red against the colors of my "outfit" (washed out greens, blues, and neutrals, as you recall). There are several points against this shoe. One, as I said, they're not a sufficient "treat" (I do actually want to spend money here). Two, I'm not really into red, to be honest. Three, I'm choosing this, therefore, for its ability to match, whereas I really should be choosing them for stand-alone beauty. It's pretty, but hell, not that pretty. I won't even pay $150 for a shoe unless it's love. Four, I don't like the heel. Five, it costs more than the Lacroix! I suppose that settles it, then.



Balenciaga fuschia crystal bow sandal $2240: By and large, I don't like sandals. It would not, in practical terms, work well for my outfit (though they would aesthetically), since they look completely painful and not suited to New England weather (though, are any of these?). I just think they're out and out gorgeous, and wanted to post a picture, if you like. I don't know if I could ever afford them. That is really, really a prohibitive price. But they're wonderful to look at, aren't they? I just wanted to share.

What should I do? I'm leaning towards the cognac alligator pumps from Dolce & Gabbana, if I can't find a nice red bag. The black pumps if I do. And the Lacroix, I think I'm gonna get anyway, because it's such a nice deal. The Manolos? Maybe someday, if I have flippin' thousands of dollars to throw around. The Balenciaga? GET REAL.

Images courtesy of: www.raffaello-network.com, www.jcrew.com, www.neimanmarcus.com, www.style.com, and www.zappos.com.

Labels: balenciaga, christian lacroix, dolce and gabbana, fashion, j.crew, manolo blahnik, personal, shoes, style
Posted by Dain, Saturday, July 30, 2005 12:31 AM (Eastern)
I've bought my first pair of designer shoes, with the first of the money from my first job. At first, I was awash in a sea of ugly shoes (not a fan of Fall/Winter 2005), but then, I thought, wait... aren't there massive sales right now for the Spring stuff? And sure enough!

They are a pair of pumps from Christian Lacroix. Christian Lacroix is better known for his exquisite (there is no other word for it) couture collections, but I like his cheerful, pretty shoes as well. As my two favorites, Christian Louboutin and Dolce & Gabbana, were sadly lacking in interesting shoes (as far as my taste was concerned), this seemed like a perfect way to toast my first paycheck.


They're just fucking fabulous, or stupendously hideous, depending on your taste. Like any shoe that inhabits aesthetic extremes, there are no two ways about it. As far as I'm concerned, they're perfection. And utterly unique. So fancy and quirky at once. Black velvet (there is also one in violet, but I thought the rainbow color enough!), with the rainbow lucite details and... a pink gumball. The shape is classic, the details are mod. A scion of Audrey Hepburn and Elton John (as implausible as that sounds), chic with a sense of the absurd. It's an eccentric shoe, but not disharmonious, for all that. I'm not one for wallflower clothes anyway—I like each and every piece to have its own distinct character. Most women aren't comfortable with that notion, except with shoes or bags, and these are an outfit unto themselves. And better still, they were on sale, $149.95 from $423, with free shipping at www.zappos.com. How? Well, they're from the Fall 2004 RTW collection, two seasons old. And not worse for the wear, I think.



I hope this isn't the beginning of a lifelong addiction, but... [shrugs] I figure my minimalist philosophy will hold me steady (the same as for makeup, but perhaps with less conscious involvement). I'm eyeing a pair of flats from Valentino, as well as a pair of sandals, a gold leather/cream and chocolate snakeskin pump from Dolce & Gabbana, and those amazing platform loafers from YSL in plum velvet... But, in all likelihood, it shan't be so (except for the Valentino flats, they're also on sale). Like I said, I don't like to buy things I don't love. Admiration is not enough, not at these prices.

Images courtesy of www.zappos.com
and www.style.com.

Labels: christian lacroix, fashion, personal, shoes, style
Posted by Dain, Tuesday, May 17, 2005 2:55 PM (Eastern)
This is entirely a meaningless, wishful-thinking, castles-in-the-air type of post, but it's fun to do, nevertheless. I'm a minimalist at heart (while I can devote endless energy poring over makeup, fashion tires me out, though I do love it), and I try to create a "capsule wardrobe" of about six or so items (read "The Definition of Style" for a fuller picture) each season—six items is miniscule, which forces me to seriously reckon with the wearability of each item (Herculean versatility and sheer adoration, therefore, are required criteria), in the context of what clothes I do own.

a classic Chanel bouclé jacket: In that slinky, belled-sleeve style that always looks so effortless even though it's the "hautest" of the haute. I'm thinking of a muted teal, which is a very unique shade (and entirely in my head, because Chanel is certainly not offering any such outlandish shades), but strangely flatters all the colors in my wardrobe. It's not a perfect match (which is too cookie-cutter for me anyway), but it's the perfect contrast. Just "something" light to throw over jeans, or contrast with vintage tees, or add a conservative edge to flirty skirts, or infuse a bit of eccentric polish to a ruffled chiffon blouse and a pencil skirt. This is merely a figment of my imagination, so let's give the average ready-to-wear price for a Chanel jacket, about $3000.

Viktor & Rolf Spider Blouse ($652): Diaphanous silk chiffon in an austere Atlantean green-grey. Has a high neck, a delicately pleated front, the back leads up to a keyhole with rows of hook buttons (like a Victorian dress), with a crystal spider embellished on the shoulder, and silk bows at the cuffs. Phew! Lots of detailing. Do I own a fancy, secretary-type blouse? High time I did. (This is actually Fall 2004... I think.)

Express Camisoles ($34 or something): If you've got any bent whatsoever to dressing ladylike and feminine, how can you resist a lace-trimmed silk camisole? These may not be Khurana, but you're not paying $275, which seems like a fair enough trade to me! I've my eye on a fresh orchid pink with melon lace, and the black with ivory lace.

Chlo&eacute Wide-Leg Jeans ($445): They make so many tight, low-slung bootcut jeans nowadays, haven't you gotten sick of it? Oof. This is wonderfully retro, evocative of the wide-leg (not flares, exactly, which expand out from below the knee, but genuine wide-leg, which start from the thigh) from the 90s (remember that hoodlum skater look?) with the slightly more contemporary update of a fitted waist and butt. I'm all for baggier jeans. The wash is a refreshing shade of sunny denim, evocative of more freewheeling times in fashion (everything's so contrived, these days... just look at what I'm doing!).

Joystick embellished cashmere sweater (~$278): Just something charming, soothing, and pretty, that doesn't require much in the way of highjinks to wear. Can be worn over a pretty buttondown, of course, with stylish trousers. Otherwise, it's the perfect touch of refined whimsy to the otherwise haughty line-up I've arranged here.

GAP Africa Tote ($20): I'm still loving this bag, and I'm still loving this price. The only item I'll probably actually own from this list. ; ) Summery, chic, and very functional.

Dolce & Gabbana zebra flats: I'm usually not a fan of animal prints, indeed, they're a little too "sexed up" and bold for my taste, but what is more austere than a pointy flat? Especially when paired with sober, clean-cut, polished clothing, or even to jazz up a casual outfit with dark vintage-style jeans?

Labels: chanel, chloe, dolce and gabbana, express, fashion, gap, jeans, joystick, personal, shoes, style, viktor and rolf
Posted by Colleen Shirazi, Tuesday, May 10, 2005 4:12 AM (Eastern)
I've concluded one thing. Doc Martens makes the best shoes.

I've never been much of a "shoe person" in the Sex and The City, Manolo Blahnik sense. I went through a flirtation with pumps when I was fourteen or fifteen...granted, in those days, they didn't make flat dressy shoes for women. Either it was heels, or it was, well, sneakers or espadrilles or what have you...I can remember the first time a company made fancy flats. It was Sam and Libby.

I could wear low heels and liked the look, but ultimately...I secretly dislike the idea of not being able to walk or stand endlessly, or break spontaneously into a run. I understand the symbolic value of not being able to do so; really I do. I just don't like it.

Enter Doc Martens. I dread the day they outsource the manufacturing of these shoes, should they ever dare commit such treason. The sheer genius of Doc Martens is that they're UK made, i.e., they don't fall apart after a year.

Labels: dr. martens, fashion, personal, shoes, style
Recent blog posts: