The scoop on all things stylish--from couture to ready-to-wear to handmade.

· Blog Home
· Profile




On This Page
· Mossimo tee shirt review
· An interesting fashion site
· Earrings for metal sensitivity
· Department store shopping in the U.S.A.
· Handmade jewelry update
· Rambles...
· Tamerlane's Daughters
· Gwen Stefani's got nothing on this one
· The real 1970's
· Some notes on imported vs. domestic products
· freddy&ma custom handbags
· Bikini season is coming up!
· Hmmm...
· The real 1980's
· This is neat...
· Joining the work force...
· Spring break!
· Oscars 2007
· It's been a day of...
· Pearl bracelet
· MICHAEL Michael Kors Milan
· Want to look at something interesting?
· Year 2 of making jewelry
· More jewelry ramblings...
· Resort: Part 4
· Resort: Part 3
· Jewelry ramblings
· Resort: Part 2
· Addendum...
· Now, I thought Kate Moss was a fashion icon too...
· Disgusted.
· Resort: Part 1
· Thanksgiving...
· And that, by the way...
· Trends! Honestly...
· Top #2
· Bauble o' the month...
· Found! Banana Republic Wool Shawl Collar Cardigan $108
· Updated thoughts and thoughtful updates
· Staying ahead of the pack...
· This and that
· Happy Friday the Thirteenth!
· No...jeans
· Disposable clothing
· What I've been up to lately...more handmade jewelry
· test
· Oscar Wilde knew it all along...
· Socks at Target
· The Three Piece Rule
· Handmade jewelry ramblings...
· School uniforms and sundry ramblings
· The Closet Orphan
· Outlet malls!
· On wearing your own jewelry
· O! I have found the perfect simple pump...
· fantasy web find of the day: YSL Rive Gauche Pleated Blouse $683 and Slim Skirt $598 and Patent Leather Belt $188
· Online shoe shopping!
· Building a summer wardrobe 3.1
· Building a summer wardrobe 3
· Building a summer wardrobe 2
· Will the real Sophisticomb patent holder please stand up?
· Building a summer wardrobe 1
· Building a summer wardrobe
· Sorry, just had to publish...
· Lovely fashion etailer site
· fantasy web find of the day: Prada cream jacket with red-and-black crocheted trim $899
· fantasy web find of the day: Anthropologie Weekend Getaway Bag $398
· fantasy web find of the day: Missoni Samoa Bikini $277.89
· fantasy web find of the day: Dolce & Gabbana Floral Canvas Slingback $475
· fantasy web find of the day: Hermès lotus tea cups $320 (for two)
· fantasy web find of the day: Stella McCartney Corset Dress in Sunblock $1095
· I want!: Urban Outfitter Peep Toe Stacked Platform $110
· fantasy web find of the day: Goyard Trolley $3450
· fantasy web find of the day: Yohji Yamamoto dinner jacket $650
· fantasy web find of the day: YSL Rive Gauche lipstick-print sandals $288
· fantasy web find of the day: Cathy Waterman Amethyst Earrings $6980
· Color schemes...
· A beautiful fashion blog...
· Stockings #4
· Stockings #3
· Stockings #2
· Building a basic wardrobe, part 6
· Building a basic wardrobe, part 5
· Building a basic wardrobe, part 4
· Here's an interesting site
· Building a basic wardrobe, part 3
· Building a basic wardrobe, part 2
· Building a basic wardrobe
· Convicted Clothing
· Odd thoughts about stockings and a review
· Woollies
· What to pack for a trip to Jamaica, part 2
· Packing for a holiday in Jamaica
· Great lower-end brand of shoes...
· Beading blog up!
· New blog in the works
· Jewelry making #20
· Jewelry making #19
· Jewelry making #18
· Jewelry making #17

Comments
· 10:21 PM by Dain
· 1:35 PM by Colleen Shirazi
· 12:43 AM by Colleen Shirazi
· 1:43 AM by Colleen Shirazi
· 2:02 AM by Colleen Shirazi
· 2:10 AM by Colleen Shirazi
· 9:16 PM by Colleen Shirazi
· 12:36 PM by Colleen Shirazi
· 1:43 AM by Colleen Shirazi
· 4:44 PM by Dain
· 1:40 AM by Colleen Shirazi
· 4:34 PM by Dain
· 3:36 PM by Colleen Shirazi
· 2:31 PM by MrsETaylor
· 7:07 PM by TheLipstickPageForums.com

Archives
TheBroadroom.Net's Fashion Blog (archive)
· April 2005
· May 2005
· June 2005
· July 2005
· August 2005
· September 2005
· October 2005
· November 2005
· December 2005
· January 2006
· February 2006
· March 2006
· April 2006
· May 2006
· June 2006
· July 2006
· August 2006
· September 2006
· October 2006
· November 2006
· December 2006
· January 2007
· February 2007
· March 2007
· April 2007
· May 2007
· June 2007




Posted by Colleen Shirazi, Friday, June 15, 2007 12:17 AM (Eastern)
Okay, you're saying to yourself, why review Mossimo tee shirts? They're...those ubiquitous, fitted, 100% cotton tee shirts, that come with a vee, or a small scoop, neckline, in assorted colors, at Target.

I bought a bunch of these last year; last summer in fact. I didn't like the color selection they had at the time (the newer batch seems to have better colors), so I got some black, white, and dark brown ones, figuring these would be the ideal "shlep on when you're still asleep" tones. The vee neck seemed prettier than the scoop, so that's what I got.

This year...eh...some of them are still surviving. Not all. Some of the black ones are starting to look a touch faded around the edges. Some of the white ones have lost their snowiness. I'm pondering dosing them with OxiClean, or demoting them to dustrags. The dark brown ones fared best, but then I've probably worn them the least.

All in all, I don't see buying as many of these again. I'd rather pay more for tee shirts that last more than almost a year. For the price, they're not bad, at all, but I loathe shopping, hence the notion of obtaining longer-lasting clothes.

I'm thinking of trying American Apparel. We have two American Apparel b & m stores that I know of: one in Berkeley, the other in the Haight. So I could try before buying.
Posted by Colleen Shirazi, Saturday, June 02, 2007 10:28 PM (Eastern)
I don't say that lightly.

The Fashioniste
Posted by Colleen Shirazi, Sunday, May 27, 2007 2:35 AM (Eastern)
Say...I have this on my Beading Blog, but I recently got a heads-up that "argentium sterling silver" might be better for people with metal sensitivity, than regular sterling silver.

I was skeptical, if only because I've never been able to wear sterling silver ear wires and didn't think argentium would be any different. Argentium sterling silver is a patented new alloy for sterling silver. Part of the metal that traditional sterling silver is alloyed with, has been replaced by an element called germanium. I'm like, so...only part of the metal has been replaced, and I can never find out exactly how much (likely a trade secret).

Anyhow, I went ahead and made a test pair of hoop earrings out of argentium silver wire to see if there was anything to it:




(Normally I'd make them thicker, but this was the only argentium silver wire I had on hand.)

I wore these earrings for a couple of days and was surprised and delighted. No swelling, oozing, itching, redness, pain...at all.

Did some surfing on the Net and found that others had reported the same results.

Jewelry makers are only now starting to use argentium silver more widely...partly because it wasn't that easy to find it before, only a few vendors carried it. But now more and more vendors are supplying this alloy, so I think it's safe to say you will be able to find more and more jewelry made with argentium silver.
Posted by Colleen Shirazi, Monday, May 21, 2007 1:38 AM (Eastern)
I had to replace my eye cream today, so I went to Macy's. Oh, I suppose I could buy it online, but why?...I've always bought it at this particular Macy's, over several tubes; it's a tradition.

Then...for some reason, I decided to look at the clothes there. I say "for some reason" because normally I don't do clothes shopping. I don't. In the almost ten years I've lived where I do now, I have not checked out that Macy's except for children's clothes.

So I went from one end of the store to the other, from the juniors section to the regular ladies' sections...I looked at everything. And I didn't buy anything.

What I got out of this venture is simple. If you like it, it starts at fifty bucks. For one piece of clothing. They did have some nice stuff but that is the price.

I suppose, on some level, it's always been that way. But...it seems to me there were more choices before. More stores. Even at this mall...they used to have a Gap, a Victoria's Secret, a Crabtree & Evelyn, a Sanrio store...a Fresh Choice restaurant for that matter. They're all gone, they all moved out. We got a Wal-Mart instead of all of these shops.

The Macy's is the best store in this mall and I concluded that I could either pay the fifty bucks per piece or I could give up clothes shopping at this mall.

We do have a relatively new mall in another city which recently opened an H & M--they have Banana Republic, Gap, Old Navy, some other stuff I've read incessantly about on the Net such as Steve Madden and Chico's (?). Since I am (or was, rather) one of those people who doesn't pay retail, I have never checked this mall out either (except for children's clothes). Maybe I'll drop by there...things can't be this bad, we are supposed to have choices. Right?
Posted by Colleen Shirazi, Monday, May 14, 2007 9:03 PM (Eastern)
Hmmm...what I wanted to do here, was wow you with expansive photos of fabulous jewelry, but, I'm way too tired. I'm slowly taking photos of the jewelry I've made that I want to keep. Here is my Picasa album:


Boss eh? I've just gotten into Picasa; it's not bad actually.

It takes forever to produce good jewelry. Unless you're smart enough to apprentice with someone who already knows how to make jewelry, preferably someone with all the equipment and materials...heh heh...keep dreaming.
Posted by Colleen Shirazi, Sunday, May 13, 2007 3:15 AM (Eastern)
Don't sell what you think people need, sell what people want to buy!

Got this excellent quote from a jewelry making forum I like to frequent.

I suppose the above quote made me realize afresh there is a difference between "what you need" and "what you want to buy," albeit at times it is a subtle difference. And that, naturally enough, the notion of selling has to address this...otherwise there would be no sales.

I don't sell my jewelry as of yet, still learning how to make it...as much as I think it is important to sell, there are so many headaches involved...business licenses, taxes, bookkeeping, not to mention the kind of cash you would have to invest up front...that I think you should sell only when you can make enough money to cover the cost of your time, as well as the more obvious material cost. The importance of selling...I'm tempted to say, "It's not the money," although the saying goes, "If they say it's not the money, it is the money." It is the money. It is important to be recognized.

...Where was I? I've never sold anything I made before; I have never done sales. I think it has left a blind spot in my perception. How do you sell? In theory you would try to match the piece to the person, and take it from there, but I already know it does not work that way. Sales has to involve a sixth sense...a way of reading the buyer and sensing what she wants to buy.

I have no particular conclusion here, these are just random thoughts.
Posted by Colleen Shirazi, Friday, April 20, 2007 4:20 PM (Eastern)


Tamerlane's Daughters

These are custom made pieces, but I found the concept interesting...it's actual, sometimes antique, Central Asian embroidery and jewelry, integrated into modern pieces of clothing.

Not something within my immediate budget :) but inspiring just the same.

Further reading on this designer: HALI.com



images courtesy www.tamerlanesdaughters.com

Labels: fashion, personal, style, tamerlane's daughters
Posted by Colleen Shirazi, Thursday, April 19, 2007 12:08 PM (Eastern)
Sorry...I'm telling ya, I will be over this Youtube phase someday. It's just so...amazing.

Check out the Blondie stage style here and tell me No Doubt didn't copy it lock, stock and barrel:



When I met you in the restaurant
You could tell I was no debutante
You asked me what's my pleasure
A movie or a measure?
I'll have a cup of tea and tell you of my dreaming
Dreaming is free
I don't want to live on charity
Pleasure's real or is it fantasy?
Reel to reel is living rarity
People stop and stare at me We just walk on by - we just keep on dreaming
Feet feet, walking a two mile
Meet meet, meet me at the turnstile
I never met him, I'll never forget him

Dream dream, even for a little while
Dream dream, filling up an idle hour
Fade away, radiate

I sit by and watch the river flow
I sit by and watch the traffic go
Imagine something of your very own
Something you can have and hold
I'd build a road in gold just to have some dreaming
Dreaming is free

"Dreaming"
Harry/Stein, 1979

Was Madonna always credited with popularizing blonde hair and dark roots?


"The Tide Is High," John Holt
recorded by Blondie, 1980

Here is the iconic Blondie...with the makeup look still done today (white shimmer shadow on inner corners of eyes, "smoky" liner, red gloss). I actually remember this dress...no one else was wearing it at the time that I knew of...it struck me as very New York (check out the Twin Towers in the beginning of the video).


"Heart of Glass"
Harry/Stein, 1978

The problem with being seminal is that people tend to remember the imitators far more readily than the original. Oh well, I gotta go now and touch up my roots. lol
Posted by Colleen Shirazi, Tuesday, April 17, 2007 10:43 PM (Eastern)
There was such a broad range of fashions in the 70's, it's hard to generalize...yet, our collective memory has distilled the decade rather than preserved it. Bell bottom jeans, tie dye, tight synthetic shirts with big open collars and gold chains, platform shoes, discos and perms...yes, these were all a great part of the 70's. But hardly all of it.


"X Offender," 1976

There is a plethora of vintage (and new) Blondie videos on Youtube, but I found this one particularly emblematic of the period. Music (and culture) had become bloated in the mid 70's...it was all about playing arenas, selling albums, drinking, drugs, playing more arenas...so what burst onto the scene was Blondie, a group that had played actual clubs (you can see by the flamboyant style), was stripped down, 1950's style, young and full of energy.

It can only enhance my experience now, but I did not know at the time that Debbie Harry and Chris Stein were lovers. Adds a romantic layer, doesn't it? As it is, it's a romantic song, in its own slightly twisted manner.


"London Calling"
The Clash, 1979

Now this is one of my favorite groups of all time, ever. Again you will note (see The real 1980's Stranglers' video) the pared down, minimal style of clothing. Punk to me was never about green hair and safety pins or other fluff. It was always about not keeping up with the Joneses...about taking this, that and the other, and making it into your own personal style.
Posted by Colleen Shirazi, Monday, April 16, 2007 11:59 AM (Eastern)
I realize, reading over my recent posts here, I've mentioned buying American-made products in pretty much every post.

That wasn't on purpose, and I hope I do not come across as some kind of a xenophobe. I feel that many products should be produced overseas. The cost to produce everything domestically would be prohibitive; we would not be able to afford anything much of anything if our import policies were that strict.

Moreover, some items are specialized and sometimes are produced better overseas: French perfumes, Balinese silver beads, Italian or English shoes, Chinese pearls, et cetera. We could or do produce comparable items here, but it's well to have choices.

As with anything, the key is balance. We are so out of balance now it's not good. By this I mean our trade balance. I don't think anyone can argue that.

The question is more, what are we going to do about it? I'm the last person in the world to tell people to sit around and be miserable, or else feel guilty about whatever they decide to purchase. My point is always, how can we Americans market our domestically-produced goods, to other Americans? How can we use our own system to provide choices to...us?

The consumer can be fickle, and even our own corporations are constantly trying to put their finger on our pulse. If the corporations felt there was a stronger market for domestically-made goods, they'd be on it like a hobo on a ham sandwich.

Hence the concept of pure and simple marketing of this idea, as well as of specific companies whenever I come across them. If "it's just as easy to love a rich man as a poor one," so it is sometimes just as easy to mention a domestic company as a foreign one.

Anyhow that's what's been on my mind for quite some time.
Posted by Colleen Shirazi, 6:30 AM (Eastern)


freddy&ma custom handbags

This is not a press release (although they do have one). It's pure word-of-mouth, or word-of-Net these days; I got this link from another board.


Gabrielle Union with freddy&ma handbag

image courtesy

freddyandma.blogs.com


They do have a completely interactive bag-designing website...which I can admit I thought would be a bore. I'm not a bag person, I loathe all-Flash websites in the main, who needs to spend time designing a bag...et cetera.

When I got there I realized the bags were good. Started out with the fine intention of making a bag from each designer on the site...about six bags in, I realized this was not a good idea at 3 o'clock in the morning. So, the samples above are just from the first 8 designers.

They have solid colors too, will soon have more selection...all-leather bags and so forth. They have some special bags to benefit charitable causes. I will emphasize again that there are many other designers and their patterns, many ways of putting together "your" bag. You may email "your" bag to your friend for her to critique, as well.

Most intriguing of all, according to their press release, these bags are made in the U.S.A. I had to read that two or three times for it to sink in. There is not much about that fact on the freddy&ma site, which I think is a mistake. There is an enormous, not-talked-about-much sentiment for Americans to "buy American." Not just American designers (but thanks anyway), but especially American labor.

The price range is in the two to three hundreds, which admittedly is more than I pay for a bag; however, I will guess the quality of these bags is up there with the (far more expensive) imported designer bags.

I will leave you with a size description from the charming copy on the site:

Dims: 14.5" x 13" x 4.5"
Carries: new gossip rags, afternoon protein bar, new blouse you bought during your afternoon 'dentist appointment'

Enjoy!

Labels: bags, fashion, freddy and ma, handbags, handmade, personal, purses, style
Posted by Colleen Shirazi, Thursday, April 12, 2007 1:32 PM (Eastern)
I haven't been to a gym in years...which is sad; I used to go. It's one of those things that fell by the wayside after I had my kids (along with 90% of my personal time)...but I have been consciously dieting, because I still like to look good in a swimsuit.

All of that said, here is an article from the author of a new book for those who do work out (or would like to start doing so).


Spice Up Your Treadmill Workout
By Minna Lessig
Author of Tank Top Arms, Bikini Belly, Boy Shorts Bottom

Like many folks, I do my cardio on a treadmill. But because the pounding of running makes my back hurt and tightens my hips, I created this 30-minute treadmill routine. Now, I'm passing it on to you. Some of the moves can be tricky at first, but that's a good thing, especially if your current treadmill workout feels a bit stale. As you learn this routine, feel free to walk, jog, or run instead of doing any of the moves.

Minutes 1 to 5: Warmup with Upper Body Moves


Warmup. Holding the rails or handles of your treadmill with both hands, round your upper back for a few steps. Straighten up, then lift your chest toward the ceiling for a few steps. Repeat 3 to 5 times.



Single-Arm Reaches. Keeping one hand on the rail or bar, extend your other arm straight over your head as you walk. Lower it, then repeat with your other arm. Try to reach higher with each rep. Do 10 to 20 alternating reaches.



Bend Down Low. Walk briskly for 10 to 20 steps. Then bend your knees slightly and walk in this fashion at the same pace for 10 to 20 steps, keeping your upper body upright. Alternate between brisk walking and bent-knee walking. Repeat 3 to 5 times.


Minutes 6 to 25: Speed Up and Change Up


Minutes 6 to 8. Fitness walk: Increase your pace to a level 4 or 5 RPE (see page 11 for the RPE scale). Walk briskly.



Minutes 9 to 10. Step-step-sashay: Step forward with your right foot, then your left foot. Then sashay: Step forward again with your right foot and hop to bring your left foot to meet your right, landing first on your left foot and then your right foot. Immediately step forward with your left foot and hop to bring your right foot to meet your left, landing first on your right foot, then your left foot. Continue to alternate sashays after each two regular steps forward. Before you try sashays on the treadmill, be sure you can do them on the floor or other nonmoving surface!



Minutes 11 to 14. Step-togethers: Think of this move as walking sideways in a straight line. Raise the incline to 3.0 (Novice) -- 6.0 (Master). Novice: Reduce the treadmill's speed to 1.8-2.0 mph. Skilled: Reduce the treadmill's speed to 2.0-2.5 mph. Master: Set the speed as you see fit. Hold the rail or bar with your left hand and turn your body to the right, so that your left shoulder is closest to the bar and your body is a quarter turn to the right. Leading with your left foot, step to the side and then bring your right foot to meet your left. Do step-togethers on one side for minutes 11 and 12, walk forward briskly for a few seconds, then switch to the other side for the remainder of minutes 13 and 14. Advanced exercisers can try hopping together instead of stepping together.



Minutes 15 to 18. Keep the treadmill set at a 3.0-6.0 incline. Side-squat walking: Facing a quarter turn to the right on the treadmill, place your hands on your thighs, bend your knees, and lower yourself into a step-together. Hold a half-squat position as you walk sideways with your left foot leading. Do side-squat walking leading with the left foot for minutes 15 and 16, walk forward briskly for a few seconds, then switch to the other side for the remainder of minutes 17 and 18.



Minutes 19 to 21. Depending on your fitness level, keep the incline up or reduce it. Walk briskly as you hold your arms straight over your head. For less of a challenge, place your hands behind your head. This less-difficult variation still forces your core to work harder and makes a nice little abs workout.



Minutes 22 to 24. Incline walking: In accordance with your fitness level, walk, jog, or run on an incline of 3, 4, or 5 to work your glutes and hamstrings.



Minute 25. Novice: Lower the incline and perform one last blast of fitness walking. Skilled and Master: Keep an incline, but reduce the treadmill's speed (to 1.8-2.5 mph for Novice and Skilled levels and up to 3.0 mph for Master). Holding the bars or rails, carefully turn 180 degrees so that your back is to the rail or bar and you are walking "backward." Hold on to the rail or bars as you walk backward -- you'll feel a burn in the front of your thighs. Carefully turn until you're facing forward.


Minutes 26 to 20: Cooldown


Repeat the Warmup. Reduce the treadmill's incline. Slow your pace even more until you are walking very slowly. Shake one leg, step, step, shake the other leg, step, step. Repeat until you've shaken each leg 10 to 20 times.



Take Two Deep Breaths. Extend both arms over your head on the inhalation and lower them on the exhalation.


Reprinted from: Tank Top Arms, Bikini Belly, Boy Shorts Bottom: Tighten and Tone Your Body in as Little as 10 Minutes a Day by Minna Lessig © 2007 by Rodale Inc. (April 2007; $18.95US/$22.95CAN; 978-1-59486-562-6) Permission granted by Rodale, Inc., Emmaus, PA 18098. Available wherever books are sold or directly from the publisher by calling at (800) 848-4735.

Author
Minna Lessig is a sought-after personal trainer and an internationally recognized fitness supermodel who has been featured on the covers and inside such magazines as Muscle and Fitness, Fit, and Women's Fitness International. The star and creator of numerous best-selling workout videos, she lives in Virginia Beach.

For more information, please visit www.minnalessig.com.
Posted by Colleen Shirazi, Monday, April 02, 2007 1:57 PM (Eastern)


Garfunkel's outfit for this concert has been on my mind for years. Thanks to Youtube, I can see it again (I didn't tape the show).

I remember watching the concert on tv...at the time, the notion of a performer wearing his own clothes was rapidly becoming unheard-of. I remember thinking, how ballsy. This was an historic event...what does he wear, but a white shirt, dark vest, and jeans that were obviously not new. Fantastic.

Oh I know that sounds next to fatuous, but we are becoming a culture of pure consumption. We don't make anything anymore; we don't produce anything tangible. I remember when you would look through a clothing catalogue and some items might be marked "imported." I also remember when a wide range of products were labeled "Made in the U.S.A."

I think...it's less a matter of returning to the past (which is impossible anyway), more a matter of being conscientious...I always look to see where a product was made. Sometimes what you see is not what you were expecting.

I went to a chain "dollar store" recently and started reading labels on various items. What I discovered, is that almost all of them...across a wide variety of items, from egg dyeing kits to cleaning products to candles to gardening gloves...had been supplied by a single distributor.

The first thought that occurred, was that the distributor came first, then the stores, rather than the other way around. The distributor created the stores in order to supply to them. This distributor was unlikely to supply to any other store, just as the store was unlikely to buy much stock from any other distributor.

What further occurred, is that the distributor probably owned the factories in China that were producing the products...that were routed through the distributor, and sold at the stores owned by...the distributor? the owner of the factories? All one and the same?

Hence, the cost to produce that dollar item was probably what, three cents?

It's ingenious, it's out-Wal-Marting Wal-Mart. I would never have noticed at all if I were not in the habit of picking up items and examining their origin.
Posted by Colleen Shirazi, Thursday, March 29, 2007 9:03 PM (Eastern)
I realize I've been on a Youtube kick lately...it's temporary. It's just that I've only now comprehended that I can see stuff I've not seen in many years.

To quote Margaret Mead: "Thanks to television, for the first time the young are seeing history made before it is censored by their elders."

Youtube is (at least for now) the next logical step in that evolution; it's a library of the television that people have censored in their own memories...or have allowed other people to censor for them.

Real 1980's:



The 1980's we remember, or think that we do:



Okay, I was there. The Smiths' video made them look a lot cooler than they actually were. I'm not knocking it; it's a great video. Still, after all this time...more than twenty years...I can't play The Smiths and feel they represent the period. The Stranglers' odd little song, replete with the kind of fashion people really wore in the 80's...it's more like it.
Posted by Colleen Shirazi, Wednesday, March 28, 2007 1:17 AM (Eastern)
MixtGoods

What's neat is that it's all American artists and crafters. Off the top of my head, the only other sites I can think of that sell American made goods are the Sundance site and of course Etsy.
Posted by Dain, Friday, March 23, 2007 3:18 PM (Eastern)
I'll admit, I don't really want to work. But then, who does? I suppose that's why it's called work. But I'll be graduating soon (May), and earning my bread will become a necessity. I just want a job, not the job, flashy degree notwithstanding. Practical matters elude me, in all honesty. I loathe the idea of being on the clock, of paying taxes and bills, but I know that playtime's over. So, I want to work with cosmetics in some capacity, because I love doing this stuff. I'll probably begin with sales. I'm pretty much planning to move to France (I feel a stranger in my own land, but at home there); it'll be an easy transition because my boyfriend (at least I think he is; it's sorta ambiguous) lives there and I can stay with him. I could work the floor at Galeries Lafayette or Sephora (there are at least two I know of in Nice, they clog France the way Starbucks do America) or Marionnaud, and write in my spare time.

In any case, one way to make this fun is to think of my ultimate work wardrobe. I will probably have to wear all black, which is new to me (I wear a lot of color), but I figure I'll have to buy very little, because black makes for such a uniform. I'll have to make sure everything is very, very chic (to attract customers), but without too much flash (otherwise I'll look like a customer myself). Personal style, but with much restraint. An interesting exercise, anyway.

FIRST, bottoms, which I believe is the best place to being when constructing a wardrobe. I'll need a black skirt, and if that's not enough, a pair of black trousers.

Banana Republic Taffeta Curved Pocket Skirt $59.99

I like the curved pocket detail, makes it just a little special without resorting to patterns or textures or grand embellishments. It's simple and flowy, a universally flattering a-line (a pencil skirt must be worn with heels), and it looks very comfortable.

For a pair of trousers, I don't think you could do better (at least in mass market) than Express Editors in Luxury Stretch; the black is $69.50. The fit is great, the material sophisticated enough for any occasion, really a perfect pair of black pants (I usually wear J. Crew chinos because they're durable, but they're more casual). I prefer skirts, though. I think they're much more comfortable.

SECOND, a pair of comfortable and stylish flats. I do have a pair of perfect black pumps, but I imagine I'd be on my feet all day, so flats are far better.

Pelle Moda Zest $141.95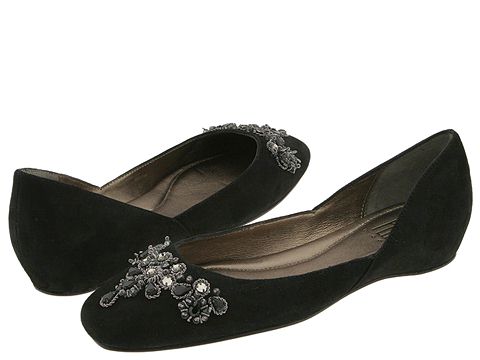 You've no idea just how many ballet flats I looked at before I chose this one. I wanted something demure, so a black ballet flat seemed perfect. I started with "the queen of ballet flats", Repetto (they still make some styles by hand), but had difficulty finding anything beyond the basic styles. I wanted something special, not basic. I really like this pair from Pelle Moda: black suede, the dipped cut (very Valentino), the cute round toe, and of course, the pretty baroque embellishment (very much like these Manolos). I think the embellishment is ok, because it's in black, and toe is closed rather than open.

I also liked Sam Edelman Cassia $128.95

Perhaps this is a better choice for work because it's not so flashy. The shape is more your classic ballet flat, but the detail at the toe is actually a bouquet of tiny suede rosebuds and grosgrain ribbon. Very cute, and special. I actually love this brand. They make high quality shoes that are classic styles but with very unique details, and they're not terribly expensive (no more so than, say, Steven Madden or BCBG). This is an academic question, though, because they're out of my size.

I also liked these three, which have mid-level heels: Marc Jacobs, Gabriella Rocha Vivian, and Bruno Magli Jamila. But I prefer the ballet flats. It'd be between the Pelle Moda or the Sam Edelman.

THIRD, tops. If I could find a really fine black jacket, like this one by Alexander McQueen, that would be the end of it. I could wear this every single day, simply because it's so beautifully made. But at $1615, it's hardly a reasonable purchase for me. Another option would be a Chanel-esque tweed jacket, which, though perhaps cliché is a softer look, with plenty of texture, like this one from La Redoute (at a much more comfortable $29.99). I like this one because it lacks pockets—more like a shirt than a jacket. But I really dislike the idea of wearing a jacket.

I mean, if I'm just gonna wear something simple and black, would not a pretty sweater do? J. Crew Solid Featherweight Merino Button Boatneck Sweater $79

I have this in the "Belize" print, so I know it fits well. I love the button detail at the shoulder—just a little better than basic. Other options: Anthropologie Novella Pullover, Laureate Lane Madison Cardigan, Kimchi & Blue Lacey Babydoll Top. But I really like the simple look—one might call it "soignée"—of the J. Crew sweater. I should probably get two of these, at least.

The final possibility is a blouse or buttondown, in black. I'm tired of searching, so you can imagine a black silk blouse or a crisp black or black&white striped buttondown for yourself.

FOURTH, accessories. Hm, I think I'd just wear my own. My mother's pearls and my gold art deco bracelet; they go well together. Pearls are of course classic, and the bracelet, though flashy, would be the only touch of intensity in my entire outfit.

If I want a touch of color, I suppose a silk scarf (I have one in pink floral) would do. My bag would be my trusty big brown bag, my jacket that fabulous bright green cape jacket with giant buttons I saw at Zara but didn't buy and now I'm kicking myself over it.

FIFTH, makeup! See Beauty Blog for that.

Labels: alexander mcqueen, anthropologie, banana republic, bruno magli, fashion, j.crew, jewelry, kimchi blue, la redoute, madison, manolo blahnik, marc jacobs, pelle moda, personal, sam edelman, shoes, style
Posted by Dain, Sunday, March 11, 2007 6:32 PM (Eastern)
Vacationing in the south of France for a week...

Here's what I packed:

UNDERWEAR
1. black bra and lots of black panties: they're just as neutral as white or beige but never look dirty, plus, way sexier
2. pink silk chemise with ivory lace: not only is it beautiful, it's actually very comfortable
3. white camisole: to layer underneath #6 and #7

TOPS
4. crisp buttondown, with grey and lavender stripes: simple, clean, casual but not messy
5. lightweight silk green and ivory psychedelic patterned sweater: I love this sweater, it is exactly my style, and it looks so damn good
6. sheer red-and-black floral patterned silk capelet blouse (sort of like a fancy, limited poncho, I guess, except in delicate silk): it's kinda Victorian-blouse-ish at the neck and chest, the material is very bohomenian and attention-grabbing, and tailoring is certainly very unique
7. white bohemian style blouse with embroidery: it's perfectly provençal, no?

BOTTOMS
8. wool felt camel pencil skirt: a pencil skirt gives an outfit an instant dose of sophistication, and wears well with every top—of course it works with #4 and #5, it's narrow enough to wear with blousy tops #6 and #7
9. swingy navy linen a-line skirt: I prefer skirts to pants, and this is the most utilitarian of my skirts; it's a flattering shape and material, it's a neutral color that works with everything, and it's very comfortable

DRESSES
10. simple sundress with a splashy multicolor floral print: so easy to wear
11. white apron dress: for some reason, I look really good in this dress—I look really good in skirts and in white, and this dress is sort of the ultimate marriage of the two

WARMTH
11. red cardigan: nights might get chilly, so this is my "warmth" layer, to wear over the two dresses #10 and #11 (I wonder if I should also bring another cardigan, in seafoam?)

ACCESSORIES
12. my mother's pearl necklace: because it's classic (though I think I'll take it off for the dresses), and it has that Grace-Kelly vibe that's perfect for the Riviera
13. art deco gold bracelet: it's very, very flashy... gold, pearls, and faux crystals, a repeating medallion pattern
14. an (faux) aquamarine and gold ring: there are lots of gemstones crowded around it, so that it looks like a garden patch with a pool... it's hard to describe, essentially it's the most fabulous thing I own
15. pink floral silk scarf: it doesn't seem right, to go to France without a scarf
16. gathered silver flats: for when I don't want to appear in heels, I'll wear these with the navy skirt #9 and the jeans #23
17. olive green espadrilles: these give me tons of height without discomfort (really!), and of course, they are so perfectly summery... I can wear these with the dresses #10 and #11, and of course with the navy skirt #9
18. simple black suede pointy-toe stiletto pumps: to pair with the camel pencil skirt, because pencil skirts require a heel (you run the risk of looking stumpy if you wear flats) and the espadrilles are too casual, though I guess it could work)

SWIM and SUN
19: periwinkle blue string bikini: it's too cold to swim, but I can get a tan at the beach, I think
20. long flowery skirt and black tank top: beach coverups

WHAT I'M WEARING ON THE PLANE:
21. my Pucci-esque henley
22. blue superfine lightweight cashmere "boyfriend" sweater: comfy and warm but fits well
23. jeans, Blue Cult, still the same pair
24. flip flops, love, bright blue Havaianas
25. my big brown bag that holds everything
26. my brown-blue-white tweed princess jacket (a princess jacket is cut like a dress)

That's it! I pack light. I don't really need all those clothes, but they're not much, once packed. I like this wardrobe because I can channel casual or dressed up as need be, without ever running the risk of looking messy.
Posted by Colleen Shirazi, Monday, February 26, 2007 6:20 PM (Eastern)
So, what did we think about the 2007 Academy Awards ceremony?

I was a bit underwhelmed, myself. Even though the trend over the past few years has been a subdued one, I still harbor a secret desire to see unabashed glitz, glamor, red lips and rocks, with perhaps an outrageous touch or two. At the same time, I feel there has been a growing, quiet individualism during this same period. A bit less of "I hired someone to create my look," a bit more of "this is who I am." Which I like.

I'm pretty bad at compiling "worst dressed lists" even though I understand that people in this industry expect such things (and would rather be on the worst-dressed list, than on no list at all). I'd rather go over some of the looks that I liked.

Here's my favorite of the evening, Rachel Weisz:




Yowza! The perfect material, cut and color gown here, along with a neat updo, good makeup (just enough, not too much) and that cool pendant/brooch thing going on (I know some people thought she should do one or the other, but I liked the combination, myself).

Nicole Kidman:




This is kind of a given so I won't go into much detail here. I don't think this woman could look bad if she tried. But I did appreciate the bright red gown with its nifty, "I am a present" bow.

Naomi Watts:




A bit understated here; the hair should have been more glamorous. Still, three rows of diamonds and strapless pale yellow catch the eye.

Jennifer Hudson:




Yeah, she caught a lot of flack over the bolero, but I thought it was a funky individualistic touch, along with the side pockets. This look would have failed on anyone older than Hudson, but the effect to me was of an attractive young woman.

Helen Mirren:




Perfect all around, from makeup and hair to gown. (Can I admit I was cheering for her to win?)

Abigail Breslin:




I like that she looks elegant, not cutesy, yet still age appropriate.

Catherine Deneuve:




A spare, almost Asian look, with just the right balance of black and red.

Beyonce:




This is actually a horrible gown. Imagine any number of other actresses attempting this gown; they would immediately appear on the "Bjork swan dress" list, to be rehashed every year around this time. But on Beyonce, it looks as if it's the most sumptuous gown ever, from the pale green color to the sexy cut.

Emily Blunt and Jessica Biel:




Blunt got more kudos, with sapphire blue gown matched to sapphire blue eyes, but I think Biel deserves some credit too, for a striking fuchsia column gown.

Keisha Whitaker:




Hotcha hotcha hotcha! Love the mustard gold gown with the fluted hem. Who's that guy next to her? *g*

Some honorable mentions:

Gwyneth Paltrow:




I wasn't too sure what to make out of this look; it had an eclecticism which, I suppose, you either loved or hated. I liked that she chose not to wear a girdle, which gave her a Marilyn Monroe tummy. I liked the combination of red lipstick with the soft apricot tone of the gown. I even liked the gown itself with its vintage flavor.

But, I think she should have put her hair up. Wearing it down gave the effect of a little girl playing dress-up. A sophisticated updo would have made the whole look work flawlessly.

Kirsten Dunst:




Now here is someone who's going to get ragged no matter what she does...but the gown was beautiful. I think a little shawl or wrap would have done this look good, and a fancier hairdo.

Cate Blanchett:




I actually hate this gown, with a passion. Yet, perfect hair and makeup.

Meryl Streep:




What I cherish here is that Streep was up for The Devil Wears Prada. And she showed up wearing what would appear to be handmade jewelry. I'd bet fifty bucks Streep either made the pieces herself, or else has a relative or girl friend who did. It was a ballsy, even mom-sy move, and I think it worked.

Guys:

Spike Lee and Leonardo DiCaprio:




Normally I could care less what the guys wore to the Oscars. But I liked Spike Lee's East Coast-ness, and DiCaprio's sharp, natty look.



images courtesy style.com

Labels: academy awards, fashion, oscars, personal, style
Posted by Colleen Shirazi, Saturday, February 10, 2007 5:46 PM (Eastern)
...extraordinarily bad photography.




I think you need natural light to do this sort of thing. It's been overcast and raining the past few days; I've concluded that a good photograph won't be possible until it clears up.

Anyhow. I feel I am slowly, but slowly, making the kind of jewelry I want to make. Did I mention slowly? It takes a long time to get the hang of it. I owe a lot to the forum at jewelrymaking.about.com. I've been there only a short time but the level of experience of the posters is phenomenal.

I had to restring the citrine necklace anyway, to add in the "wire thimbles":





image courtesy www.rings-things.com



So I shortened it some. I hated doing that, but it does have an extender chain clasp, so it can go two inches longer. A shorter necklace is more versatile.

The pieces are finished. Whenever possible, I've "double crimped" them (some designs don't look good that way, like the three-strand jade bracelet). That means using two crimps instead of one:





image courtesy www.artbeads.com



It's best to flatten both crimps, then fold them (not flatten and fold one, then do the other).
Posted by Colleen Shirazi, Wednesday, January 24, 2007 9:01 PM (Eastern)


Okay, I'm done with this piece.

If anything, I've learned a lot about the finer details of construction this month. It's relatively easy to make the piece itself. But after you've worn it for a while, you start to appreciate those hundreds of little touches, that were invisible to you before, that make it a piece that either breaks down after a while, or else lasts.

That is a hot topic over at the jewelrymaking.about.com forum. Of all the about.com sections I've visited, I'll have to say this is one of the best. It's constantly being updated, and has all sorts of tutorials and links.

So...in the previous incarnation of this bracelet, for example, the pearls were connected directly to the clasp. Not good; it's a terrific wear-and-tear spot. Solution: use not one, but two jump rings to connect pearl to clasp. In fact two jump rings can work in many stress points.

While I was doing this, I discovered a better way to snip the jump rings (you can and should use a saw for this but I don't have one). Simply hold the coil horizontally to make the cuts. Comes out straight every time.

Why a blue stone? It's a beautiful clasp, but I bought it for a turquoise piece, not this. But I tried it...it's just too perfect. The blue stone in real life is sky blue in color...it's Swiss Blue Topaz, not Sky Blue, but it's not that almost gaudy blue that you see in blue topaz. It's like the California sky on a good day.
Posted by Dain, Tuesday, January 09, 2007 6:35 PM (Eastern)

I'm thinking about this for the summer. It is the perfect sultry shoe to wear with breezy dresses, no?

Labels: fashion, michael kors, personal, shoes, style
Posted by Colleen Shirazi, Thursday, January 04, 2007 1:37 AM (Eastern)
Seaplane
Posted by Colleen Shirazi, Tuesday, January 02, 2007 4:20 PM (Eastern)
Okay technically year 2 began for me last September, but it'll be easier to document if I start the year now.



(This is the necklace on its shortest setting.)




I'm pretty pleased with this...the pearls are good quality and the overall look is dressy because of the black and clear Swarovski crystals.

Side note: are Swarovski crystals all that? I think they are. I've used Chinese crystals; some can actually be better than Swarovski's only because of the colors (I have some that are red, with this interesting yellow/orange edge, and some olive green ones), but I use Swarovski as my staple crystal.

I have enough pearls to make a matching bracelet. Here is the original bracelet (mind you, nothing in that picture exists anymore though I do plan to redo the pearl earrings):




The original necklace was similar, a plain strand of the pearls with small gold spacer beads.

Here is a double strand citrine necklace:




mumbles... I didn't even use a flash with this, I suppose the light was too bright.

The flower bead is quite nice; it's Indian sterling silver with a round faceted citrine on either side. The drop at the bottom is citrine of course.




Pink Swarovski crystal, vermeil Indian beads, on goldfilled chain. I did use a flash here and it caught one of the crystals.

Finally, some earrings:




I tried photographing them together and it didn't really work. These are good earrings...I've worn them all day and they don't get heavy. (Usually the only way to tell is by wearing them.) The pink pearls aren't that pink...they're a sort of faint peachy pink color, good lustre. The vermeil beads on the right-hand pair are Turkish.
Posted by TheLipstickPageForums.com, Sunday, December 17, 2006 12:22 AM (Eastern)
It's Colleen btw. I switched my Blogger account to the beta version...mumbles...on the premise that the new Blogger features "labels." This is a feature that other blogging programs already have; at the least, it means we can categorize our posts (under, say, "Chanel," "grunge," "ramblings" etc.); same post may contain multiple labels. Ideally it would also mean our labels would be keywords, although I doubt it. Anyhow, I can't retrieve my "old" blogs from my "new" account until, I suppose, tomorrow, and I've been reluctant to switch these blogs over until the beta is out of beta.

I've ordered some more components...sighs. Perhaps the obvious tactic for me would have been to Google until I found jewelry I liked, and then duplicate it. After all I'm making it for my own use. My problem is more along the lines of my pre-Net cosmetic persona: I never really figured out what I liked in the first place. Sure, I like a big rock, same as the next gal, but so what? That's not a solution since I can't produce the big rock.

At least I've boiled some of it down. I like gold more than silver, faceted more than smooth, rondelle over round; I can't abide toggle clasps on bracelets (they look great and invariably drop off your wrist after a few hours), but find they work perfectly on necklaces.

I prefer bracelets that clasp over stretch pieces; for whatever irrational reason (it's a contradiction, but haven't you done things for irrational reasons?), they feel more secure. Box clasps are ideal for bracelets, being both decorative and secure, but most necklaces can do with the less-expensive toggle or lobster/spring ring clasp.

Crystals work for instant, affordable glamor; they are amazingly good. But I don't like most of the colored ones. They depress me...they just feel like fake gemstones.

Multiple strands tend to be better than single, depending on what you're working with.

All of that said...I'm working on a few pieces. One is the citrine and silver set I mentioned earlier. I'm not happy with it. To think I used to strive to make a new piece every day--what a mistake! It can take weeks to develop a design and find the components for it. There is no one source anywhere I've found, that actually has everything you need.

Another piece consists of pink "cornflake" pearls and pink tourmaline rondelles...a rondelle is what it sounds like, a sort of flattened round:



Bali silver bead image courtesy rings-things.com

Rhodolite image courtesy firemountaingems.com

Swarovski crystal image courtesy artbeads.com



I'm going to use vermeil Bali beads in this. I have it in mind to make a three-strand bracelet to "go with"; no idea if that's going to work (the pink pearls for this are drilled through the top, so it'll be an engineering feat if I can get them to line up).

I'm also making a simple strand of white square pearls, connected with goldfilled wire. Not wrapped, just simple loops. This is going to have a diamond-shaped vermeil toggle.

The citrine bracelet...needs a new clasp. I took the citrine drop off the necklace because I want to do this with it:





Image courtesy beadshop.com



For this you need "dead soft" wire; you can bring the wire down as far as you like (more decorative than the plain wrapped loop I had on it before).

If I can pull all of this off, I'll have several highly wearable pieces.


fashion, style, jewelry, beading
Posted by Dain, Saturday, December 16, 2006 4:25 PM (Eastern)
Throw it on for warmth
Daryl K-189 Jacket: In my mind, I saw a boxy black jacket, no embellishments whatsoever, very 80s prep school, worn casually with the sleeves rolled up. You have no idea how difficult it was to find one. Plain doesn't sell these days, apparently. But this one is perfect. All the lines (collar, shoulders, pockets, hem) are soft and curvy... sneakily feminine.

Swim!

Mmm... look at this teeny tiny bikini from Errol, with sexy gold chain detailing. Add giant zebra-print sunglasses (from Urban Outfitters), Hogan's rich alligator sandal, and a psychedelic Hermès towel, and be the most glamorous bitch on the beach.

Nights Out

I want a dose of serious animal print in there somewhere... I really like how this is sweet and sexy at once, Marc by Marc Jacobs Le Tigre Silk Dress.

Alternate Forms

On days when skirts feel too dressed up, nothing feels cooler than white trousers, these are by Paige Premium. Just beware the panty lines.


fashion style jacket Daryl+K-189 swimsuit sunglasses shoe sandals dress marc+jacobs
Posted by Dain, Saturday, December 09, 2006 12:48 PM (Eastern)
Accessories?

On such a simple palette of clothes, it's tempting to throw on as many accessories as possible. What wouldn't work? I like these basic clothes, as a sort of palette cleanser, but it really lets you showcase your personality in terms of accessories.

For example, simple and earthy: A wooden bracelet, sleek leather sandals, and gold hoop earrings.

But I am going to take my cue from Grace Kelly, and opt for more posh fare:

1. strand of pearls

Mikimoto: These are... perfection? I'd say, get the 30" one (a rum $12,700), and wear one long strand, almost as if you "threw it on". Yes, even on top of a tee. The absurdity of it! But come, is this resort or not?

2. "big" watch

Cartier Tank Française: This watch is so statement laden that wearing one is tantamount to wearing a flashy diamond bracelet, but covertly.

3. tough bag

Thomas Wylde Oxford Circus Bag: I needed to throw in something sexy tough, as a counterpoint to the hyperfeminity of everything else. I love this bag... the buttery soft wrinkled leather, the chains, the slouch... it's pure bad girl, but gone luxe, so it doesn't seem so out of place as you might first imagine.

4. black heels

Christian Louboutin: I was going to throw something very wicked in there, but decided to err on the side of simplicity. The bag is probably strong enough without reinforcement. I actually would buy these in a leopard print, but found only the black ones.
Posted by Colleen Shirazi, Friday, December 08, 2006 9:24 PM (Eastern)
I've finished my second phase of making jewelry.

It's a process remarkably similar to figuring out makeup and learning to use it well, rather than in a default or exaggerated manner. Oh, here it is: Minimalism? (philosophical makeup use).

It's not quite the same in that I think of phase one of jewelry making as a combination of "gee whiz, I can make my own jewelry?" and "it's incredibly difficult" (unless you have the good fortune to learn it from someone else). Because there are so many new materials and techniques, available locally or on the Net, you can be up and running with a relatively low initial investment. i.e. you need not invest in metalworking up front, only in a few key tools and some wire and stringing materials.

The difficulty I suppose varies. I'm not crafty; it was difficult for me.

Phase two is when you can make things, and make them well, but there is still a lot of experimentation. The variables, may I say, are akin to cosmetic variables. If you have tens of thousands of lipsticks, eyeshadows, and blushes from which to choose, so you have tens of thousands of beads, which can be strung, or knotted, or wire wrapped...you can make a necklace from a chain, or make it on a chain, or make your own chain, or skip the chain and go for a leather, or suede, or hemp, or stretch cord, or memory wire...choose a spring ring, lobster claw, box (drools), hook-and-eye, or S clasp...the common materials are sterling silver and gold fill, but now we have Argentium sterling silver (which is slowly becoming more widely available), which reputedly can't tarnish. Oh, and there's vermeil too. And don't forget the crystals. :)

Phase three is when you no longer wish to make casual pieces. Each piece now has to involve...something elevated. It can appear to be more expensive than phase two, but, overall, it's cheaper. Just as you spend less on makeup once you've figured it out, but (most likely) more on each item, so each piece of phase three jewelry can cost more than a phase two piece, but there are fewer pieces to begin with.

I've done three pieces of phase three jewelry so far. The first is a pair of freshwater pearl earrings. These were not extraordinarily difficult, in fact they consist of an egg-shaped pearl, a square pearl, and a large coin-shaped pearl: that's it. They are connected by simple loops, with a few small gold-filled beads thrown in.

They're horribly simple but then they are the MAC "Sophisto" lipstick of my nascent phase three jewelry collection. It probably took me more time picking out those six pearls than doing the design and assembling it. It was the pearls themselves that made these earrings (that, and a hankering I already had for square and coin-shaped pearls); they are of a faint peachy pink hue (not too peachy, nor too mauve), with intense lustre and good size.

I used gold-filled wire to do the loops, and "made" a bronze niobium wire for each (the wires are already bent except for the front loop, so you can add a small bead or wire coil of your choice before making the loop).

What's great: they show. I don't put my hair up often, and it's long enough to drown out many an earring.

They're sufficiently lightweight so that I can wear them all day without wanting to remove them.

The color goes with just about anything, because they're not distinctly pink or peach. In fact (to stretch the makeup analogy until it begs for mercy), not dissimilar to a blush...the blush that looks perfectly natural on you. Not too warm, not too cool.

I debated about making them fancier with, say, vermeil daisy spacer beads. But I think that would actually make them look more ordinary.

The second piece is a citrine bracelet, three strands: two consist of faceted citrine beads separated by Bali sterling daisy spacers, one of citrine "points" (these are like tiny smooth long teardrops) with a Bali bead for every seven points. These are held together not by spacer bars, but by large handmade sterling beads shaped like flowers with a round faceted citrine on either side of the bead. The clasp for this is the same citrine one pictured here: This and that. As much as I rather liked the original bangle, it hardly showed on me (much like, hm, MAC "Jubilee" lipstick...okay, I'll stop now).

The third piece is a matching citrine necklace, two strands: one of the same faceted beads and daisy spacers; the other, the same points and Bali beads. In front is a third flower-shaped bead, with a large smooth teardrop-shaped citrine bead hung below it.

I actually had all of the beads for both pieces, except that last teardrop-shaped one, and for weeks I'd been trying to come up with a design using them.

Citrine is one of my favorite stones (I tried making a list of my favorite stones and it became depressingly long), but its color is subtle and the trick is to use a lot of it when you're making a piece.

So what's next? I have a few odd things I'd like to do, like a three-strand peridot bracelet, a "keishi" pearl necklace (these are "cornflake" shaped pearls), a white square pearl necklace...I'm going to restring my dancing pearl necklace and bracelet (I'd like to add some crystals to both) and my American turquoise necklace and bracelet (here I'd like to use crystal "wheel" beads). I'll need some leather cord for stuff...and I'd like to do some crystal pieces for my daughter and myself (crystals with Argentium silver).

I'll have some pictures later on.
Posted by Dain, Thursday, December 07, 2006 9:14 PM (Eastern)
Softest shirts...

1. Weekend

James Perse Mini Jersey Jewel-Neck Tee: Purist. A simple tissue-thin tee, in a vibrant shade. Why wear white?

2. Day

Derek Lam High Neck Ruffle Blouse: Romantic. A frilly shirt in a gothic color: rich powdery grape silk. Add classic pumps, maybe even animal print.

3. Night


Anthropologie Vivi V-Neck: Sultry. The shade is subdued, but nothing else about this shirt is. And somehow, I like the interplay, though maybe it's too much all at once? I am leery of mixing styles, for the most part. One is drapey, the other is tailored (opposites of fabric metaphysics). A sharp pair of silver hoops is probably all you need. And kickass flat sandals.

It's funny, but these are all cool blue/violet shades. It's somehow a rethinking of the preppie aesthetic of blue shirt and beige khakis, but so much more... well, pretty. This is not, by the way, how the fashion industry is doing spring style for 2007. I am simply taking ONE trend (nude palette), and interpreting it as something I'd rather wear. It makes the hunting down of really interesting accessories really fun..........
Posted by Dain, Sunday, November 26, 2006 7:19 PM (Eastern)
I actually have nothing against coke and coke addicts. But I think the cult of personality that has accumulated around Kate Moss is starting to... it's ridiculous. Rescind my membership to the Kate Moss fan club.
Posted by Dain, 6:44 PM (Eastern)
But this is ridiculous. I don't care if she's too cool to "give a fuck", I don't care if this is "fashion"... this is some tiny, coked out woman jumping around with her top off. That is not an intelligent lifestyle choice.

What are we celebrating here? Ignorance? Lack of conscience? Cool.

And as for her being a style setter? For God's sake, she's responsible for SKINNY jeans, wellies as everyday wear, and LEGGINGS. The woman clearly inspires trends. That is a given. But that does not mean these look good—on anyone but her.

Oh, what does it matter?

They're going to remember her as a post-millenial Marilyn Munroe. Except that one was celebrated for her figure, her smile, and her seductive sweetness, while the other is celebrated for possessing... the exact opposites. Lookswise, they haven't much in common, except for a carefully trimmed coif of blonde hair and a predilection for animal prints. Oh, and they look out at you with half-closed eyes. Marilyn, I think, is trying to express lust, and Moss? Dare I say it? Her eyes are half-closed from too much blow.

Hmm...

No contest.
Posted by Dain, 2:40 AM (Eastern)
I got the 90th anniversary issue of British Vogue today. $9.99. It is a waste of money. A rushed pictoral history, it looks like someone sat down and ate an archive and vomit all over the pages. WORST: the editorial "Magical History Tour". Combines two most nauseating trends at present: fashion looking back on itself (self-referential tailoring is getting out of hand) and, and... layering. With priceless antique clothing!!!!
(*&%$*@*&()#!!

I am telling you, layering is not a good look. Stay away from black leggings.

It is kind of a treasure hunt, though. I like that. But it is ugly, and really tasteless.
Posted by Dain, Saturday, November 25, 2006 1:11 AM (Eastern)
I'm craving a bit of an update—looking forward to spring (yes, already!). Would that I were going to some place peaceful and warm. But sometimes a little commodity fetishism (it must be admitted) is just the ticket out, albeit a virtual one. For that matter, these clothes are virtual.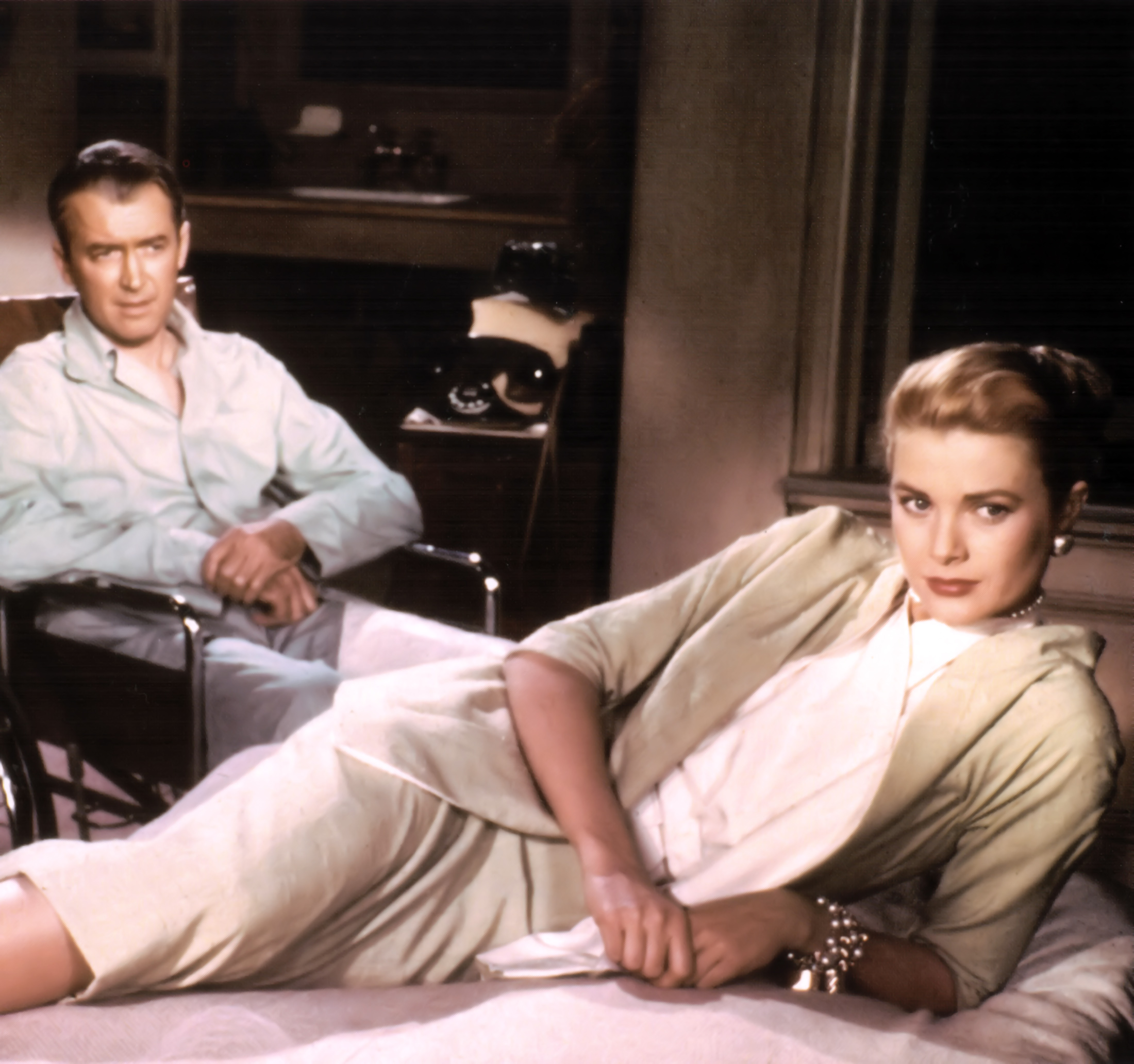 The formal perfection of Grace Kelly.

The inspiration for this look.

How to dress around a beige (the color for spring) skirt. I generally work around a bottom as a "foundation" to building a wardrobe. It's the item you most consistently wear over a season. I try to choose something that, (1) is very, very flattering on my body, (2) stands up to everyday wear and tear, and finally (3) is neutral, almost plain, so it goes with absolutely everything.


Barneys New York Pleat Skirt with Pockets: Thus. Crisp shimmery pleated silk taupe. Khakis gone formal. Airy enough for warm weather, but tailored enough to stand up to the softest shirts.
Posted by Dain, Sunday, November 19, 2006 8:17 PM (Eastern)
It's vacation, and I'm gonna be working very hard, so I will not see y'all till the end of the week. (Save November's Beauty Scrapbook.) So I leave you with this to ponder, speaking of exquisite dresses. These two are from Alexander McQueen, I think FALL 2006. Happy Thanksgiving!

Alexander McQueen Embroidered Tulle Gown $8,280

How unbelievably and heartbreakingly beautiful is this? Gothic romanticism. The shape is classic, the shades demure (nude and black), and yet, only a woman of character and mystery could wear it, one who can carry a froth of silk and tulle and lace and still look powerful. And the proper accents? Who cares? Can you look at anything but this dress?

Alexander McQueen Embellished velvet dress $2,195

Such a different dress, but so equally mysterious! The black velvet is dark as ink, the fit is perfection, and the embellishments, the feathers gold-beaded, the gold silk lining, the subtle pouf of pleats in the back... ach, honestly, what is the use of doing a description? Look at it yourself.
Posted by Dain, Wednesday, November 15, 2006 1:44 AM (Eastern)
Is the first and last time I will write "*dies*" on this blog. But it was the word that best suit at that moment.
Posted by Dain, 12:13 AM (Eastern)
I hate layering. You know, leggings, complicated dress, tunics, tailored jackets, whatever, all on top of each other. I don't care if you do it in neutrals. It looks stupid. I hate to see it whenever I flip through glossies (Lucky in particular reeks with too much layering. What is happening to this magazine? It's going downhill. Whatever happened to the Consumer's Digest of fashion? Now it's, vanity fair.). It's too multidimensionally significant. Too "interesting", rather than attractive. Clothes should look good, first and foremost.

The trends I prefer:
1. Dresses that are interesting, not readily identifiable, and fit to perfection... that, I think, is a trend to yield clothes that will last you a lifetime. Because really, when will you ever hate a beautiful dress? Yes, they're more expensive than tops, but the amount of real wear you get out of them is far greater. Might as well snap some up while it's the fashion to design beautiful, well made, and interesting clothes.
2. Pristine, well-cut basics. This, I think, is an emerging trend. One that hasn't really shown its face yet. It's time. Yeah, $300 jeans are ridiculous, but these trends filter down from the top. GAP makes precision cut jeans, Express makes editor pants... and now tees and shirts are getting the treatment. What next? Sweaters are coming. A mania for precise, handcrafted artisanal sweaters.

Things I'm not sure about:
1. Organic jewelry? But then, my taste is to the baroque. I don't know that I want gold and jewels to look as if they grew on me. And yet, to look at, they are, very pretty.
2. Really, I don't like the shoe trends. Architectural? Please. There are two shoes I'm contemplating this season, it's just that boring to me:

The Steve Madden 'Carmila': So classic that it's eternally tasteful. They're not Manolos, but they are surprisingly close to well made for factory chaff.


Doc Martens: I revere Christian Louboutin, but the ubiquity repels me. Before, Louboutin was something like a fledgling Roger Vivier without feathers (no pun intended). Now? It's like Louis Vuitton: common but expensive, beautifully made but still! common. (Is this elitist of me? Or fair to demand of an artist? Cobblers, presumably, artists.) I don't know, perhaps it is too much to say at once. All I know is a part of me is a little sick of seeing that red heel. The antidote? These.


I do, sometimes, just love Louboutin, though:

All the sex appeal of killer heels, but with the refinement of a tuxedo. It's a kind of joke, but one that you don't quite get until you really think about it, because the shoe looks so good on your foot (imagine it peeking forth from a simple skirt and cardigan combo).


What am I craving? Rich, rich, colors: just a little "off" from true colors. Both Fall 2006 and Spring 2007 are playing off very neutral palettes, so I want, actually, the most intense color I can find. I suppose the makeup trends are bright enough? E.g. Instead of cobalt blue, you have this quasi-violet-toned ultramarine, in lush suede:

This is Brian Atwood, Spring 2007.


One Big Trend: An Analysis
Neutral, neutral colored accessories, in rich skins (or plastic, as the case may be), a parade of shoes, and bags. Wear with sharp, tailored clothing:

Can you imagine this Calvin Klein python bag slung on your arm? *dies*


My god, I could not stop salivating when I saw these. Beige: boring. Crocodile: always grosses me out slightly. But together, so... rich. Perfection. Sculptures by Alexander McQueen.


Normally, I would not advocate Chanel, because I find it so tasteless, but the Naked Bag is such a self-referential, self-aware take on tacky-expensive that I actually find it very clever. It makes fun of itself.


A huge tote is something that always appeals to me, maybe because I always carry around so many books. Marni makes this one in patent leather (still going strong), black leather accents, and resin handles.


Smokey snakeskin, in classic, universally flattering and versatile styles. Just right with the LBD (Little Black Dress) and berry lipstick. Salvatore Ferragamo and Tods.


VBH's white leather with brown accents, such a chic combination. It's pristine, but not cloudlike and formless. But reinvented in a very modern slouchy, egg shape.


But...

Imagine the one slung on your arm as you step out into the night. Imagine the other as you jet off to someplace glamorous and sunny (sounds so good right now, in this dreary Connecticut November). Some things, come what will, will always be true to a signature look. In spite of trends. Which I respect. What is it that the Manolo says? "Pucci always makes the smiles."

Labels: alexander mcqueen, bags, brian atwood, calvin klein, chanel, christian louboutin, dr. martens, fashion, handbags, marni, personal, pucci, purses, salvatore ferragamo, shoes, steve madden, style, tods, VBH
Posted by Dain, Tuesday, November 14, 2006 5:49 PM (Eastern)
J. Crew Solid Washed Oxford Shirt $59.50. What could be more classic than a white buttondown? Simple, chic, infinitely variable, universally flattering. The platonic ideal of "basic". Plus, it is intentionally rumpled, so I won't have to worry about ironing. I personally really like the fit of J. Crew shirts. I have a very narrow waist, and find most buttondowns insufficiently slim-cut. The quality of the fabric and stitching, while it may not be Thomas Pink, is enough to stand up to everyday wash and wear and tear, but is still reasonably within budget.
Posted by Dain, Monday, November 13, 2006 3:13 PM (Eastern)
I'm thinking of treating myself to one piece of jewelry per month. As my clothes, soon enough, will be very plain, I like the idea of throwing something extravagant and ornate into the mix.


Banana Republic Multi-Colored Pavé Ring $48


Banana Republic Simulated Pearl Brooch Bracelet $42


Anthropologie Miniature Earrings $98

I want all of them! But just one. It's funny that I chose a pair of earrings. I don't even have pierced ears! I'm really not one to wear jewelry. I thought it was about time to start.

Labels: anthropologie, banana republic, fashion, jewelry, personal, style
Posted by Dain, Sunday, November 12, 2006 7:17 PM (Eastern)
This is perfect! Is it not pretty? It has personality. The knit goes horizontal instead of vertical on the body, the slightly belled sleeves, and the cardigan-cum-cape styling. At the same time, it's very subdued, so it won't compete with whatever I wear underneath it.

Labels: banana republic, fashion, personal, style
Posted by Dain, Wednesday, November 08, 2006 2:54 PM (Eastern)
I've been trying to get away from the mentality that I need more clothes than I functionally need. It is much harder than I thought.

First, it's all fine to speak of fashion as commodity fetishism, artistry in fashion, and fashion as a social expression. All of these things, our site is devoted to. This is not the suggestion that anyone ever wear anything unflattering simply to make a statement. I just don't see the need to buy everything that Lucky or Vogue suggests I buy. And, I've never really explored basics. I've never so much as owned a white t-shirt.

Still, it's hard. I'm used to very complicated clothes, one way or another. It's no coincidence that the first thing I chose was this henley from Urban Outfitters:


Hmm... so maybe my strategy might be to buy a handful of interesting tees? After about a day to two days, it starts to get dirty. So I should have at least eight or so. Trouble is, "interesting tees" is a category like "interesting flats", always open. I'm only going to buy ones that look just right, however. And they'll all be very different from each other.

I really haven't found a sweater/jacket/sweatshirt layer that is "just right" yet. It's hard to say without wearing any.


Adam + Eve $295. Grey is neutral, this must be supersoft, molds to the body good. I like how it's kind of grandpa-ish, but sleek. I have grey pants. Wish this were in... what color? White? Lilac? Something that brightens my face.


Hmm... this is very clean, sculptured, ladylike. It's basic, but clearly made with love. Hard to say, really, until you try it on, but I do know that high cinched waists always flatter me. I almost want to say it's too much, though?

It seems I'm not the only one who is craving a more basic palette. Just got a new issue of Vogue today and what do I see? A countdown of the most luxe basics (See by Chloé pants, shirts by Nili Lotan, Trovata, Brooks Brothers, Pink and Steven Alan, knits from Alexander Wang, Adam+Eve, and even J. Crew, tees from Neal Sperling and Splendid, and the T. Anthony tote. I kind of want them all. In addition, there are articles on Katayone Adeli (the pantsmaster is back!) and the Olsens' new line of hyperluxe tees, The Row.

Labels: adam + eve, fashion, personal, pucci, style, urban outfitters
Posted by Dain, Monday, November 06, 2006 7:07 PM (Eastern)
In high school, I used to call my style "boho chic", long before it became common parlance. I wore everything embellished/laced/embroidered/beaded in any combination of colors. I kept it fairly simple otherwise, though, I always wore these flashy tops with a pair of olive khakis. I lived and breathed the Anthropologie catalog. Nobody wore clothes like me. Nobody wanted to. Then, the boho thing became huge. HUGE. Suddenly, everyone looked like me.

So I went to... Banana Republic and J. Crew and Club Monaco. Found tailored things: beautiful buttondowns, crisp lightweight sweaters, pumps, skirts both a-line and pencil. I started, you know, dressing like a grownup. And now, the tailored, polished look is in. Consider: Balenciaga, Roland Mouret, YSL Rive Gauche.

So what am I going to do? Another direction?

I've been thinking. As women, how much of our time is spent worrying about what to wear, when to wear it, what to wear it with, and how often to wear it? How often do I flip through the pages of Lucky and think, "Yes, I really ought to try a cream blazer with a floral blouse."? I wonder how much more liberating it is to be a boy, uncaring whether he wears the same clothes day in, day out. Surely that frees up a lot of brain space, and a lot of wallet space.

This is my new project. Casual, functional, comfortable clothing. The stuff that other people wear. But I still want to be pretty. That's the condition.

Where to start? A pair of trousers. I usually only wear two pairs at a time, and one of them will be a pair of jeans, which I already have. Mine are dark blue low-rise flares (Blue Cult), which are probably the most versatile iteration. But I'm not one for jeans, in all honesty. I prefer a pair of pants, and I think mine are J. Crew (they make good chinos, they look good but at $58 you're not afraid to let them wear):




I bought a henley from Urban Outfitters the other day. It's a henley, so it's comfortable, casual, functional... warm. It's great for layering. But this one is in such a psychedelic Pucci-esque print(white/blue/pink/green/yellow) of hearts and stars that it's full of personality. I've always maintained that if the fit is right, it looks expensive, no matter how low key it is otherwise.




And what to wear over it? Maybe this hoodie? It matches everything (being white), it's pretty (white lights up my skin) and soft and warm. It's more luxe than a sweatshirt.




Let's see... that's a tee, a sweater, and pants. A pair of shoes... these are as functional as you can imagine, classic Doc Martens in brown. I could get those skull Chucks, though.


fashion, style, shoes, clothes
Labels: dr. martens, fashion, j.crew, personal, pucci, shoes, style, urban outfitters
Posted by Colleen Shirazi, Wednesday, October 25, 2006 8:10 PM (Eastern)


I can admit I never really liked cardigans until I saw the late Kurt Cobain wearing them.





image courtesy www.ecst.csuchico.edu/~tsuzy



Keep in mind that I lived outside Seattle when Cobain, and grunge, were very much alive. The climate in the Puget Sound Area more than justifies all aspects of grunge, from Doc Martens boots to flannel shirts to the cardigans to...anything that keeps you warm and dry, basically.

A cardigan need not be "grungy" of course, but it should fit the way you want it to. I like mine oversized and thick, if it's cotton. If it's wool, I prefer it more on the thin side.

I've been making more jewelry. Right now it's important, since I'll be going on a trip. Now, the jewelry has to work.




I made these today (when they're on, they hang straight of course). I got the idea from Target, believe or not. They had some earrings on sale that were made on a jig...they'd wrapped the top so that the top loop was still open and the tail of the wrap was tucked in the back.




Here is more stuff. The bracelet is citrine...I bent the clasp a bit so you could see it's also citrine. The earrings are citrine and gold-filled chain. Very hard to make because the chain is super fine (you can barely fit 24 gauge wire into it), but beautiful on, since they catch the light and glow golden.

I'm making a necklace to match the freshwater pearl bracelet, only it will have a slightly different clasp (onyx cabochon rather than faceted onyx). The pearl necklace will be single strand.

The pearl earrings were my first expedition into chain.




Finally, a really odd necklace. Even I'm not sure what to make of it. Thing is, the colors of this piece are divine. The tiny beads are Japanese, a blend of wine-red, clear light purple, clear light pink, a sort of bronzy red, clear beads lined with pink or purple. I threw in some lampwork beads I had sitting around...a yummy red Chinese pair with pink flowers, and then the big burgundy-colored one. If it were any heavier, I wouldn't wear it. But somehow I like this piece.

If you look closely, you'll see I've run out of several key components. I have them on order so I can finish it all before the trip.


beading, jewelry, handmade jewelry, citrine, bracelet, freshwater pearls, earrings, necklace, carnelian, cardigan, kurt cobain, fashion, style
Posted by Dain, Friday, October 13, 2006 11:00 AM (Eastern)
For your perusal:


Converse All Stars Chuck Taylor, the classic hi-top, in a delicious skull print. I've wanted these for ages!


fashion, style, shoes, converse, converse all stars, chuck taylor

Labels: chuck taylor, converse, fashion, personal, shoes, style
Posted by Colleen Shirazi, Thursday, October 12, 2006 1:59 AM (Eastern)
I've given up on jeans, at least for now.

Mind you, I used to love wearing jeans. What cheesed me off, was the whole "premium denim" thing; the notion that jeans that don't cost $250 are no longer any good (and they aren't, quality-wise, from what I've seen).

Sorry...jeans should not cost that much.

I've gotten into different kinds of pants...khaki, olive green, basically anything but jeans. I mean I just bought ten pairs of really good pants, for less than I would have had to pay for a single pair of "premium denim" jeans. These are pants that you wash in the washing machine along with all the other "colored" clothes (the same way we used to wash jeans) and throw into the dryer.

I'm not grudging the gals who want premium denim and wear it well. I'm just saying, I'm not wearing jeans until they start making reasonably priced jeans that wear as well--or at least half as well--as jeans used to.


fashion, style
Posted by Colleen Shirazi, Thursday, September 07, 2006 12:21 PM (Eastern)
Apparently there is such a thing.

I should preface this by saying it's new. Before, your clothing was either well-made and lasted year after year, or else it was crap. But there was no such thing as "disposable clothing."

Oh, wait. Here it is:

WTO's Agreement on Textiles and Clothing

Now it all suddenly makes sense. How the clothing I've bought recently (post ATC is the term--and, mind you, it wasn't nearly as cheap in price as it was in quality) fell apart after a couple of washes. That's it! It's supposed to be disposable. You don't mend it, you throw it away.

I'm still shaking my head over this. How the lifting of a trade agreement produced a brand new clothing concept in so short a period of time.


fashion, style
Posted by Colleen Shirazi, Wednesday, August 30, 2006 1:33 PM (Eastern)
I think...I am finally producing final pieces that are more than just your string o' beads.

It's harder than it looks. Not the technical part, because that requires only practice. It's more the notion of being able to step into a bead store with hundreds of kinds of beads and materials, and from there produce a finished piece.

The earrings on the left are labradorite paired with quartz crystals. The necklace and the other earrings are jade, paired with, respectively, quartz crystals and freshwater pearls.

I still need to make a third pair of earrings, conforming to my theory that each necklace needs three pairs of earrings to go with it. The third pair will have to be simpler but I haven't decided yet which style.


fashion, style, jewelry, handmade
Posted by TheLipstickPageForums.com, 1:11 PM (Eastern)
Technorati Profile
Posted by Colleen Shirazi, Tuesday, August 29, 2006 8:18 PM (Eastern)
"Fashion is a form of ugliness so intolerable that we have to alter it every six months."
rotfl
Source: www.quotationspage.com
Posted by Colleen Shirazi, Thursday, August 24, 2006 2:00 AM (Eastern)
Interesting. I bought some socks at Target on August 26, 2003 (yep, our fashion blog goes back to 2003). And only recently--last week really--did I weed out some pairs that had begun to pill; one sock had a worn toe. Three years!

The tragedy here is that I had bought a few more pairs of the same kind of socks...they're pima cotton...a little over a month ago. And these socks started to pill right away, after a paltry couple of washes.

I feel disillusioned.


fashion, style, target, socks
Posted by Colleen Shirazi, Friday, August 18, 2006 8:45 PM (Eastern)
"In general, if you wear 3 pieces you'll look most polished. For example, a nice skirt, a cute professional top and a blazer/jacket/cardigan."

--Dawn Miller, www.styleforlawyers.com

This is something that would have never occurred to me, given, say, a million years or so. Yet when I stumbled across this sage advice, it stuck inside my head and I began to observe. It's true. (And not just for lawyers. :) )

In any given professional situation, it is simply better to wear three pieces.

Extending this idea...it works for casual situations too. Somehow the three pieces make you appear "more dressed" rather than the same old "pants and tee" or "skirt and tank." Adding a cotton cardigan, or even a vest...I don't do scarves much but a substantial scarf would be an interesting element...makes it more of an outfit, rather than "I gotta wear something."

I've even begun to think of my jewelry-making in the same thread, with three distinct components--for example, jade rondelles, jade diamond-shaped faceted beads, and quartz crystal rondelles...and I'm making a new one (ran out of wire) with small carnelian beads, medium carnelian beads, and a fairly heavy component of gold fill. Two or fewer distinct elements are not as good unless you are making a classic string of pearls or something like that...three elements give the piece more depth.


fashion, style
Posted by Colleen Shirazi, Wednesday, August 09, 2006 11:49 AM (Eastern)
I haven't rambled much here about my jewelry-making expedition lately, since it fits so much more neatly here. Yet it does figure largely into what I wear these days, so I don't mind venturing a post or two over here now and again.

Mind you this is Phase One of jewelry fabrication; it's a case of "Darling, I have no money." I've not been able to invest in classes, nor (yet) in metal work or making your own beads out of glass (which has got to be the height of coolness). It's okay. There is a fairly stunning array of effects you can get working with wire, and even Softflex and stretch cord. There will come a point when I've exhausted the techniques I have now, I know it, it doesn't bother me. By then who knows?

Today it's hot again. The climate here is next to bizarre anyway, it'll start out "leather jacket cold" and somehow morph into "tank top hot" sometime during the day. At night again it's freezing. But today, as I say, it's going to be hot. The morning already breathes differently and I'm planning on wearing something tank-top-ish.

It's the ideal outfit for handmade jewelry, since you're talking minimal cloth and a swooping neckline. In fact, a semi-precious stone necklace (provided it has sufficient stones) can make a tank top appear more modest; I've done that.

What to wear? I have a small set of necklaces I actually consider finished, and about ten times as many that I don't. Hum. On second thought (after putting on a deep grey tank top and pale sea blue "boybeater" over that), sometimes you don't need a necklace. Depends on the earrings.

I have some on now my daughter designed; she has a more acute sense of color than I do. She put together cobalt-blue cloisonne beads...with a pattern of pinky orange flowers and green leaves on a brown bough on them...with teal green glass flower beads. Sounds horrible on paper, but it works, down to the teal green "popping" my green eyes and the large, fan-shaped cloisonne beads providing an intense burst of blue, tempered by the salmon-pink flowers...and cloisonne is an excellent choice for earrings btw, because it's lightweight. You can make sizable cloisonne earrings and the earrings float on your lobes all day.

Oh well that's enough rambling...carry on, fashionistas!


fashion, style, jewelry, handmade
Posted by Colleen Shirazi, 1:56 AM (Eastern)
Just a brief rambling here, since our school district has gone to a uniform policy. How the policy is interpreted is down to the individual school; ours is pretty lax actually, it's closer to a strict dress code than an actual uniform. But it got me to thinking, because, as all parents know, nothing is ever quite as lucid to you, as it becomes once you have to explain it to your kids.

What to tell them? Public schools never had uniforms while I was still attending them; only private schools did. Two girls from the local Catholic school, Sacred Heart, used to take some classes at our school, and I remember lusting over their cool Catholic school uniforms: a white blouse and a skirt that was primarily white with a blue and green plaid...but again that was from the perspective of someone who never had to wear a uniform to school.

The first thing out of my mouth was, "It's not the uniform, it's how you wear it." Because already I could see how sharp a school uniform could be. Perhaps it's an irony but while I shopped for the uniforms, I spent more time, effort and money, ultimately than I would have shopping for ordinary school clothes. Once the clothes have to conform, it's the details that begin to jump out at you. Details cost money.

I suppose the analogy would be a business suit. Again there is the conformity, but that is why you have to spend more on such. You can't fake it the way you can (and should) with casual clothes. I make my own jewelry, but for corporate situations I wear the expensive stuff.

Speaking of handmade jewelry, I've come to believe that each necklace you make needs at least three pairs of earrings that go with it. Mind you, the earrings can overlap necklaces (you don't need six pairs of earrings for two necklaces, necessarily). It's just a way of expanding the wear of the necklaces, breathing new life into them.


fashion, style, school uniforms
Posted by Colleen Shirazi, Monday, July 31, 2006 1:35 AM (Eastern)
Okay...I stumbled across this term on another board. Apparently this is the garment that languishes in the back of your closet, because, ah, it doesn't go with anything else you own.

That is one of the keys to developing a wardrobe that works...things have to work together. Any time I'm shopping...and I have been doing that lately, partly from necessity, partly because I actually like the idea of developing a wardrobe based not on my former (cheap, excellent, no-brainer) source of clothing, but rather on my own wits...I always think the following:

What am I going to do with it? Where am I going to wear it?

What does it go with that I already own? It should fit into at least two separate outfits, preferably four or five or more.

The obvious--how do you clean it? I don't dryclean unless absolutely necessary; likewise ironing.

Where was it made? I generally don't buy clothing made in China. I've had way too many experiences with the stuff falling apart after a few washes (if that many).


fashion, style
Posted by Colleen Shirazi, Thursday, July 27, 2006 1:53 AM (Eastern)
Now I can finally say I've been to one of those expansive outlet malls. And I do mean expansive; you start at one end and keep walking and walking and walking...okay I suppose if you had the opportunity to visit these places more often, you would simply go directly to the stores at which you wanted to shop.

There is a small outlet mall near where I live, but that amounts to a Nordstrom Rack, Eddie Bauer, Old Navy, Ann Taylor Loft, ummm...a pretty big Marshalls. That's about it.

This baby, had Banana Republic, Coldwater Creek, Ann Taylor, Calvin Klein, BCBGirls, they had Gap, Gap Kids, Dress Barn, a whole slew of those generic stores for 20-year-olds...and Limited Too, and I don't know...Ralph Lauren Polo, Guess?, just on and on and on and on....

That said, I looked much more than I bought. Then again I tend to do that. The first time I go anywhere, I'll look at everything but I won't buy anything. (Here obviously I had to buy something since it may be some time before I could return.) I got two skirts at the Banana Republic outlet and some packages of socks for my kids at The Gap Kids.

I realize that seems like a dismally tiny haul, well as I say, the first time I visit anywhere, I'm not really in buy mode. Also, I was a little disappointed. I found some of the prices high (my miniature outlet close to home has better prices overall), and some of the quality surprisingly low. I was surprised to observe the exact same items...not similar; exactly the same...from store to store.

Still, all in all, it's a wonderful experience. The sheer quantity of stuff...and there were picks everywhere. At BCBGirls for example, they had the most divine top for around $60. It was this gorgeous, slightly lacy, sort of a tank top...but I hate to call it a tank top, it reminded me more of the bodice on a dress, from when they called them bodices. Just perfect tailoring and materials.

They had a rack of stuff called Noun at the front of the shop, with these fabulous $20 tee shirts...again, I hate to call them mere tee shirts. They had these intensely colored drawings on them, each featuring a stylized girl or girl's face. Just the thing for someone in teens or early twenties.

They had nice dresses too, less than $100.

Banana Republic was disappointing. I'd read elsewhere that their quality had gone down, and it has, from what I saw. Still there were picks. The two skirts I got are nice, lightweight, almost sheer woven cotton, lined...they had solids and patterns. I got the two patterned ones (what, I need a solid skirt?).

They had some Indian broomstick skirts and I almost got a bright orange one...it's not sick orange, but rather that beautiful orange you see in Indian clothes. It made my butt look flat though so I passed.

Calvin Klein had some nice henleys for $20 each, I'm quite sure that was the price. Really beautiful henleys.

Coldwater Creek was a trip! I'd seen their online catalog, but the store...it's clothes with a slight Asian flavor. Generally overpriced imo. Still...they had a cool sort of brocade vest thing. It wasn't quite what I had in mind (I'm still searching for vests), but fairly close.

Eddie Bauer...here I feel a twinge of regret. They had some summer tops I should have investigated further.

And on and on. Sheesh, what a mecca!

Image courtesy Prime Outlets

fashion, style
Posted by Colleen Shirazi, Friday, July 21, 2006 1:47 AM (Eastern)
It is kind of weird. I've been wearing some of my pieces (some pics are in the Image Library's fashion gallery, but keep in mind some of the pieces pictured have already been redone). It is very different from wearing jewelry that you bought readymade. It is a bit closer to wearing jewelry that you inherited...that's so old it's unlikely that too many similar pieces are floating around. But handmade jewelry is, by definition, unique. Once you get some skill going--even if you don't feel your skill is there yet--you can create entirely "you" jewelry...that's based on an outfit, or a whim, or something you admired, or something you've been looking for, for years.

Almost a year ago I was bemoaning the fact that I couldn't seem to find nice green earrings (More jewelry thoughts...). i.e. I could not easily find a nice pair of earrings with green stones that I could just buy and be happy with. Now, I have a beautiful string of jade beads at home, with two sets of jade briolettes just waiting to be made into earrings. The price for the entire jade suite is less than I would have paid for a single pair of jade earrings, had I been able to find them back then. And of course I'll have enough jade beads left to do something else with.

Today I wore my quartz crystal earrings--pictured here (the diamond shapes):




...and they were quite amazingly perfect. They don't look like much in the picture, but the clear crystal just grabs the light and floats inside the diamond-shaped silver frame. The engineering took me a while (I bent the frames slightly to make them look more handmade, actually)...and I added jump rings to make the crystal strand move better (the model for the design is here: Runway Earrings Jewelry Making Project; as you can see there wasn't a center strand in the original). Along with this I wore the rose quartz and garnet necklace in the same pic. Again, the idea of making clear crystal earrings was to have a pair of earrings that would literally go with anything.


fashion, style, jewelry, handmade, design
Posted by Dain, Tuesday, July 18, 2006 12:25 AM (Eastern)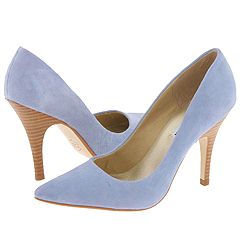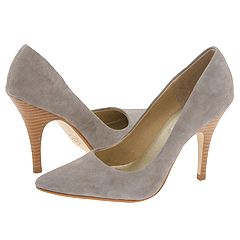 It is by Steve Madden, of all lines, and it is called Carmila. In this season of saucy espadrilles and boho leather work, and the coming season of avante garde chunky wedges, there is something genuinely refreshing about a simple, austere pump, the high-heeled pointy-toed stiletto. It's gracefully scooped, for a little sex appeal, the toe is a little squat (good for this girl with tiny feet), and the heel is just the right height. This is the LBD of the shoe world, just as subtle, as versatile, as eternally chic, as difficult to find, and as deeply personal. I love the black suede, velvety and Hepburnish, just pure grace: on this shoe the tides of fashion-victimism will not avail. But the fire of the red, so vibrant it is almost a neutral? Or the sly charm of the turquoise, a color I am always attracted to (whispers: it would be so crisp in the winter)? Or the grey, THE color of Fall 2006, so directionally perfect? Agh, I want them all (they do say, when you find a perfect "basic", purchase in bulk). At zappos.com.


fashion, style, shoes, pumps, steve madden

Labels: fashion, personal, shoes, steve madden, style
Posted by Dain, Thursday, July 13, 2006 2:42 PM (Eastern)
YSL is probably my favorite designer, ever. (The cosmetics and the perfumes are not too shabby, either.) Similar to Audrey Hepburn's longstanding relationship with the house of Givenchy, Catherine Deneuve ("La France") embodies the spirit YSL, starting from when the master dressed her in Belle du Jour. I simply can't think of a line that represents the height of Parisian chic—not the young fresh pretty thing but a mature, intelligent woman—better than YSL (Chanel be damned). I suppose in some fantasy world, my wardrobe, like Ms. Deneuve's, consists of mostly YSL. This outfit is just perfection, is it not? The sweet lavender blouse, in crisp cotton, beautifully tailored (the papery collar, the way the buttons do not entirely close the blouse, the blouson sleeves with gathered cuffs), with the crinkly black pencil skirt, slim with undulating buttons (how does one describe that wave effect?), and the fierce, bold patent leather belt that cinches the waist. What a perfect outfit. As much as I believe in mixing it up, and interpreting rather than copying the runway, how can you tamper with this outfit? It is perfection as it is. All you need is a pair of plum or hunter green high-heeled loafers (via Prada Fall 2005) and a small simple purse, like the one Margo Channing carries in All About Eve, except in clean white leather, and you are hot to trot. (I can see this working with any great shoe, from zebra stripe to hot pink patent leather to a warm caramel crocodile. I suppose that is just the mark of a great outfit: it is interesting in itself, but it still lets you showcase an interesting accessory.) Find it at neimanmarcus.com (at discount, even).


fashion, style, yves saint laurent

Labels: fashion, personal, style, yves saint laurent
Posted by Dain, Wednesday, July 12, 2006 8:39 AM (Eastern)
Sometimes there's just nothing that's as much enjoyable as window shopping on the internet. Shoes, of course, must be tried, but it's still fun to look around, nevertheless. I've tried to choose pairs that are reasonably priced, from the great shoe site, solestruck.com.

Seychelle's Rock the Boat $65. Wedges are here to stay, though frankly I haven't seen too many wearing them as yet. They're not serious heels, like stilettos, so I think this cheery orange shade is just right for summer, but it also comes in a "Natural" shade that is also very pretty (also in "Olive" and "Black").



Charles by Charles David's Pringle, is drop-dead sex kitten, from the criss-crossing black leather in the front, the superhigh heel (though I would have preferred a straight heel), the miniplatform, and the detailing at the ankle. There are tons of wood-platform with complicated-leather sandals out there right now (of which this one by Gucci is the avatar), but I crave something sleeker and sexier, not boho. It'd be fun mixed up with something very innocent and girly—pastels, white and cream, and florals—just to mix things up.



Here is another shoe from Charles by Charles David, Antidote, which I love. It's conservatively styled, black suede (also comes in burgundy) on an elegant peep-toe pump, with a flashy-but-not-cheap-looking buckle, true... except, except... is that a crab? I like the eccentricity, because it's just a touch on such a wearable shoe.



A list isn't quite complete without a pair of flats, and I like Pascaly from BCBGirls, which traverse the thin line between "interesting" and "ugly". This is because there is such a mix of styles in one shoe: the Parisian chic of the ballet flat, the cutesy bow, the flash of the gold latticework, and then the avante-garde cutouts. The saving grace is the neutral, almost bland, linen, which keeps all the elements in restraint.



BCBGirls Eric is how I stumbled upon this site in the first place. I was looking for a specific make, this sky-high patent leather buckled peep-toe pump (yes, it is a Roger Vivier knockoff, but who cares at this price?). I was actually looking for the cobalt blue iteration, but this "marlboro red" is gorgeous too, though perhaps more bold than I can personally manage. The hit of fire, with cool suits in cream or pale blue, water tones in general, to add warmth to plum and lavender, cool gold lace, and so on. But I'm hankering after the cobalt blue, in any case.



There is just something so sweet and simple about Make Bail by Kenneth Cole Unlisted. The simple-as-anything rope slide, in a cheerful, sunny blue... All you need is a floral sundress, coral polish on your toes, and a smile.

fashion, style, shoes, pumps, wedges, seychelles shoes, charles by charles david, BCBGirls, kenneth cole
Labels: BCBGirls, charles by charles david, fashion, kenneth cole, personal, seychelle, shoes, style
Posted by Colleen Shirazi, Tuesday, June 27, 2006 10:23 PM (Eastern)
I was interrupted there...oh well, this is a blog, after all.

In the summer you can improvise a deodorant...instead of just using your regular deodorant. Here you need an eau de toilette spray or cologne spray, something light and refreshing...citrus, light floral, something like that. When you get out of the shower and dry off, spritz a little of this under your arms. I'm not kidding!!!!! Just don't get any of the spray in your face.

Once that's dried, then apply your regular deodorant over it (yep, it'll stick). Voila! This cologne-and-deodorant combo will not fail almost no matter how hot it gets. And it's a great way to use up a nice eau de toilette that you've fallen out of love with coughAzzuracough.

So far I've been happy with my newer acquisitions...the layering tanks, the khaki cotton pants, some shirts/tanks specifically to wear over the tanks, yadda yadda... What I mean by "happy" is that so far, I haven't had to stand in front of the closet wondering what to wear. I grab a tee shirt or tank, the pants, some jewelry...and it is the jewelry that makes the outfit, because it's handmade...or old...or bought in some obscure shop...you can mix these pieces together.
Posted by Colleen Shirazi, Sunday, June 25, 2006 11:05 PM (Eastern)
Okay...there's a distinct point when the elements in your summer wardrobe start to work together. Or at least, there should be. I think the common error is in thinking that a wardrobe is something that you buy as a prefabricated unit. i.e. you somehow need to acquire everything at once.
Posted by Colleen Shirazi, Thursday, June 22, 2006 1:33 PM (Eastern)
Okay...another tip (and it will sound gratingly obvious once you know it). When you're buying your tanks, get some light-colored ones and some dark-colored ones.

Why? Once you start mixing and matching, sometimes it's the sheer lightness/darkness of the piece that makes it work. Yesterday I shlepped a white lace cami over a dark blue tank and it looked pretty eh to me by the end of the day. Tried the same cami over a dusty pink tank today (same model/brand as the blue one) and it looks great.

Summer is the time for earrings...because your hair will be up all the time, or, if you're Winona Ryder cute, you can get one of those super short hairstyles.

You can make jewelry too all summer.




This piece features faceted blue lace agate stones, some crystals my grandmother gave me easily twenty years ago (you can find similar crystals at your local bead shop of course) and gold-filled wire.
Posted by Colleen Shirazi, Tuesday, June 20, 2006 6:40 PM (Eastern)
From lisa beall Sun Jun 4 17:20:33 2006
X-Apparently-To: thelipstickpage@yahoo.com via 206.190.38.163; Sun, 04 Jun 2006 17:20:43 -0700
X-Originating-IP: [209.73.178.157]
Return-Path:
Authentication-Results: mta154.mail.re2.yahoo.com from=yahoo.com; domainkeys=pass (ok)
Received: from 209.73.178.157 (HELO web60414.mail.yahoo.com) (209.73.178.157) by mta154.mail.re2.yahoo.com with SMTP;
Sun, 04 Jun 2006 17:20:37 -0700
Received: (qmail 53975 invoked by uid 60001); 5 Jun 2006 00:20:33 -0000
DomainKey-Signature: a=rsa-sha1; q=dns; c=nofws; s=s1024; d=yahoo.com;
h=Message-ID:Received:Date:From:Subject:To:MIME-Version:Content-Type:Content-Transfer-Encoding;
b=eJhyHQBWxYAjn8KuWfm9rGVPijaAKGbCUFVDioa3n0fu/
BBRqPtpeXhLZuZ2FNiZYKgJv30i6auRbUFv8ZHH7srE+TcawCl0iENitPpe/
6IIpBlRgy7dOuQnrIijVsQLuTX1BPDx3beYnhlCS/7GGTX1HzNgLcmshduXgGSce8k= ;
Message-ID: <20060605002033.53973.qmail@web60414.mail.yahoo.com>
Received: from [64.136.27.229] by web60414.mail.yahoo.com via HTTP; Sun, 04 Jun 2006 17:20:33 PDT
Date: Sun, 4 Jun 2006 17:20:33 -0700 (PDT)
From: "lisa beall" Add to Address Book Add Mobile Alert
Yahoo! DomainKeys has confirmed that this message was sent by yahoo.com. Learn more
Subject: warning
To: thelipstickpage@yahoo.com
MIME-Version: 1.0
Content-Type: multipart/alternative; boundary="0-773374978-1149466833=:52298"
Content-Transfer-Encoding: 8bit
Content-Length: 526

I am the patent holder of the Sophisticomb and I am speaking with my attorney about the 1,2,3 steps your group has taken the extra effort to make sure anyone who Googles the sophisticomb--your negative, slandering comments are up for everyone to see. I can understand people searching your sight and making comments, and it's also easy to prove the comments back to chris123 were probably from your own people (lipstick's people) . This only hurts the sales of the comb, I will be speaking with Scunci's attorneys as well, I suggest you remove your attemtps at slandering the name of Sophisticomb by going to this extra effort to code into Google.

Lisa Beall
???-????



From Moderators Group Tue Jun 6 11:00:38 2006
Received: from [67.180.234.235] by web50709.mail.yahoo.com via HTTP; Tue, 06 Jun 2006 11:00:38 PDT
Date: Tue, 6 Jun 2006 11:00:38 -0700 (PDT)
From: "Moderators Group" Add to Address Book Add Mobile Alert
Subject: Re: warning
To: "lisa beall"
In-Reply-To: <20060605002033.53973.qmail@web60414.mail.yahoo.com>
MIME-Version: 1.0
Content-Type: multipart/alternative; boundary="0-1736080766-1149616838=:51157"
Content-Transfer-Encoding: 8bit
Content-Length: 1751

Dear Ms. Beall,

The Moderators Group has contacted Scunci regarding this matter. The Group was informed that, had anyone on The Lipstick Page Forums Online Beauty Reviews gone so far as to review any item and describe it as "a piece of junk," that would fall under that person's voice of opinion, which is protected by the First Amendment.

However, The Lipstick Page Forums would like to formally offer you the opportunity to write your own review of the Sophisticomb. This review would appear on the same page as the existing review of the product.

As long as your review adheres to The Lipstick Page Forums Terms of Service, that would be fine with us.

http://broadroom.net/ubbthreads/faq.php

Our Terms of Service prohibit spam and troll material or personal attacks. We would require that you identify yourself clearly in the body of your review as the patent holder of the Sophisticomb and that you not use the site features to spam your product; a single review would be sufficient.

We would require that you refrain from making negative comments about anyone else who has reviewed the product.

We would require that you not use the product name as a username.

These are common Terms of Service that any quality product reviews site would use. The reason our reviews sort quickly in Google is that they are high quality reviews, since we don't allow spam or "revenge reviews." If you sit down and write a high quality, detailed review of your product, with tips and instructions, perhaps some advice on which hair types or lengths this product would best suit, there's no reason that people won't read your review and take your advice into consideration.

Please let us know if you want us to host a review of your product.

Sincerely,
Moderators Group,
The Lipstick Page Forums

EOF

Here is the sole review of the Sophisticomb on The Lipstick Page Forums Online Beauty Reviews:

Scunci Sophisticomb

Here is the sole mention of the Sophisticomb on The Lipstick Page Forums:

Re: May hits and misses, June wishlists?

Here is the sole mention of the Sophisticomb in The Lipstick Page Forums Image Library:

Scunci Sophisticomb

Fascinatingly enough, we have yet to hear back from the patent holder of the Sophisticomb.
Posted by Colleen Shirazi, 11:25 AM (Eastern)
Okay, so you need to get your basics down first. You have to figure out what your basics are, first...what kind of shirts you actually like to wear (the "reach for" factor: the colors, the styles, the materials)...and your sources for these.

Once that's done...and I advise either buying lots of less expensive versions of your basics, or as many as you can afford of the more expensive versions...then you can do the novelty stuff. If you even do novelty.

I've been getting away from novelty, well for one thing I can't afford it. I'd rather sink my hard-earned dough into buying materials for my jewelry-making. Once you have a piece done, if you've done it well, it's there for the rest of your life if that's what you want. On the odd chance of course you can also dismantle it (again, if the structure is good, you'll do minimal cutting) and reuse the components.

Okay...then you can update the entire shmear every few years. I've never adhered to the notion that you need to be an indentured servant to your clothes (or your computer, for that matter)--do not replace every year, every two years, or whatever the trend is supposed to be. Get something decent and take care of it and nurse it along and stretch it out. Only when it's coming on to being obsolete...in the sense that nothing now works with it...okay, it's time to update.
Posted by Colleen Shirazi, Sunday, June 18, 2006 5:54 PM (Eastern)
I'm actually having to do this now. My good, cheap source of clothing dried up a couple of years ago. I nursed along the clothes I had from that period, but now, one by one, they have begun the inevitable process of wearing out. Hence the idea of building, or rather of rebuilding, a summer wardrobe.

This season, I started out pondering the eternal question: what to do about bra straps? (Is that another 30 bucks...lol...see previous post). Which bras work with camisoles or tank tops?

Observing on the street, I saw a lot of skinny-strap bras in various colors...the idea is to coordinate the strap color with the camisole itself. I saw some women doing the Madonna black bra strap thing. And I have seen the clear bra strap thing also. Of course, if you're built neat enough, you can do strapless. There is a sort of stick-on bra going around now too but again, I don't think it would work as well for larger sizes.

I got some skinny-strap convertibles...it's not the straplessness that is attractive to me, but rather that little matte plastic strip lining the inside to keep the sucker in place. For this you need to make sure the band size is tight enough. It shouldn't be "tourniquet tight" i.e. it should not be uncomfortable, but it shouldn't ride up in back either.

I got a tip on another board to try out new bras using the loosest hook setting...the bra should fit properly on this setting. That way, when the bra stretches out with wear, you can go to one of the tighter settings.

Anyhow...the bottom line is that ultimately, I've concluded it's the "layering tanks" that work best...and these layering tanks are now all over the place.

You need only get a cache of layering tanks...these specifically cover bra straps (top, under arms and back), are made of soft, thin cotton jersey, come in a plethora of colors...cost from $9 up, depending on where you buy them...and you don't need one of every color. Just your favorite colors, your "reach for" colors. Or you could do neutrals and layer colored tanks or cami's over them.

Once you've got the layering tanks in place...you can put virtually anything over them and not have to fret that your bra strap is showing.

The second layer can be--besides another tank or a camisole--a vest, a sheer sleeveless shirt, anything sheer for that matter, all those cute little tops you were wondering how to wear... The trick is to buy everything in colors that mix and match. Or at least, two sets of colors that mix and match.

Jewelry here is key. A lower cut tank makes a terrific frame for a handmade necklace coughs or your favorite necklace or pendant on a chain.
Posted by Colleen Shirazi, 4:58 PM (Eastern)
Colleen Shirazi,

On this page: http://www.thebroadroom.net/fashion/what_do_you_wear/bras.html


I will pay you $30 to make the word "wonderbra" a link
to:
http://www.*.com/*.html

Please let me know if you are interested.

Thank you,
* *
???-???-????


Just so you know the integrity of the Lipstick Page Forums/thebroadroom.net is not in danger. rotfl
Posted by Colleen Shirazi, Sunday, June 11, 2006 11:56 AM (Eastern)
PinUpGirlClothing.com

What caught my eye first was the Classic Hardware jewelry, because this is good stuff...I have some pieces of this and it's very well-made.

Of course there is a lot of other stuff on the site, including this very cool Japanese Fan tee shirt. drools

I dunno, something a little different. :)
Posted by Dain, Saturday, June 03, 2006 12:38 PM (Eastern)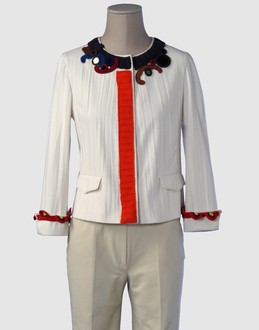 Miuccia Prada is always the intellectual when it comes to her designs, and she designs clothes that she herself wants to wear (and other women, too, it seems). This jacket is no different. It seems almost childish, crayon colors scribbled all over a paper white jacket, and yet when you put it on, it's as meticulously tailored as any classic Chanel. Wear it over a simple white tank and a white skirt, and a pair of simple black wedge slingbacks. Available at yoox.com.
Posted by Dain, Friday, June 02, 2006 11:50 AM (Eastern)

The picture doesn't do it justice, but isn't this carry-on bag from Anthropologie so gorgeous? It's a huge bag (so on trend) of pure supple white leather, with distressed chestnut leather accents. The white is so gorgeous, but the chestnut gives the bag enough substance to use all year round. It'll only improve with age. So simple, but so luxurious—for a huge leather bag, I think $398 is a good investment. Or maybe I'm just particularly enamoured of it because I myself am going on a trip soon.

Labels: anthropologie, bags, fashion, personal, style
Posted by Dain, Thursday, June 01, 2006 11:52 AM (Eastern)

I love Missoni's violent striped prints, but they tend to be too rich for my blood. But this is just a little taste of Missoni, restricted to teeny weeny bikini. I love the splashy, graphic roses print, and the ties at the halter and the bikini. Perfect. What else could you possibly need? White embellished sandals, and NARS Body Glow. Find it at net-a-porter.com.
Posted by Dain, Wednesday, May 31, 2006 1:04 AM (Eastern)

These are shoes with a sense of humor, the cobbler's vision of a garden party in a classic pump. Wear them with a pale blue summer dress, and a woven cognac leather bag, a long ponytail, and you'd be the most intriguingly dressed belle of the ball. Available at neimanmarcus.com.

Labels: dolce and gabbana, fashion, personal, shoes, style
Posted by Dain, Tuesday, May 30, 2006 12:10 PM (Eastern)

There's just something sweet and pretty about these tea cups, notwithstanding the big label. They're just as delicate as the flower itself, and if they were yours, wouldn't you just drink tea every day? Tea is good for you, you know. Available at hermes.com.
Posted by Dain, Monday, May 29, 2006 11:31 AM (Eastern)

Stella McCartney is fairly amazing (I won't say it, "genius"). She cuts mean suits and sharp dresses, cobbles gorgeous shoes and... tools?... great bags. All without using animal products. This dress is just fabulous. I love the combination of the tight, tight boudoir top and the prim tulip skirt. The color, too, is perfect: slightly crinkly silk in an unhealthy sunrise orange. The dress looks like a dreamsicle, no? All you need is a pair of white leather pumps (or maybe a pair of funky espadrilles), and a clutch. It's at neimanmarcus.com.

Labels: fashion, personal, stella mccartney, style
Posted by Dain, Sunday, May 28, 2006 1:39 PM (Eastern)

It's a $700-shoe knockoff (Louboutin, of course, even down to the red sole). Nothing could be simpler, more sublime, more sexy, more sophisticated. The mini-platform gives it a subtle quirky flair, and the high-high-high heel and the peep-toe is dead sexy. It's at urbanoutfitters.com, along with a Bruges knockoff.

Labels: fashion, personal, shoes, style, urban outfitters
Posted by Dain, 1:30 PM (Eastern)

Actually, I find Goyard hideous, as well as hideously expensive. I don't know, something about those chevrons... And yet, I have chosen the Trolley, preferably in red, simply because. It's the high-end of all high-end luggage, even beyond Louis Vuitton—probably costs more than the vacation itself. It is the epitome of conspicious consumption, with a dash of pretension thrown in, because not everyone will identify it for what it is, only those who are very, very stylish. Though anyone and everyone will recognize it as ugly. But if you can afford Goyard, who cares what it looks like, nay, what others think? You might as well work it, to the very last dime. Hell, if I had one, I would, too. It's available at barneys.com.
Posted by Dain, Friday, May 26, 2006 11:54 PM (Eastern)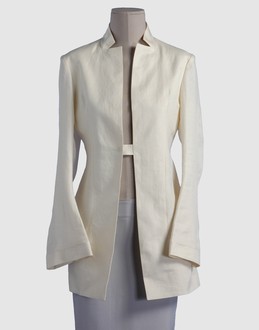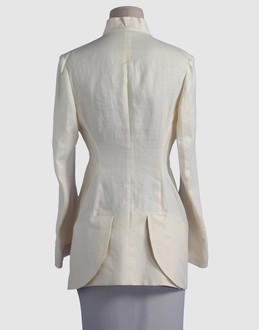 When I look at pieces by Yohji Yamamato, I always think of Carolyn Bessette-Kennedy, whose predilection for the sculptural Japanese designer was well known. She would emerge, invariably, clad in black and/or white Yohji, red lips, and New York blonde hair, her husband on her arm. Her style was so classic, and yet, by choosing Yohji, it was also subversive. Nice. This gorgeous long jacket, tailored to absolute perfection, looks simultaneously East and West. I love the collar, the bell sleeves, the flaps in the back—such unstinting attention to detail, but in the simplest ivory fabric. It's not even lined. It's a statement piece, so I'll leave it to you to decide how to wear it, but I think it ought to be worn with a slim grey pencil skirt and nude pumps (or with cobalt blue and black, or with olive and tan, or with red and plum). Or, if you're lunching in summer sun, just the jacket, a pair of jeans and a pair of gorgeous embellished sandals. It's at yoox.com, discounted from $812.

Labels: fashion, personal, style, yohji yamamato
Posted by Dain, 10:33 AM (Eastern)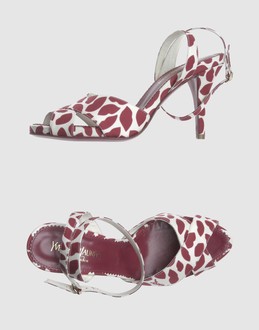 These shoes were made for dancin'. From the lipstick print, the curvaceous heel, the criss-cross and strappy straps, these sandals from YSL Rive Gauche are pure fun. Wear them with acid prints, or pristine white, or, of course, pink or red. Do something unexpected with them, and in them, because they're on sale, $288 from $310 at yoox.com

Labels: fashion, personal, shoes, style, yves saint laurent
Posted by Dain, Thursday, May 25, 2006 2:29 PM (Eastern)

Who needs food when you can buy pure splendour? All you need: an updo, black cocktail dress, killer Louboutins, and these brilliant drop earrings dangling from your ears. From barneys.com.

Labels: cathy waterman, fashion, jewelry, personal, style
Posted by Dain, Wednesday, May 24, 2006 9:07 PM (Eastern)
I've noticed that for the past few seasons, I've built a seasonal "capsule" wardrobe around a particular color. Not consciously, of course, but for some reason, I like to explore the possibilities that one color has to offer.

Fall 2005, I discovered the joys of navy. It's a versatile neutral, and yet, not as common as black or brown. A pair of navy pants (I like J. Crew's) substitutes well for jeans, but are dressy enough to wear always. It looks good with a palette of soft greys, and water tones like teal, sky blue, olive green, mint, as well as crisp white, pretty cream lace, or as a counterpoint to bright warm shades like red or pink or tangerine. I liked it so much that I got a skirt in the color, and it's provided me equally endless possibilities.

Then Spring 2006, I found white. I can't wear black because it washes me out, but white looks very good on me. I found a dress, in pure white cotton. It's supremely simple in design, high-waisted, gathered a little at the bust, with a billowy skirt. It looks a bit like a apron, frankly. But it is pure, simple, sweet. It adds warmth to pale skin, and makes my black hair look brilliant. It's a signature dress; I don't know how, but it is brilliant. What I want to add next: a slim lightweight cardigan from J. Crew, a pair of pinstriped trousers (the pinstripes being a subtle cream), an ivory blazer with ruched shoulders.

So what's next, for fall 2006? I think red. I've additionally explored green and grey, so those are out. I only own one red item: a simple cardigan, which I've taken to wear over the white dress (I also have a "boho" batik tank top, but it's more a plum than red). So what do I want, in red? Stella McCartney's gorgeous patent faux-leather bag, in rich ruby, would probably sate my desire for the shade, but at $895 is unlikely as my reaching the moon this year. A pair of vicious pointy flats, in bright lipstick red. And a red skirt: perhaps a superskinny pencil skirt in nubbly tweed, but more likely a swingy chiffon a-line (I don't have skinny enough legs for pencil skirts, to be honest). And a dress, like Dolce & Gabbana's, sweet and summery but bombshell in a white and red checker print, which I saw in W recently.

The trick, is to choose one or two really great things you can wear always. Not anything overtly trendy.
Posted by Colleen Shirazi, Wednesday, April 12, 2006 3:35 PM (Eastern)
The Sartorialist

It's just...interesting and different. Like a sort of fashion newspaper.
Posted by Colleen Shirazi, 3:12 PM (Eastern)
Apparently Nice Touch is a Sears private label. I tried googling it; that's as far as I got.

I tried out a pair of their Smoky Taupe stockings yesterday. That's what I'm talking about!!! All day silky smooth, comfortable goodness. I have no idea yet how well they wear, this is the first time I'm trying them and I haven't washed them yet.

The fit...this is how stockings are supposed to fit. I'm kicking myself I ever bought those Vassarette stockings. The Vassarette I believe had only two sizes and you need at least three or four...because of height, if nothing else. It's hard to make a stocking too tight or too baggy, but if it's too short, it's not going to work.

That said, the stocking part of the Vassarette itself was beautiful. The Nice Touch, imo, not quite as beautifully sheer. Smoky Taupe could also have been smokier and taupe-ier. It's a bit too close to the dreaded 1970's suntan to be truly taupe, but not so close that you couldn't make it work.

And Vassarette had some neat novelty looks like backseam (iirc they may have had fishnets too), which I highly doubt Nice Touch possesses. Nice Touch is your grandma's stockings, which is more important to me, after all.

Overall I'm more than pleased with Nice Touch.
Posted by Colleen Shirazi, Monday, March 20, 2006 7:40 PM (Eastern)
Okay...so I finally got out to J.C. Penney to see the stockings.

The short version is that they didn't have any. Only those stay-up thigh highs, which is not what I wanted. Conclusion: only Penney's online sells the stockings. The b & m stores are hit and miss.

I decided to try Sears. I should explain...I did not want to go to Victoria's Secret or Frederick's of Hollywood and pay for overpriced stockings. To me, stockings are not a novelty; they're a necessity. I really can't stand pantyhose, which is what everyone...even Longs Drugs...is selling, to the exclusion of regular, plain old, stockings. The only kind of pantyhose that I find healthy, is the kind with a 100% cotton panty built into them. Yes! Those make sense! But it is--it should be--cheaper to simply buy stockings.

I lucked out at Sears. Now this is the experience I wanted. As I say, paying $8 or $10 for a pair of stockings (which is what VS and Frederick's charge) is outlandish to me. It's like paying $10 to ride the bus. Hello?

Sears now, had that precious stockings section...and it should be a neglected-looking little almost dusty section...of a brand I'd never heard of ("Nice Touch," made in the U.S.A.). Size B! Yes! That's it. It should be size A, size B, size C, size D (there is now also size E).

These were $2.50 per pair which is what stockings should cost. Reinforced toe (yes!), but no reinforced heel (yes!). These looked very promising.

When I went to pay, the checker said two of the packages were free. Bonus! Nice Touch apparently was on sale (there was no sign on that neglected little shelf). I got whatever I could find in my size that had a color I could use, so I got nude and a couple of kinds of taupe...that's all they had or I would have gotten more colors.

I haven't tried them yet but I will soon. Let's just see if these are indeed the old school stockings that Woolworths used to sell.
Posted by Colleen Shirazi, Saturday, March 04, 2006 12:29 PM (Eastern)
So, I tried out those Vassarette stockings they sell at Target. I was disappointed. Mind you, I don't wear stockings as a novelty; I don't like wearing pantyhose. I used to buy my stockings at Woolworths back in the day, where they had a wide variety of all kinds of stockings...the crushed kind, the ones that actually look like legs (not recommended, they tend to "wrinkle" on), seamless, seamed, they had black, off-black, white, off-white, taupe, suntan, beige, yadda yadda...grumbles

The Vassarette ones, the quality just is not there. The stocking part itself is beautiful, it's sheer and doesn't run easily, but the fit is appalling (considering it's a stocking, what's to fit?), the "medium" size appears to be constructed for extremely short people...the top band is too wide (hello????? you don't want it to show), etc. Probably good as a novelty item, not good as a staple source of hosiery.

So, back to the drawing board.

I checked Victoria's Secret online, they wanted $8 for a pair of stockings. I'm sure it is a nice pair of stockings, but no way in hell am I going to pay $8 for one pair of stockings.

Checked out Macy's online...I'm sure it is my imagination...but I couldn't find any stockings at all on there.

By now I realized that it would most likely be the "old school" department stores that still carried stockings. So I checked out J.C. Penney's website.

Bingo! Finally! Some selection! Not the greatest selection...but at least, several kinds, different prices. Inexpensive enough to stock up.

I'll post back here if I find something I like.
Posted by Colleen Shirazi, Monday, February 27, 2006 3:16 PM (Eastern)
Okay...the next thing to consider, is your lifestyle.

Why did I put that as the second thing to consider? Because if you first understand your influences, your preferences, your buying habits...then you can customize your wardrobe to fit both. But your preferences are more important than your lifestyle as far as what to buy.

For example, say you are fanatical about jeans. I may generally live in jeans, but I'm not fanatical about them. So I've found that three pairs of jeans will do. I seek jeans that look good enough, with a medium price range, that will wear as long as possible. I'll pay more per pair, and not buy more than three pairs, if that makes any sense.

If you're nuts about jeans though, you should buy more pairs of them. You may also buy more expensive ones. Depending on your budget, you may have to cut somewhere else.

If you're a skirt gal, you will need two or three basic skirts...the kind that go with just about everything, the kind you reach for. These are not always easy to find. Again it's well to pay a bit more for something that will last wash after wash (or else look good between trips to the drycleaners). Basic can be black, white, navy blue, olive green, chocolate brown, or whatever you gravitate towards.

You can add one or two pretty skirts to your basic skirt pile if you really are a skirt-type gal.

I like dresses but skirts are cheaper to manage, since many dresses need to be drycleaned. (Check your labels...Dress Barn has good dresses that can be machine-washed. Don't be put off by the name "Dress Barn"; lots of work clothes there.) With the skirts, you can wear washable blouses and just wash those, and get the skirts cleaned periodically.

Tops, imo...you can never have too many tops. Tops are cheaper than other forms of clothing; they need to be washed each time you wear them, so diffusing the wear and tear is a good idea.
Posted by Colleen Shirazi, Saturday, February 25, 2006 9:55 PM (Eastern)
Check it out! Socks

I still have these socks. They're still good. I haven't yet thrown out a pair of the pima cotton Target socks. I'm giving them one more year...by then I might have to toss.

A very good deal.
Posted by Colleen Shirazi, 9:13 PM (Eastern)
Okay, so now you've sat down and pondered, and have come up with a list of the most obvious fashion influences you have...the stuff that influenced you before you were sixteen years old.

For me...I've been attracted the most to function, utility, something that does something, something that wears next to forever, something that never really goes out of style. Something basic.

I dislike very expensive clothes. I suppose that might have something to do with being broke all the time rotfl...but even if I had money to burn, still I would not be attracted to say, that $10,000 dress. I'm not dissing it. I'm just saying, spending for the sake of spending does not interest me, so that's out.

As I type, I am wearing a golden-yellow Gap cotton sweater. I've had this for some years now. It's pretty boss, I wore it to work recently. (I still try to dress up for work...it's not that I have to. I just want to show the people I work for that I respect them.)

I'm also wearing those much-maligned (by me) Levi's 515 jeans. sigh They're at the point now where I want to replace them. It's extremely annoying. To me they should have lasted years longer than this.

So I will have to spend the money. Again--I'm not gravitating toward those fantastically expensive jeans. Remember? I don't like that kind of thing.

But, I can't spend less than what I already spent on the Levi's because all the jeans that I've read good reviews for (good reviews meaning the things LAST LONG and wear well), cost more. Possibly in the $50 range.

So that's my starting point. I want to find a pair of jeans that costs between $30 and $50 and makes it possible for me to NOT GO JEANS SHOPPING for as long as possible, preferably at least five years.

How many pairs of jeans to buy? Aside from my work stuff, I live in jeans. I have two young kids, need I say more?

I've been living with the two pairs of 515's and a lone pair of black Guess? jeans for a couple years now. Three pairs is about right. (Infuriatingly enough, the Guess? jeans are in better shape than the Levi's, and they're much older.)

So, for my $50 jeans spree, I will probably buy two pairs and ditch the Levi's. The Guess? jeans are still okay--keep 'em.

Do I need to buy shoes? No. I've been lazily wearing my slip-on Doc Martens Air Wear shoes, but I have a perfectly good pair of DM boots at the ready.

Do I need to buy shirts? I probably do. I'm currently milking the last drops of wear from some of my shirts. grumbles Again I will be stuck buying more expensive shirts. It's less of a fashion thing and more of a "I can't afford to buy cheap clothes" thing...but I'm thinking...of just a few shirts. I'm putting it off frankly.
Posted by Colleen Shirazi, Wednesday, February 22, 2006 10:30 PM (Eastern)

Exotic India

I found it while looking for a picture of a sari. Then I got a bit mesmerized, not only from viewing page after page after page of sari's, but also by other aspects of the site...jewelry, articles, etc.
Posted by Colleen Shirazi, Monday, February 20, 2006 8:39 PM (Eastern)
Okay...so now you've written a short list of your earliest fashion influences. The people and styles to whom you were drawn.

Now start another list...okay, I can admit I usually hate doing this sort of exercise. But in blogging about it, I'm realizing there are quite a few concrete examples of my early style influence. It's funny.

For the second list, you write down why you liked the items in the first list. What attracted you, what did you like about the influences? While you're at it, you'll probably remember more things to add to the first list.

Here are my additions to the first list:

Military clothes

Indian sari's
Why do I like all of these things?

Cheap Chic, well that's obvious. It was all about cutting edge 70's style, the stuff I kept seeing in magazines and movies, but never in my local stores.

Annie Hall...oh...everyone was wearing high heels and conservative clothes around me...she was wearing men's clothes, and flowing things...everything looked soft and touchable and elegant.

Flashdance...I guess the legwarmers got done to death at one point. But I loved the dancers' clothes. It was all about function.

Brooke Shields...the shock value part I suppose was aggravating, but she always looked good. Whatever people thought, she never showed much skin. She was model-tall but she never, to me, looked skinny, just tall and slim.

Later on she would appear in the heavy makeup of the time but what you remember is when she hardly wore any.

The Clash...black and white. I'm not talking about the green hair portion of The Clash fashion story *g* It's the stripped down, black-and-white period...something as simple as black jeans or pants with a natty Clash or Pretenders tee shirt. I was terrible at tearing these properly.


Madonna...early Madonna. Very innovative. Think of Desperately Seeking Susan--the pyramid jacket? Do you ever forget this jacket once you've seen it?

Seventeen magazine...still remember some of the images to this day. One was a girl wearing simple black clothes...a black flowing skirt...she had long dark, almost black straight hair, and wore this incredible warm red lipstick.

One was a cute piece pairing models of different ages. The idea was the older model would give a favorite piece of clothing to the younger model. Since it was a teen mag, the models all had to be teens, so...

One was the notion of pairing lace with denim or leather. Again that's been done to death since, but it was novel back then.

One...I'm almost sure it was Seventeen...had a pic of Phoebe Cates before she became a model and actress. She was wearing, I believe, this cute Catholic school uniform.

Military clothes...Norfolk is a military town, so it's not uncommon to see people in uniform there. I liked the uniforms...fatigues...Army Navy store stuff.

Indian sari's...keep in mind this was before cable tv, before the Internet. It was the most exotic and beautiful thing I'd ever seen.

So...? I am very cheap, yes, but I like clothes that are based on function...the military clothes, the dancers' clothes, Doc Martens shoes. Something that is entirely basic, but if you do it right, it's foolproof shopping.

I like to wear something different, something that is individual. Madonna's clothes, Cheap Chic, Annie Hall, the idea...I wear it, therefore it's right for me.

Something a tad beautiful...Indian sari's, the stuff in 1970's Seventeen magazine.

Something stripped down...early Brooke Shields (didn't she always wear very basic clothes?), The Clash...the idea, less is more.

Another thing. I like old items. Perhaps that comes from the vintage, antique stuff that was all around me (as it will be in the South).

Image courtesy www.nostalgiacentral.com
Posted by Colleen Shirazi, 8:04 PM (Eastern)
Okay...so I think the first step is to sit down and remember your earliest fashion influences, whomever or whatever they happen to be. Because clothing for humans functions as protection, camouflage, mating gear...everything that fur, feathers or hide does for the rest of the animal kingdom. In short you have to feel at the end of the day, that your clothing is an outer skin. You have to feel comfortable and natural in it.

So my short list would be as follows:

Cheap Chic, the book

Annie Hall

Flashdance

Brooke Shields

The Clash

Madonna

Seventeen magazine in the 70's
All around, I'm a 70's type of girl. The 80's...eh...I liked punk. But to me, punk was more of a late 70's phenomenon.

I was attracted to all of these, I think, because all meant style over...substance? Style over money. Even when I was a kid, I disliked the notion of buying something conspicuously expensive, unless it was a fabulous item that just happened to be expensive.

I used to go to these parties. The cool people in Norfolk would be hanging out there, wearing their Marilyn Monroe buttons and other cool items. There were tons of cheap vintage items...$3 pumps, $5 dresses. Stuff from the 20's and 30's. I suppose it's all gone now or else it's actually called "vintage" or "antique" and priced accordingly.

So. For me now, I need to get my money's worth buying clothes, that was always important to me, whether it is a $3 shoe you wear when you're fifteen, or a $100 pair of shoes you need to buy later on.


Which brings us to...shoes.

I like Dr. Martens. It's my favorite brand. Granted, it's not an office type of shoe. But they're great shoes. It's the only brand I wear outside of office-type situations.

Cole Haan is a nice office shoe brand. I have an old pair of these...sighs I always get compliments on them. They're getting old now but that would be the first brand I'd look at for a replacement.

Good shoes are worth the money. It is not imo worth it to buy cheap shoes (unless as I say, you can still find those $3 vintage pumps). Cheap shoes wear out after a year, the heels wear down, you have to replace them...good shoes don't wear out. I have three pairs of Doc Martens that have yet to show a single sign of wear.

So--find your brands of shoes and figure out where you want to buy them. (I've heard people Ebay Doc Martens.)

Image courtesy media.venda.com
Posted by Colleen Shirazi, 4:11 PM (Eastern)
I hope to write more about this rather than trying to cover everything in one go. It's certainly not simple; not simple at all. I highly disagree with those guides that presume to solve all of your wardrobe problems in one page's worth of writing.

I suppose I should start with a few of my early influences.

One was a book entitled Cheap Chic. I think there are updated versions but the one I read was published sometime in the 70's. I remember a picture of Lou Reed (still young) in it, iirc he was wearing black nailpolish (I was so jealous! This was in the days before Wet 'n' Wild).

Cheap Chic introduced me to the concept of "cost per wear." The idea was to figure out how often you actually wore an item. If it became a staple item that you reached for again and again, the cost per wear could conceivably be lower than that of a cheaper item that you hardly ever wore.

Another early influence of course was Annie Hall, with the luminous Diane Keaton.

Admittedly, emulating any of the looks from Cheap Chic or Annie Hall in the 70's in ultra-conservative Norfolk, Virginia, was impossible. I knew people back then who flew to New York City to do their clothes-shopping, they were that desperate. Still, the influence was there and remains to this day. How to simplify and yet remain beautiful and complex, without breaking the bank over it.


Later on I would be influenced by The Clash. :D Yep, the rock band, The Clash. Shortly thereafter, naturally, there was Madonna. People too young to remember early Madonna do not appreciate how ingenious she was. Both The Clash and Madonna embodied some Cheap Chic notions; again, that it wasn't how much cash you spent (mind you, this came during the time when fancy designer clothes reigned). It was how wisely you spent what you had.

Building a basic wardrobe for me personally, is a relatively new experience. For quite some time now, I had access to an outrageously cheap source of name-brand clothes...Banana Republic, J.Crew, Ann Taylor, etc. The extent of my game plan was to go there every year and grab everything I saw that I thought would work. But, the place is no more. So I've had to do some planning.

One sad thing I've learned, and it's hard to say, but Levi's jeans are no longer any good. I know they're based here in San Francisco, people work for them...but the gold-standard Levi's of my youth are gone. I bought two pairs in September 2004 (archived fashion blog) and they're already at the point where they don't look that great anymore.

Before you snort "that was over a year ago," I had had visions of those jeans lasting year after year, the way the old Levi's did. I mean people used to age their jeans. They used to splatter bleach on them, wash them over and over again...an old pair of Levi's was a treasured object.

I'm not sure what I'm going to replace them with. I'm thinking J.Crew or Land's End...dunno...I'll have to do some research.

Image courtesy www.popmatters.com
Posted by Colleen Shirazi, Thursday, February 09, 2006 11:33 PM (Eastern)
Check out this article by our own Stevie Wilson:

Convicted Clothing -- Fashion From Behind the Walls!

This was featured on the front page of Gather.com.

It's pretty neat...a clothing line that commissions artwork from persons behind bars to use as designs on the clothing.
Posted by Colleen Shirazi, Saturday, January 28, 2006 5:07 PM (Eastern)
Hm. What I got was what Target had--Vassarette HerSecret stockings. I couldn't find any other brand there, and we don't have a Wal-Mart--apparently Wal-Mart has their own house brand of stockings...even though I don't like Wal-Mart it is worth a mention. Why doesn't Target do the same thing? I looked through the Target house brand hosiery but found no stockings, only pantyhose.

Vassarette does not even mention stockings on their own website, btw.

Well, I was disappointed--very. Vassarette HerSecret stockings come in two sizes, Medium and Long. Medium is supposed to fit 5'1" to 5'10", 130 lbs. to 165 lbs. I'm about 5'5" and 130-some lbs., so I got Medium (the Tall weight starts at 165 lbs., 5'5" to 6'1" height).

These do not actually fit. Now you would think fit in stockings is fairly easy. They do stretch after all. I've never had a problem with any brand of stocking fitting me before. But these for some reason, barely fit...in fact I put a hole in one of them while trying to put it on and had to throw it away.

The top band is too wide. Why is it so wide? I don't wear particularly short skirts but I still have to fret that the top band is showing.

Conclusion: this product is probably viewed by Vassarette as a novelty item rather than as a legitimate form of hosiery. That would explain why it was so easy to put a hole in the thing, why the sizing isn't quite right, and particularly the too-wide top band.

That said, the stocking itself is beautiful. It really looks beautiful on, the color (nude) is a beautiful sheer nude. If you brush up against something, the stocking seems to react well (you're not stuck with a bunch of those tiny horizontal lines).

I have to wonder if buying the Large size wouldn't fix both the fit and wide-top-band issues.

'nother gripe: these are sandal-toe and they don't offer a reinforced toe version. Granted, reinforced toes are less glamorous, but then the toe is often the first part of the stocking to run.

Side note: I hate reinforced heels though. :)

As usual, there is a website for everything. There are stockings-preservation societies.

Stockings HQ

Mind you, this site sells stockings, but they also have forums and other features.

Well, I can do my bit. I don't get UTI's (urinary tract infections) now that I wear stockings instead of pantyhose. Stockings are far more economical since a run in one leg means you still have the other leg. Stockings look and feel nice. I only wish they were more widely available, more choices, better price and quality. I will post here if/when I find a satisfactory brick-and-mortar source (since I don't shop online generally).
Posted by Colleen Shirazi, Wednesday, December 21, 2005 1:53 PM (Eastern)
My son has never heard of Woolworths.

Now that is just sad. I suppose one of the reasons Woollies came to mind, was that I recently had to go to a meeting. I usually wear stockings to this kind of thing, and I used to get all of my stockings at Woolworths.

You can still find stockings...I got some the other day at Target. But it's not the same. Woolworths had what felt like thousands of kinds of stockings. I mean they catered to the little old ladies (raises hand) who still wore stockings rather than pantyhose, and just as we are dying out, so died out Woolworths.

Stockings are brilliant btw, I'm still shaking my head as to why they fell out of fashion. I can understand it if you're wearing a miniskirt, then it doesn't actually make sense not to wear pantyhose. But the thing is this. With stockings, if you get a run in one leg, you don't have to throw out the other leg. As long as you keep buying the same kind of stocking, you can just switch them out--and that is what I've been doing for the past twenty years--which is why I never needed to buy stockings until now, long after the demise of Woollies.

Oh well.
Posted by Colleen Shirazi, Monday, December 05, 2005 3:15 PM (Eastern)
Okay I've thought of a few other things. One is, if you wear contact lenses, it's easy to forget your backup glasses. I forgot mine. Even though I remembered my contact lens solution and extra protein remover.

Everyone thought hahaha because I wore my leather jacket...but I ended up using it. Both on the plane trips and even in Jamaica, because of the rain. This I attribute to having lived in San Francisco for ten years...the weather there is so changeable, a leather jacket is a necessity.

Bug repellent--I did not bring this and had to borrow someone else's. If you're going to do something like rafting, you need Off! or some kind of bug repellent. The resort itself, interestingly enough, did not have mosquitos...they had some kind of noise machine they turned on at night that kept them away. But still (I am a Southerner after all) I made sure to close the doors to the suite in the evening, since that is when your mosquitos will find a way into your room.

Air travel now of course entails having to produce your documents every 5 steps of the way, so having a small bag containing your passport, ID, and other travel documents, plus a pen or two handy to fill out the forms, makes sense.

On the way back...this is key. Pack slightly differently...put your clean change of clothes on top of everything. Pack the stuff you will need that night and the next morning...contact lens solution, facial cleanser, makeup, toothbrush and paste, etc. and put that up top with the change of clothes.

That way, once you come back, and you're knackered and cold (remember that leather jacket?) and ticked off, you need look only at the top layer of your bag.

Others advise to pack this stuff separately to begin with and make that your carry-on bag. i.e. get your essentials in the carry-on just in case they lose your luggage.

If you're going to do that, of course remember to check-in your nail clippers, haircutting scissors, etc.
Posted by Colleen Shirazi, Tuesday, November 29, 2005 7:17 PM (Eastern)
What to pack to go to Jamaica? (I've covered the makeup angle here: Makeup for a holiday in Jamaica).

Well, it's hot and humid. Not unbearably so...you can stay out in the heat all day and not feel like keeling over. But you won't want to wear much clothing especially during the day.


Bathing suits


Typically, you will wear your bathing suit during the day. Jamaica, from what I saw, highly values its tourist trade. You won't get funny looks for wearing a bathing suit. The suits I saw tended toward the conservative (no thongs for example).

I brought only one bathing suit and it was fine. You just wash it in the sink at night and hang it up to dry.


Skirts/sarongs


Along with this, you can do the sarong thing, but I was glad I owned at least one of those thin cotton gauze broomstick skirts made in India. They sell them in Jamaica but the quality of the ones there didn't impress me. I would have liked to have had more than one...you can wear it with the bathing suit or on excursions...you can live in these over there, so if you have some, or something similar, by all means bring them.

Anything thin, loose-fitting and cotton, preferably short-sleeved, is fine. It's good to bring stuff you can wash in the sink. Tank tops are great. You can wear them with your skirts, shorts, capri pants, etc. and wash them easily.


Fancy clothes


I ran out of these on the third day :D Not that you need lots and lots but I could have used a couple extra...so throw in a couple extra.


Footwear


I didn't need socks the entire time I was there, because my walking shoes are Doc Martens sandals. Of course you may want socks for the flights coming and going, or if your walking shoes require socks (light, thin cotton).

You will need walking shoes for excursions and of course for your flights.

You will absolutely need a pair of "water socks" or "water shoes." If you want irony, you can buy these more cheaply in Jamaica but you will want to bring your own rather than having to hassle.

I loved my Okabashi sandals and that's what I wore the most, aside from the water socks. The Doc Martens sandals were too heavy for everyday wear.


Hats


I thought I'd die without a hat since I forgot to bring one. In California, the sun burns the top of your head. In Jamaica though, I didn't get a head-burn. It won't cost anything for you to bring your own hat, or you can buy one over there.


Rain gear


It might rain during your stay. What you'd need is a lightweight waterproof jacket or travel sized umbrella.


Other notes


As I mentioned in the makeup article, be prepared to take two showers per day. The heat and humidity, plus the fact that you're bound to swim every day, make it necessary. If you have extra underwear, you might want to bring it along. Otherwise you'll end up washing it in the sink.

Do bring a few accessories to put your hair up. It'll sound silly but I kicked myself for not bringing my Karina "octopus" claw. You won't spend oodles of time doing your hair, but I got bored wearing only my "toothed" hairband and lone velveteen scrunchie after a while.

It's best to limit how much real jewelry you bring...then you don't have to worry about it. Sterling silver is perfectly acceptable or small pieces. If hematite is your thing, you can buy it there; it's everywhere.

If you're skint on hot-weather clothing, start buying it in the summer even if your holiday is not in the summer. It's difficult to do last-minute clothing shopping of this kind.

If I can think of anything else, I'll add it later on.
Posted by Dain, Wednesday, November 23, 2005 12:28 PM (Eastern)
It's called Valerie Stevens, and they've got a great range of festive styles (as well as some classic styles). They're well made (better than, say, Steve Madden or BCBG Girls which are of comparable price), and they look really good on the feet. My feet, at least. The arch matches perfectly (the only other brand that does this for me is Dolce & Gabbana), so no matter how high the heel, you can dance all night without a problem. They do seem to tend towards the decorative (very Prom) and slightly quirky, but I'm fond of shoes that make a statement, so no worries here. If I could compare them to any high-end brand, the style is much like Lacroix (their fondness for embellishment) with the clean lines of Jean-Michel Cazabat, and the arch of Dolce & Gabbana. Two styles I want to get: Tile in red, highly decorated material, but the clean lines of a mule, adds punch to plain trousers, and Crystal in black velvet, a superhot gladiator style-sandal with (you guessed it) crystal embellishments, black velvet strappy style.

In fact, I'll just get the Crystal and be happy.

Labels: fashion, personal, shoes, style, valerie stevens
Posted by Colleen Shirazi, Thursday, November 03, 2005 2:07 PM (Eastern)
Okay, that was easier than I thought it would be.

Beading Blog - thebroadroom.net.
Posted by Colleen Shirazi, 1:02 PM (Eastern)
I've decided to make a separate blog for my beading exploits. For one thing, I can see that I have enough material to justify having a separate blog. For another, this is after all the Fashion Blog; I don't want it completely dominated by posts of only one type. It should roundly cover fashion-related topics.

It will probably take me a few days to get the new blog set up, as it will feature our new Javascript "Code That" menu, the new page template, yadda yadda... The blog will appear on TheBroadroom.Net site rather than this site, The Lipstick Page Forums.
Posted by Colleen Shirazi, Saturday, October 29, 2005 12:58 PM (Eastern)
Well, that is the part that's stunning about even simple jewelry making. Once you've figured out what you want to use, and played around with it enough to feel comfortable stretching the piece, getting the drape right, choosing the findings, knotting, yadda yadda...you can now make anything you want.

I'm now wearing my 24" necklace. It's too long with what I'm wearing...I designed it specifically to work with turtlenecks. But, so what? I could just as easily make myself a 22" one or an 18" one. Or I could make this into an even longer one and double it. Or I could make the same pattern into a two-strand necklace. If I end up not wearing the 24" one, I could dismantle it. shrugs
Posted by Colleen Shirazi, 1:19 AM (Eastern)
Heh heh...so I'm waiting for the glue to "cure." I think it should set overnight before you pull on it too much. Gluing a bead in the back though, it is in a place that doesn't get too much direct stress.

This 24" piece is constructed of two of my favorite colors...deep red and blue-grey. The deep red is key. In this one, it's the color of cheap red wine...deep but clear rather than the smoky tinge of, ah, good red wine.

The blue-grey beads if you look at them closely, seem to have swirls of the blue-grey on the outer layer of the bead. I tried scratching them to see if the color would come off, but I don't think it comes off.

These are accented with a few clear small round beads, that's it.

What I'm trying to do...and people who know me from the beauty forums will recognize this behavior...is try to build a sort of jewelry wardrobe. By this I mean, more pieces, for me, is not better. I heartily dislike clutter, programming is all about clutter and reducing it to something manageable, so what I am after is always the fewest variables, but not so few as to make more work.

So I had to have a deep red piece and something with grey in it, and a turquoise piece. I'm actually eyeing a bracelet I made for my daughter. lol! This is comprised of the blue-grey beads (round), plus some similarly colored beads (these are less grey, a tad more blue) that look like raindrops...not the familiar tear-shaped ones, but raindrops sitting, say, on the deck. And then some truly beautiful beads that have blue and a sort of gold/brown thing in them. This is in, not a symmetrical pattern, but rather a repeating pattern, so you end up with a raindrop next to a round blue-grey bead where you were expecting two identical beads. That's the part I like best.

It's the eccentricity of these three pieces.... But I have a pile of stuff that I need to restring. One is this cool, red, Chinese thing...I have two of them actually.
Posted by Colleen Shirazi, Friday, October 28, 2005 9:03 PM (Eastern)
I'm trying out a long piece today...it's a full 24". I put a small metal bead in the back to stash the knot inside...why knot in the first place? I made this piece on Stretch Magic so that my daughter could wear it too.

This time it was easier gluing the knot inside the "cover bead." It's still something of a two-man job since, once you get the Hypo Cement going, it wants to keep going, and you have to jack the very fine wire-cap back into the applicator (with glue beading out and the piece you're working on in your hand). This time I just put a big drop of glue on the knot and then put it inside the bead, rather than trying to squeeze the glue into the bead-hole (which in theory would be possible, but as I say, the glue keeps on coming out, it is hardly worth it).

Well let's see how it goes. My 18" turquoise necklace wasn't long enough to wear with a turtleneck sweater, and I didn't feel like making a longer one of the same type. I do however have a turquoise-chip choker that I got a long time ago and never ended up wearing, so I have it in mind to cut it and use the chips for something else.
Posted by Colleen Shirazi, 12:39 PM (Eastern)
My son is so cute. He asks me now every day, "So what did we learn in jewelry making today?"

Putting it that way, you do learn something new each time. I have seven finished bracelets now and one finished necklace. I know that doesn't sound like much...I have easily ten finished designs for necklaces...but they need to be restrung. i.e. I can still be considered to be in the materials phase.

I'm testing out my turquoise necklace now by wearing it, obviously, but also by putting it in my pocket and bending it around and doing the stuff that I myself do to my own jewelry.

Anyhow...here's my advice so far.

Don't bother with the 7 strand beading wire, unless you are deliberately looking for the lowest "break point." The 19 strand wire is much better. The 49 strand wire is even better, but it costs too much.

I checked this out on the Beadalon site...more strands = more flexible, less prone to kinking.

As far as the thickness (a different factor from the # of strands), that depends on which beads you're using. 0.18" is pretty thick if you're closing off your piece the Beadalon way (i.e. you thread the excess wire inside the first bead and then cut it flush). I made it fly with the turquoise piece, which uses small round smoky glass beads, but it was snug. I doubt it would work with anything smaller than that.

Crimp beads work better than crimp tubes for straightforward, beads-on-a-string necklaces and bracelets. They crimp much more easily, they're smaller and neater.

The tubes are kind of neat if you're looking to finish off 1.0 mm Stretch Magic ends, but I will try out the crimp beads next time and see how that works.

The 1.0 mm Stretch Magic is quite a bit less stretchy than the 0.7 mm. Its sole virtue is that you can use crimps with it. I actually tried some crimps on the 0.7 mm and the piece snapped neatly in two where the crimps were, so there is something to it.

On a more personal note...I have reached the "it factor" now. "It" is being able to make the jewelry that you've been looking for. Of course "it" is going to be different for each person...and I can't make all of "it" myself. For example, I have this cool Thai-style carved silver bracelet with a little garnet cabochon in it. It's not worth it for me to learn how to make this...it's perfect, yet it's something I can buy in a shop for twenty bucks. I doubt I could learn how to produce such pieces for less money than that.

The beads though... There is the predictable ability to combine colors, materials, textures, and even symbols, but what I've found more intriguing is the notion of capturing light. :)
Recent blog posts: